Plenty of companies running their businesses in various industries use outdated software. It undermines the company's productivity and requires significant maintenance costs.
One might wonder what the point of working with legacy software is when top-of-the-line solutions are within reach. The matter is that such cases are mainly about information systems critical for business operations. All vital business processes will just halt without it.
Legacy code migration is the process of rewriting your old software or moving your existing product to a modern platform.
The longer a company uses a legacy system, the more difficult it can become to find employees with sufficient knowledge and skills to interact with it. Furthermore, with time, the maintenance expenses and the cost of a possible legacy software update project will surely rise. This way, businesses get stuck in a kind of loop.
Legacy data migration is a data transfer process from old systems to new ones. It allows enterprises to leverage new technologies and tools, keep abreast with rapid technological changes, and maintain a competitive edge in the market.
Let's take a look at the top reasons to upgrade your legacy system. And some practical tips on how to make the migration a success.
Where is the Business Value? 6 Reasons to Upgrade Your Legacy Software
Since a system upgrade endeavor can bear some risks in case the project fails, a decision like that must have clear advantages for the company to make the management team take a chance to do it.
The matter is that if the company continues to use inefficient and legacy software, it will eventually have to face even greater obvious and non-obvious problems. So, let us make a list of the main reasons why a software upgrade is essential.
Maintenance and Operational Costs
Using an outdated system is like maintaining an old car. At some point, it becomes too expensive because keeping it operational requires constant time and money investments. However, even if this is the case, you will inevitably face failures and, as a result, downtimes generating losses for your business.
You will constantly need to involve in-house and third-party advisors to keep your software up and running. Moreover, you may lose opportunities due to your inability to adapt to changing market demands. At some point, you come to understand that you spend more time and money to maintain your legacy system than you need for an upgrade project.
Looking for a reliable technology partner?
Accelerate your tech projects with outsourced development. Flexible engagement models, tailored to you.
Schedule a call
Insights and Information
If your business lacks analytical data, it can directly suffer from inefficient decision-making. That is one of the decisive reasons why it is worth switching from a legacy system to a modern software application with comprehensive capabilities for reporting and data analysis either for the company as a whole or for its separate departments.
Potential Security Threats
Vulnerable legacy software often becomes a prime target for intruders. Such systems are rather vulnerable to data leaks and susceptible to attack. They do not get security updates and do not meet modern requirements. Besides, fallback recovery and data backup can become serious issues.
If you update and modernize your legacy system, you will manage to reduce security risks and protect critical company data. Modern software developers pay special attention to encryption and data protection technologies.
85% of IT leaders believe legacy technology will threaten the business.

— Accenture
Poor Performance and Productivity
No matter how well your staff is trained, tool quality matters a lot as well. Outdated systems make daily task performance difficult and entail more manual work. Advanced software reduces potential bottlenecks and ultimately minimizes downtime and manual work. The company's productivity is on the rise along with its financial indicators.
A legacy software modernization is also important in terms of user experience. If your system's performance is poor, it experiences crashes or lags, takes a long time to perform basic tasks, or is complicated to use, people will be dissatisfied. These issues will negatively affect dedicated teams and the company's general environment.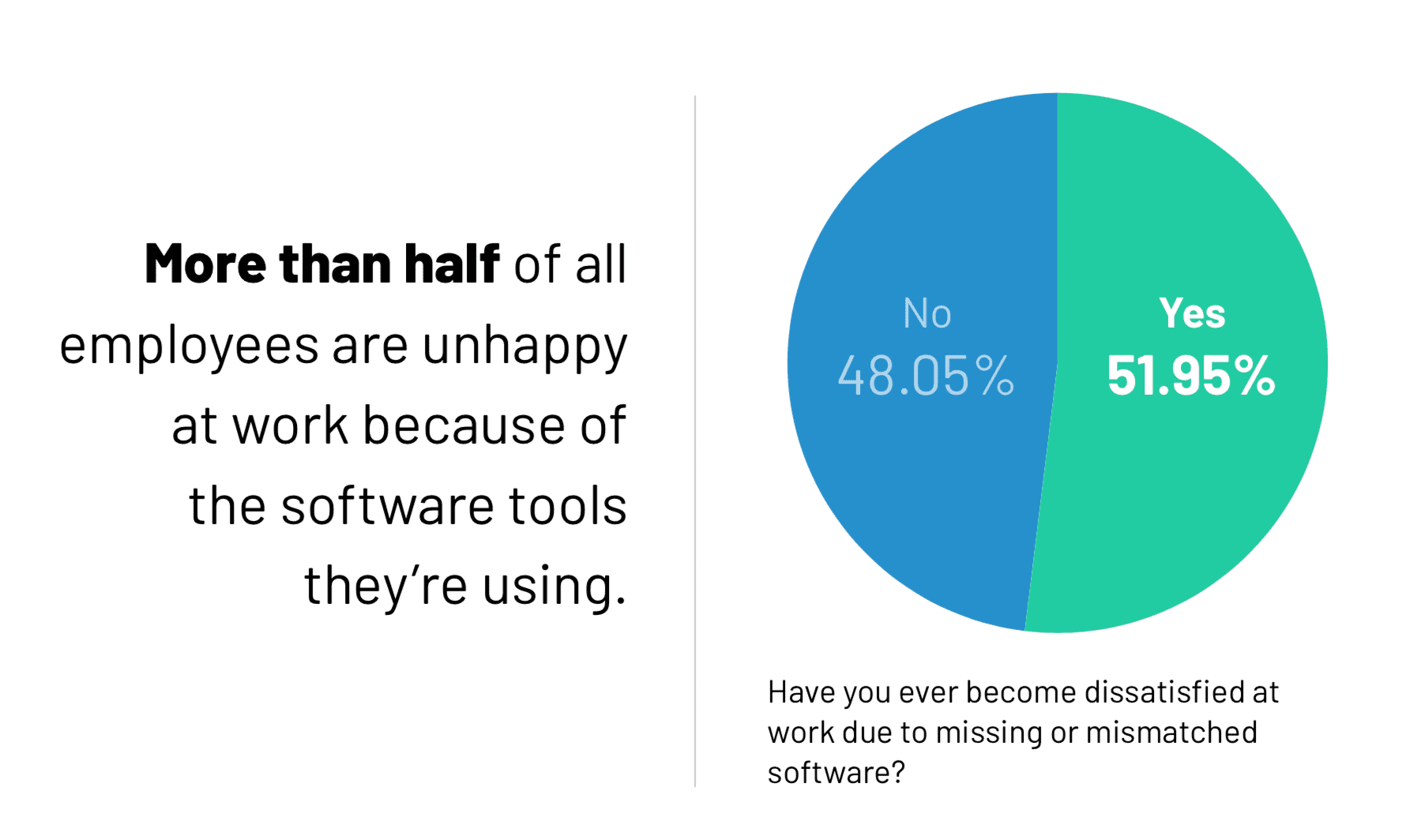 Legacy Software is Not Scalable and Lacks Integration
As long as your business grows, it requires a corresponding software functionality expansion. However, the probability that your outdated system will not let you do it is high enough, as it has multiple limitations. You will just not keep up with the progress, and the lag will reach a critical level at some point.
Another crucial aspect of the modern environment is that software tools are intertwined to enhance interaction and carry out the set tasks better. Outdated systems cannot provide these possibilities because they do not support modern technological solutions.
Competitive Risks
Therefore, if your company continues using legacy software, you deprive yourself of the opportunity to take full advantage of modern technologies, your company's productivity becomes insufficient, you have an increased number of downtimes, and face risks in protecting confidential data.
All these lowlights will sooner or later result in reduced business innovation potential, you will have a hard time working in the competitive environment, and your company will start losing its market position to your competitors.
How to Modernize Your Legacy System? Tips for Successful Enterprise Software Upgrade
Start migrating from a legacy system to help your business save time, improve its efficiency, and gain a steady increase in figures in multiple areas. To complete this process successfully, consider some advice based on our practical experience in similar project implementations.
Analyze Your Business Goals
To gain the maximum benefits from their businesses, customers should comprehend well why they want to update/upgrade an outdated system or its separate components. Depending on the specific business goals and tasks, they should select the technology stack, pick the necessary configuration, draft a legacy migration plan, and determine other consequential details.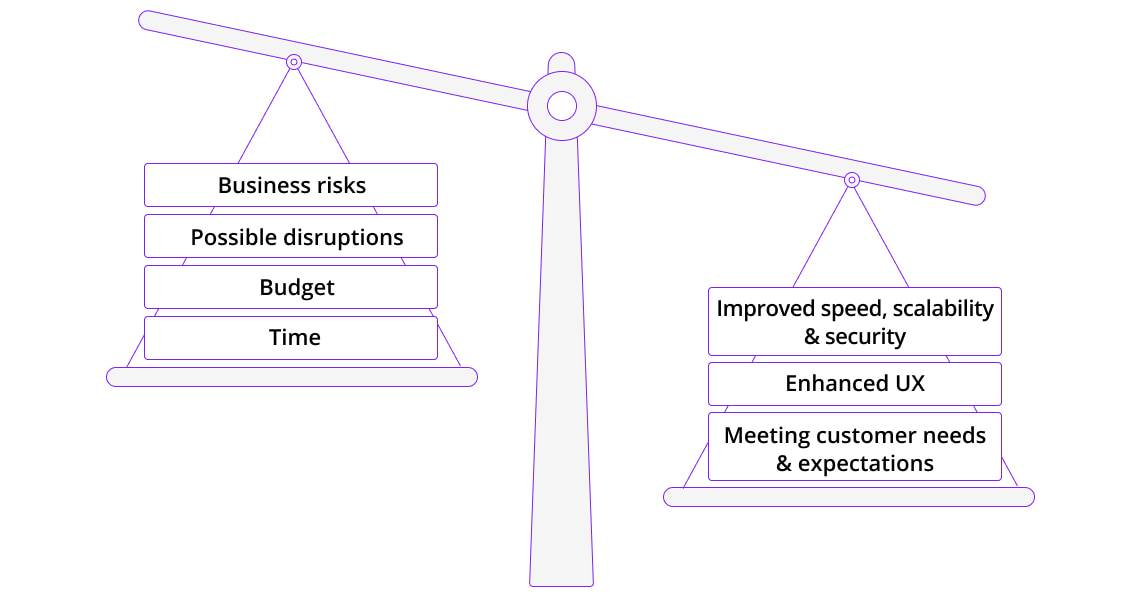 Conduct a Legacy System Audit and Data Mapping
A system audit is an important stage because it lets businesses find the system components requiring full or partial migration, identify potential issues and risks, and assess the scope of work. It also saves your time and resources because you will understand better what to expect in the future.
Your new system may experience problems with accurate old data display. That is why the data must be brought in line with the requirements and formats peculiar to your new system by using data mapping. This approach will help you accurately migrate data to the new environment and prevent possible errors. Obviously, data mapping is a vital part of the migration process.
Let's drive innovation in your company!
Share your business needs and we will help you develop the perfect-fit solution for your company.
Contact us
Estimating System Modernization Costs
As it frequently is with any software development project, it is essential to pre-estimate the resource expenses required to complete the work. To conduct such an assessment, you should use particular methodologies and tools.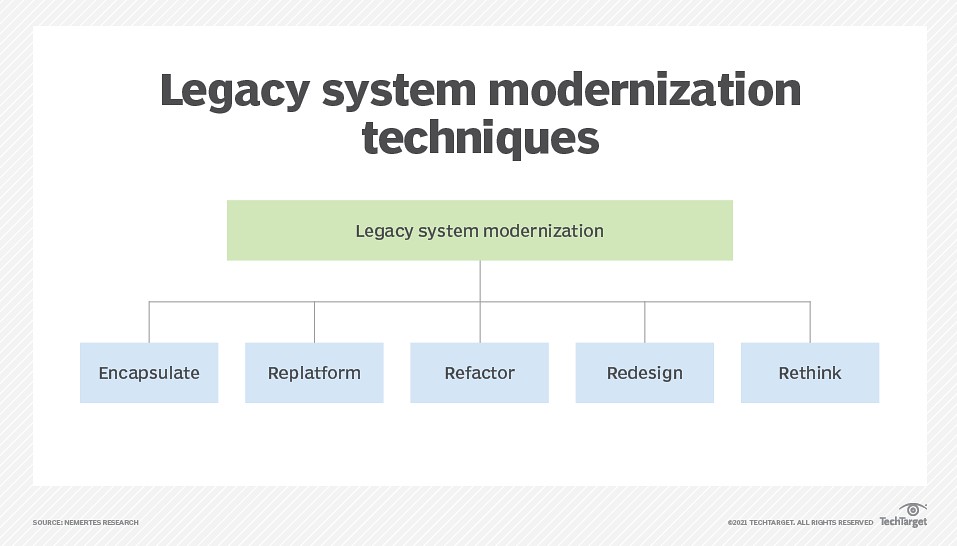 Of course, the estimate will not be 100% accurate. However, the team engaged in solving the technical aspects of the process will get sufficient insights to decide what stages (in terms of scope of work and time framework) the project implementation process should include.
Define Legacy Migration Plan
Based on customer objectives, the conducted audit, estimate, and conclusions, you can set to draft a comprehensive migration plan. One of the fundamental success factors of working on any project is adequate pre-planning that includes deadline assessment, required resources, and potential risks.
With a plan describing your legacy system upgrade on your hands, you can also develop some action scenarios in case something goes awry. Moreover, you can also create a migration process schedule and distribute tasks among your team.
Back-Up Your Data
Legacy system migration is a complex process that can take plenty of time. Considering this, the possibility of a technical error is always great, including one that poses a threat to compromise critical company data.
To make sure your data remains safe, you must make a backup to be able to restore your database if necessary.
42% of companies experienced a data loss event that resulted in downtime last year, according to Acronis. That high number is likely caused by the fact that only 41% back up daily – leaving many businesses with gaps in the valuable data available for recovery.
Run a Pilot Migration
A conducted pilot or test migration lets you test your app during a specifically simulated event close to actual usage conditions. The main objective is to reveal potential issues and tend to them before the official launch.
A pilot migration takes some time, though reduced risks will compensate for this loss since you will manage to reveal pitfalls while still in the test environment.
Summing Up
If your company strives to grow, but the software you utilize for daily operations restrains you, it means it is time to go for a migration procedure from a legacy system to an advanced modern one. That is how you can take full advantage of the potential that technology can ensure for business development.
That is a predominant and challenging task. That is why it is vital to get it done correctly to ensure business continuity and minimize expenses. We have extensive experience in this area and a skilled team of developers ready to perform the work at the highest level possible. Contact us, and let us dwell on the details!