When companies use virtual reality technologies as a tool for corporate training, they get an efficient, cost-effective, and scalable solution for training, adapting, and upskilling employees.
Businesses can reap the full benefits of VR education and training. If you are planning to implement virtual reality technology in the training process for your current and potential employees, our article will serve you well.
The global virtual reality in education market size was USD 656.6 million in 2018 and is projected to reach USD 13,098.2 million by 2026 (Fortune Business Insights).
According to one report, 88% of Americans believe VR can help improve education (ARRIS Composites).
52% of consumers want to attend virtual courses and training (PwC).
60% of AR/VR content and 50% of mobile games are made with Unity3D (Circuit Stream)
75% of industrial companies that have implemented large-scale VR and AR technologies saw a 10% increase in operations (Zippia).
A recent study by Bethany Cieslowski, associate professor of Nursing, and colleagues found that immersive virtual reality training has been shown to be as effective as inpatient training for students learning to provide care for acute care pediatric patients.
Virtual Reality Training Advantages and Disadvantages
As with any other technology, virtual reality training simulations have advantages and disadvantages. Before providing any examples, let us first consider these essential points.
Virtual reality employee training advantages:
The immersion effect and realistic learning environment let people feel fully present in the virtual environment.
Trainees can perform highly-risky and dangerous tasks without being exposed to injury, sustaining damage, or making costly mistakes possible during real-world training.
Virtual reality training reduces the need for expensive equipment, materials, and physical hardware.
People can interact with the software at any time and location, which is convenient for trainees and instructors.
A large number of trainees can learn simultaneously.
The recollected and other advantages make virtual reality training a powerful tool in various industries, including healthcare, manufacturing, construction, aviation, military, etc.
Ready to implement VR training?
SmartTek provides custom virtual reality development services with a rock-solid track record of success customized to your business needs.
Contact us
Although virtual reality training offers multiple advantages, it also has some cons to consider, like the following:
Appropriate software development or purchasing, train-the-trainer courses, and VR equipment operated in virtual reality training can be expensive, especially for enterprises with limited budgets.
Virtual reality technology continuously evolves, but some technical limitations affecting the learning process (limited field of view, resolution, or graphics quality) can still persist.
Some people may experience eye strain or discomfort when using a VR headset.
Virtual reality may not completely reproduce tactile sensations and physical feedback from handling objects, and that may limit training efficiency for specific skills.
In a simulation, the trainer may have limited control over student behavior in the virtual environment, which can make it challenging to meet some real-time learning needs.
When people concerned know these pros and cons, they can make an informed decision about whether this technology suits the company's needs well.
The Best Industry Examples of Virtual Reality Training
We have selected some remarkable ways of using virtual reality for staff training to give you several ideas on how you can apply the technology in your business.
VR Training in Sports
Using virtual simulation, you can practice skills in scenarios requiring a lot of people, material, and technical resources in real-world conditions. Some famous university teams and NFL squads definitely use such software. That is a good solution for sports like football, tennis, baseball, and hockey.
We have a product in this niche as well. It is a VR Baseball game. You can read more about it on this page, and the clip below shows how it works:
VR Training for Healthcare Workers
Medical personnel training is essential for specialists of any level, like nurses or doctors of various expertise. While simulating medical procedures in a significantly realistic environment, healthcare professionals can improve their skills in a maximally safe and controlled environment.
At SmartTek, we have developed a VR training course to practice cardiac bypass surgery (TAVR) that is used as a training environment for cardiac surgeons and patients.
Employee Onboarding
If your company applies a specific training procedure for newly-hired employees, it is possible to bring them up to date faster using virtual simulation. Besides, the technology allows companies to effortlessly scale this process and conduct it in a controlled and secure virtual environment.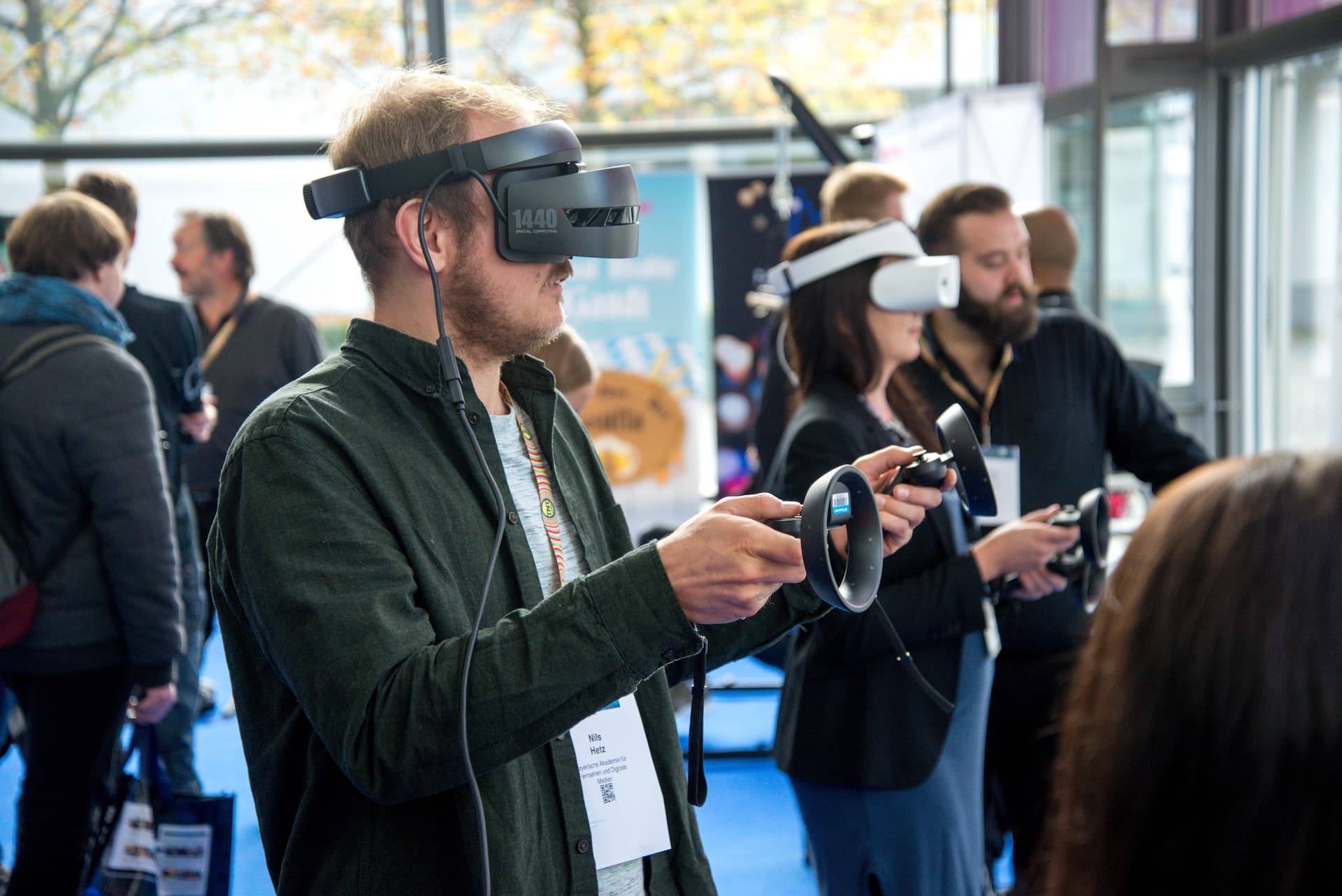 Mind-blowing AR/VR ideas can't wait
We use the latest immersive technologies for creating apps to exceed our clients' expectations.
Drop us a line
VR Training for the Emergency Services
Any municipality or company, even a relatively small one, has emergency services or employees. When police officers train in virtual reality, they can sharpen their weapon-handling skills.
Resorting to VR training, firefighters or emergency workers can experience specific situations that arise in particular cases and learn to use standard tools in response to them.
VR Training in Automotive
Such prominent companies as BMW, Peugeot, Audi, and Volkswagen are among users of virtual reality to upskill and reskill their workers and engineers. There are multiple application options for the technology, starting from simple instructions for managers and finishing with complex training for engineers responsible for essential production areas and factory operations.
VR Training in Aviation
VR for flight training develops students' skills of sensing distance with stereoscopic vision, allows them to learn cockpit settings and controls well, and can even replace instructors at certain stages to significantly reduce the training program cost.
Moreover, aviation companies use virtual reality as a flight simulator for airplane or helicopter pilots and a training routine for maintenance personnel.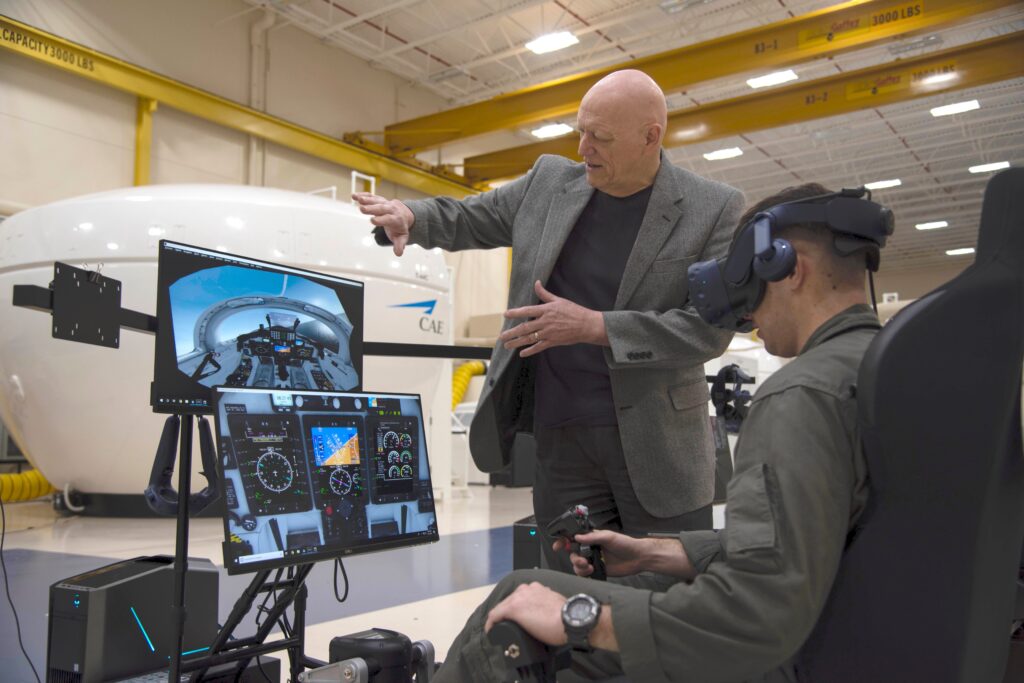 VR Military Training
Military men can simulate various battlefield situations and learn how to respond to them the right way. Moreover, that is a perfect way to learn how to handle complex weapons, which is becoming an increasingly relevant task for modern high-tech warfare.
VR Training in HoReCa
Restaurants and cafes operate in peculiar conditions with no time or limited time for staff training. Furthermore, catering and hospitality businesses cannot afford a separate instructor appointed to each newly-hired staff member. In this regard, virtual reality training efficiently links theory and practice. This approach is exceptionally functional for kitchen staff, baristas, and other specialists working with kitchen appliances.
VR Training in Construction
The training environment that accurately simulates a construction site allows construction workers to get acquainted with actual work situations, instructs them on how to respond to emergency incidents, and shows them how to operate construction machines correctly. Besides, the technology allows all people concerned to see what the future object will look like long before a construction object is complete.
Work safety, ease of scaling, and relatively low expenses are among the main advantages of this approach compared to traditional training methods.
VR training Development Services
Empower your business with the best tech solutions. We build virtual reality programs for different industries.
Contact us
VR Training for Manufacturing
Virtual reality simulation can accurately recreate a production line, specific procedures, as well as machine and tool operations. The technology allows manufacturing businesses to reduce staff training time for working with complex production units.
Since such mechanisms are often very costly, VR training offers another essential advantage – it is not possible to accidentally damage valuable equipment facilities. Such training can be conducted remotely, and the probability of employment injuries is reduced to a minimum.
That is what VR training for manufacturing developed by our team looks like:
Takeaways
Virtual reality can become a tool that brings many benefits to businesses, especially when it comes to employee training, reskilling, and upskilling so that they can efficiently perform their duties in the workplace. By implementing innovations, businesses add a crucial component to their development strategy in highly-competitive conditions, changeable economic environment, and market fluctuations.
If you are interested in introducing VR training into your business or would like to know how the technology can be used in other ways, contact us and we will be happy to help you!