Our WordPress Development Services Include:
Custom WordPress Development
You can create a WebPress-based website of virtually any complexity, be it a personal blog, online store, or internet community.
Theme Creation & Customization
We can design your website from scratch or adapt the current theme to your needs. We can newly code or modify the necessary functionality in compliance with your requirements.
WooCommerce Development
This module supports developing WordPress-based online stores of all complexity levels, starting from websites with dozens of pages and finishing with catalogs featuring hundreds and thousands of products.
WordPress Plugin Development
Our specialists can code a module to fully meet your individual requirements and with all the necessary functionality.
WordPress Data Migration
We can assist you in updating your legacy system by turning it into a modernized platform or transferring its data from another CMS to WordPress without any loss.
Why Choose WordPress For Your
Next Web Development Project?
Simple, Clean & Functional
Using the modular architecture, you can implement only the functionality you truly need on your WordPress website, nothing unnecessary.
Open-source License
The system is entirely free, and the open-source code allows a massive community of professional developers and enthusiasts to constantly improve the product.
User-friendly Admin Panel
Even if you have never worked with this platform, it will take you no more than several hours to get a sense of the admin panel. You do not have to be a technical expert to run a simple WordPress-based website.
SEO-Friendly
A WordPress website has a search-optimized architecture, so you can easily control how often the entire resource and separate pages are shown on Google, Bing, and social networks.
Themes & Plugins
A significant set of plugins, add-ons, and design templates, both paid and free, are available for this CMS. When used, it significantly reduces website development time and cost.
High-speed Response
Websites on WordPress work quickly and steadily when developed adequately. Your audience will never feel any discomfort.
Adaptive Web Design
If you have plans to reach your audience like mobile gadget users, you will not need any additional financial investments or longer development time. WordPress websites are equally convenient to interact with from any device.
Multilingual and Multi-currency
One website version can be presented in several languages. Moreover, product prices in online stores can be automatically converted into the required currency.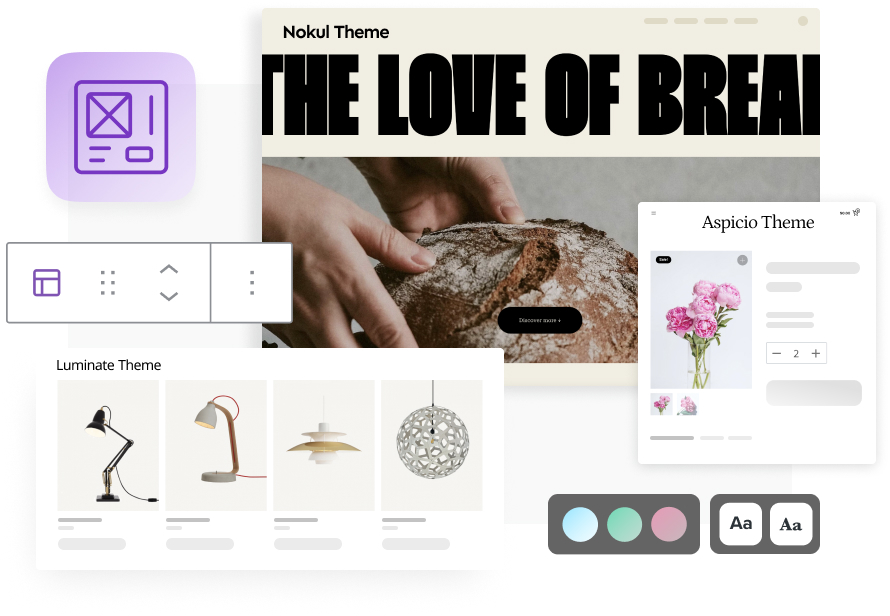 6 Reasons to Choose Our
Bespoke WordPress Development Services
Industry Expertise
Over the years, we have worked on projects for various business sectors, gained knowledge, and garnered experience, allowing us to provide the best results to our customers.
Personalized Approach
Whether you are a small startup or a large corporation, we always exercise an individual approach and focus on our customers' business needs.
Transparent Processes
We value our customers' trust and always aim for long-term cooperation. That is why we provide any necessary details on the work process at each stage of project development.
Top-rated Developers
We guarantee that our developers are highly-professional and all the works performed are of high quality (we sign an obligation contract).
Cost Cutting
We select the appropriate technology to meet your needs and optimize the software architecture to streamline the development process and reduce expenses.
Focus on Results
We know how to correctly connect people and processes to achieve the set objectives and focus on the final product quality.
SmartTek Solutions consistently meets the requirements and delivers high-quality work. They've improved the client's day-to-day operations by customizing effective, time-saving solutions. Despite challenging circumstances, they continue to dedicate a timely, reliable team.

Wojciech Betyna
Systems & IT Manager, Bluesky Solutions Ltd
They've provided great communication and support throughout our R&D process. SmartTek has been communicated well throughout the project. They're great partners and they continue to support the project.

John Whalan
CEO, Black Ice, LLC
Smart Tek SaS, LLC has provided us with an awesome experience, so far. The responsive team keeps to its timelines and deliverables. They're eager to serve our needs and the functionality that they build works.

Daniel Langsten
CEO, Wholesale Cabinets
The product impressed users and was delivered in time for the neighborhood launch party. The team overcame last-minute issues to meet the timeline, problem-solving and working late nights. They made use of emerging technology platforms like GET Lab to ensure smooth project management.

Joshua Young
CEO, Reflective Brands
Their team has been accommodating with everything from meeting times to budget needs. They're genuine AR experts and it's reflected in how well they were able to push the existing limits of AR technology to develop the app.

Jennifer Kapsch
Founder, United Spirit Games