Agriculture Software Development Services We Offer
Smart Greenhouses Automation
It is a set of various sensors controlled by using dedicated software. It collects data from the environment and changes it, adapting it to growing conditions necessary for a specific crop.
Data Analytics and Insights
We build custom software that helps farmers collect data from various sources (UAVs, sensors, and other devices) and then process it using machine learning and AI algorithms. This approach is perfect for making correct decisions and gaining valuable insights.
ERP System Integration
The resource management system allows efficient control of all agribusiness processes, like labor resources, accounting, sales, cooperation with contractors, and more.
Web and Mobile Apps
Our team has all the required expertise to develop a web or mobile software solution for you, and you will receive all the necessary data on your farm operations to let you manage all the activity aspects separately.
Drone and IoT
UAVs and various sensors collect data necessary for farming activities. These latest technologies allow agribusiness companies to monitor and manage crop growing remotely.
Automation & Integration
Our AgriTech software development company can help you digitize and automate routine processes, as well as combine them to provide a single management software solution. Streamline your daily operations to increase productivity and use resources efficiently.
Benefits of agriculture software
built by SmartTek
Increased Efficiency
An array of different sensors, controlled by dedicated software, collects data from the environment and modifies it to match the growing conditions required for a specific crop.
Improved Decision-making
UAVs and sensors provide farmers with real-time data on yields, soil conditions, weather conditions, and other essential factors. They help farmers make informed decisions about planting, fertilizing, and harvesting.
Better Resource Management
Custom agriculture software solutions help you avoid overstocking and understocking – optimize resource management through better control of supplies (fertilizer, fuel, water, and crop protection chemicals).
Improved Crop Quality
Software for an agricultural company is used to monitor crop conditions and notify you about potential issues in due time. It allows farmers to identify and solve problems at early stages to get better yields.
New Level of Collaboration
Dedicated software systems make data sharing more manageable and efficient to coordinate efforts better and improve cooperation between farmers, suppliers, and other parties concerned.
Better Risk Management
AgriTech solutions can help farmers anticipate and manage risks like weather events, pests, and diseases and reduce their impact on yields and profits.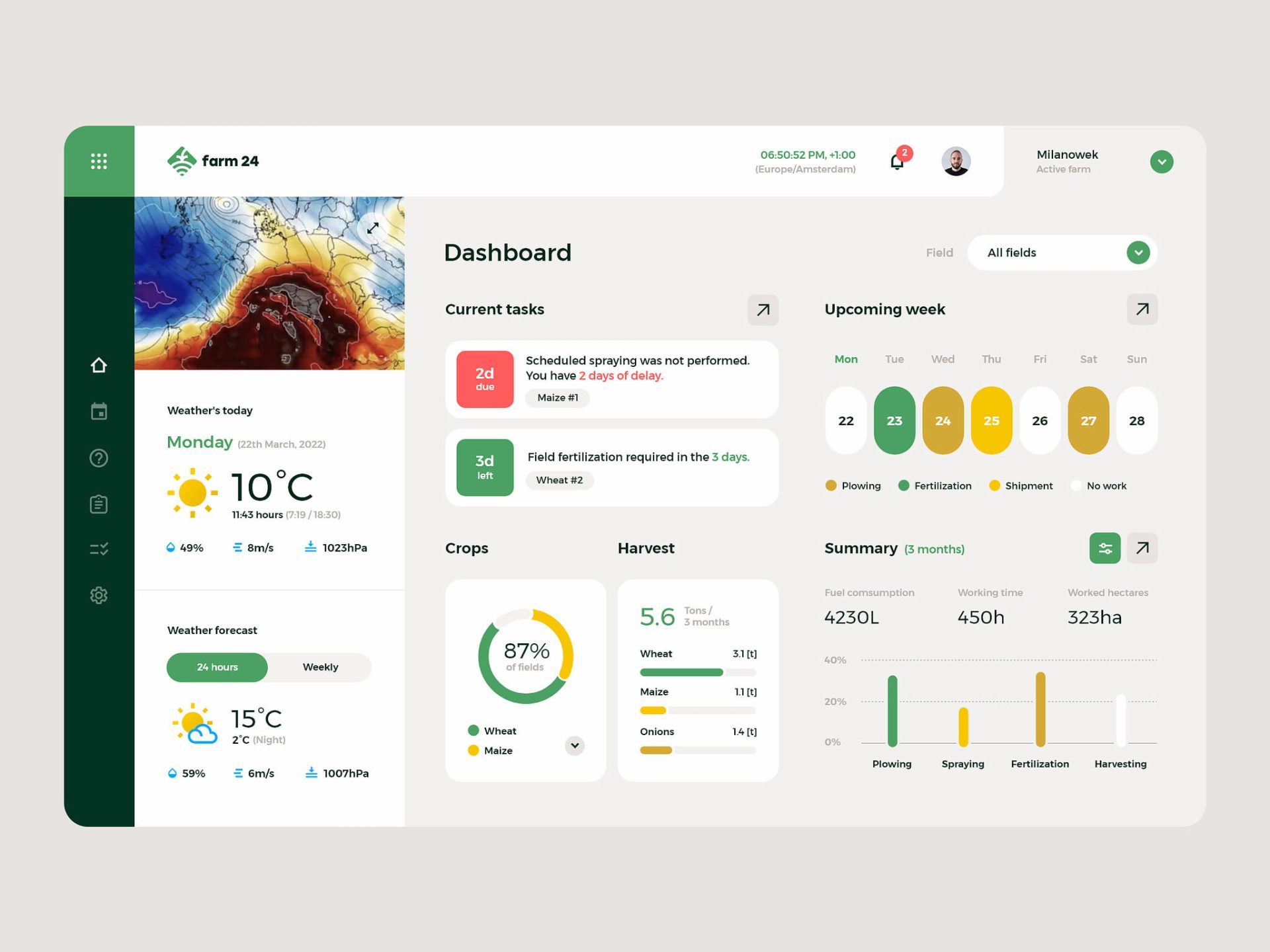 Why Agriculture Startups and Enterprises Choose Us
Industry Expertise
Over the years, we have worked on projects for various business sectors, gained knowledge, and garnered experience, allowing us to provide the best results to our customers.
Personalized Approach
Whether you are a small AgriTech startup or a large corporation, we always exercise an individual approach and focus on our customers' business needs.
Transparent Processes
We value our customers' trust and always aim for long-term cooperation. That is why we provide any necessary details on the work process at each stage of project development.
Top-rated Developers
We guarantee that our developers are highly-professional and all the works performed are of high quality (we sign an obligation contract).
Cost Cutting
We select the appropriate technology to meet your needs and optimize the software architecture to streamline the development process and reduce expenses.
Focus on Results
We know how to correctly connect people and processes to achieve the set objectives and focus on the final product quality.
SmartTek Solutions consistently meets the requirements and delivers high-quality work. They've improved the client's day-to-day operations by customizing effective, time-saving solutions. Despite challenging circumstances, they continue to dedicate a timely, reliable team.

Wojciech Betyna
Systems & IT Manager, Bluesky Solutions Ltd
They've provided great communication and support throughout our R&D process. SmartTek has been communicated well throughout the project. They're great partners and they continue to support the project.

John Whalan
CEO, Black Ice, LLC
Smart Tek SaS, LLC has provided us with an awesome experience, so far. The responsive team keeps to its timelines and deliverables. They're eager to serve our needs and the functionality that they build works.

Daniel Langsten
CEO, Wholesale Cabinets
The product impressed users and was delivered in time for the neighborhood launch party. The team overcame last-minute issues to meet the timeline, problem-solving and working late nights. They made use of emerging technology platforms like GET Lab to ensure smooth project management.

Joshua Young
CEO, Reflective Brands
Their team has been accommodating with everything from meeting times to budget needs. They're genuine AR experts and it's reflected in how well they were able to push the existing limits of AR technology to develop the app.

Jennifer Kapsch
Founder, United Spirit Games