Discover Dedicated Teams
our company offer
AR/VR App Developers
Build a dedicated remote R&D outsourcing team to design and develop immersive solutions for a variety of industries, including real estate, healthcare, hospitality, and retail.
Full Stack Developers
We help you find experienced engineers who work on both the client-side and server-side of the software application, lessening your endeavors to hire several professionals to handle different functionalities.
IoT Developers
We can find IoT experts with strong technical skills and deep knowledge of different IoT-friendly programming languages to provide your business with smart solutions.
Mobile App Developers
Hire a dedicated mobile development team with the necessary skills, including Android development, iOS development, and cross-platform development, to place your company at the top of the business competition.
Cloud Developers
Work with cloud computing experts who have a solid understanding of GCP, Azure, and AWS to design unique applications and platforms to provide your company with the most advanced services.
DevOps Engineers
Hire developers outsourcing dedicated team of engineers with mastery in combining code, application maintenance, and application management to boost predictability and efficiency and quickly scale your business.
How to Hire Our Dedicated Software Development Team
Get in Touch
Whenever you gather the right tools for the job, you show how you appreciate doing things right. We reflect your dedication and propose a highly personalized approach toward your end goals. Just share your project idea and get expert assistance for your future dedicated development right now!
Choose Best of the Best
As soon as we get the request for a dedicated team, our HR department assesses potential applicants. They analyze their tech experiences, expert knowledge, English level, and soft skills to select the best-fit employee for a final interview with the client.
Now, It's Your Turn
At this stage, our customers can interview the candidates to define whether these applicants meet their communication and technical skills expectations.
Shape the Team
Once the candidates have passed all selection steps, it's time to hire them to join a development team. Hence, our clients can manage their teams, regulate the development progress, and modify the project scope.
Time to Get Started
When all preparations and project estimations are finished, our developers start working on your project. Thus, a well-organized process guarantees quality, quick delivery, and a professional approach.
In case you need your project estimation, feel free to contact us for free consultation.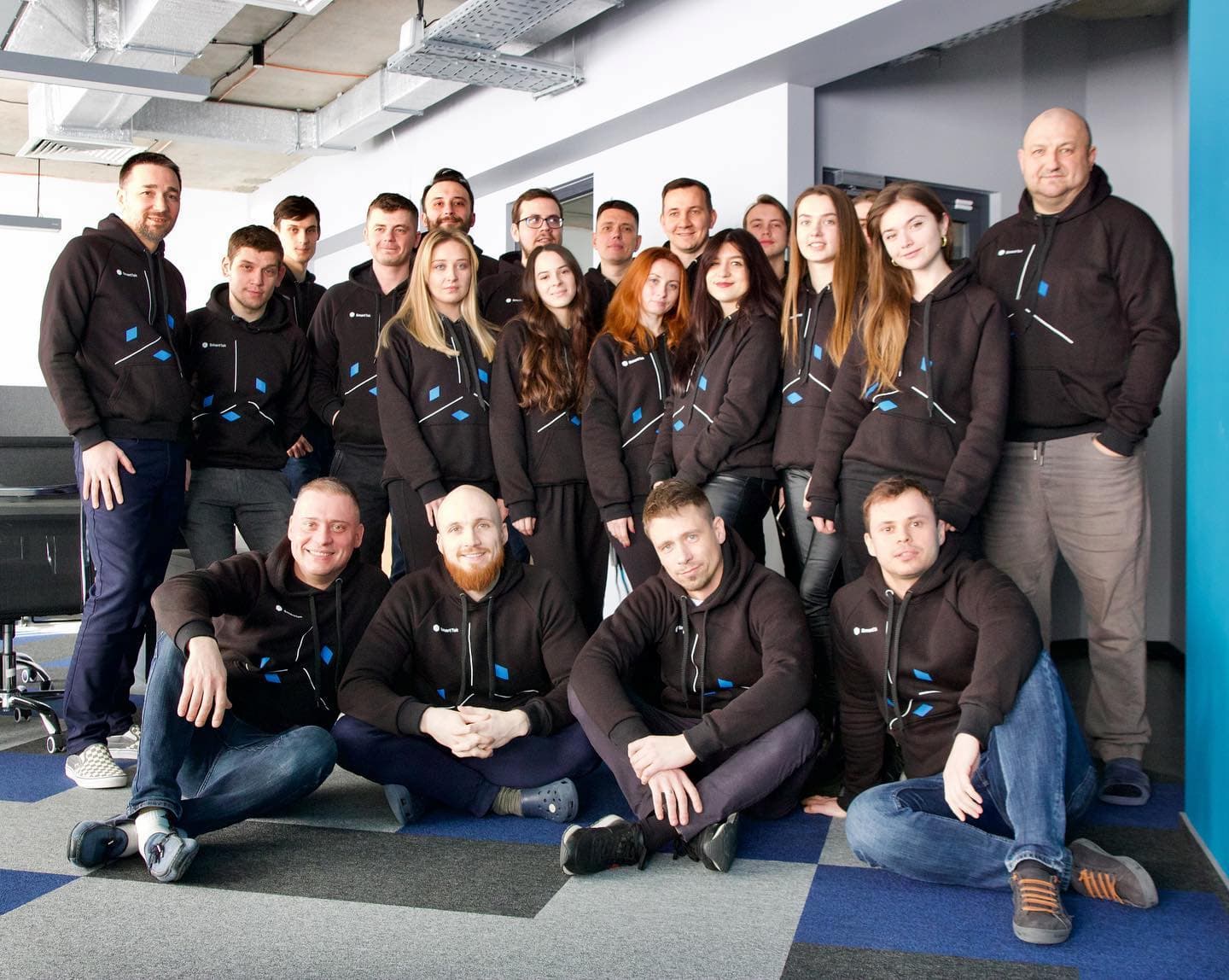 Why Choose a Dedicated Development Team from SmartTek
Cost-Effective Solutions
It costs money to hire all the professionals needed for your project. It costs more to provide them with proper housing and equipment. With our dedicated development approach, you don't spend that money. Smart Tek provides cost-effective options based on your needs and frees up your valuable time.
Meeting the Deadlines
As a prominent organization with multiple divisions, we know how to manage time. Our teams deliver on-time solutions for your business with prudent use of time. After all, we are always looking for valuable ways to improve our efficiency, so proper time management helps us become better for you.
Transparent Communication
Dedicated software development teams are usually associated with a popular stereotype of poor collaboration, but we break that stigma with well-established client communication. Based on your culture, business specifics, individual preferences, and communication style, we organize effective conversations that align with your values and needs.
Your Opinion Comes First
We consider our customers' vision as a reference point for our dedicated development. In a flexible and inclusive work environment, we value each client and motivate them to share all ideas and doubts. This highly personalized approach enables us to find top talent and meet your business needs.
SmartTek Solutions consistently meets the requirements and delivers high-quality work. They've improved the client's day-to-day operations by customizing effective, time-saving solutions. Despite challenging circumstances, they continue to dedicate a timely, reliable team.

Wojciech Betyna
Systems & IT Manager, Bluesky Solutions Ltd
They've provided great communication and support throughout our R&D process. SmartTek has been communicated well throughout the project. They're great partners and they continue to support the project.

John Whalan
CEO, Black Ice, LLC
Smart Tek SaS, LLC has provided us with an awesome experience, so far. The responsive team keeps to its timelines and deliverables. They're eager to serve our needs and the functionality that they build works.

Daniel Langsten
CEO, Wholesale Cabinets
The product impressed users and was delivered in time for the neighborhood launch party. The team overcame last-minute issues to meet the timeline, problem-solving and working late nights. They made use of emerging technology platforms like GET Lab to ensure smooth project management.

Joshua Young
CEO, Reflective Brands
Their team has been accommodating with everything from meeting times to budget needs. They're genuine AR experts and it's reflected in how well they were able to push the existing limits of AR technology to develop the app.

Jennifer Kapsch
Founder, United Spirit Games