One of the ways to grow your team and expand your software development capabilities with a reliable tech partnership is by hiring remote software developers. You can find a well-versed and well-constructed team within one software company or construct a group of specialists unknown to each other.
Let's consider ways and rules to build a remote software development team and manage it from any spot.
How to Hire and Build a Remote Software Development Team
1. Create a detailed and engaging job offer
We guess you want to find high-performance remote software developers, not anyone free now. Thus, you should present the company's profile, a list of exact duties and requirements, the project's highlights, and anything you suppose critical for candidates to know.
2. Look for people within your network
Recruiting people in the IT industry means having at least a LinkedIn profile or service user base. Besides, skilled people are everywhere, so word-of-mouth is worth running too.
3. Automate the selection process
You will get many responses because the market of remote software developers is thriving now. We advise creating a rejection template for those who are definitely not compatible. It saves your time and helps you to remain polite. You never know what your next project will be and what people you'll need from your service user base.
Looking for dedicated development team?
We create complex software products, web or mobile applications and carry out engineering.
Contact us
4. Get in touch with the selected candidates
A direct interview is required to understand the communication skills, detailed experience, and cultural fit. The interview process should include a brief introduction, specific skills questionnaire, a test task (optional), and tech skills interview.
5. Organize an interview with your team
You must ensure your in-house team is content with the finalized candidate or the entire remote software team. Firstly, the team feels like part of the recruiting process. Secondly, the candidate feels like being a part of something big. Lastly, the approved candidate will be later integrated into the team at ease.
6. Offer the position and complete all formalities
After your team approves the candidate, it is high time to make an offer. Make sure to maintain a waiting list in case of denial, keep in contact until the joining day, and never believe the recruitment process is closed after the offer is accepted. At long last, they might not pass the trial period.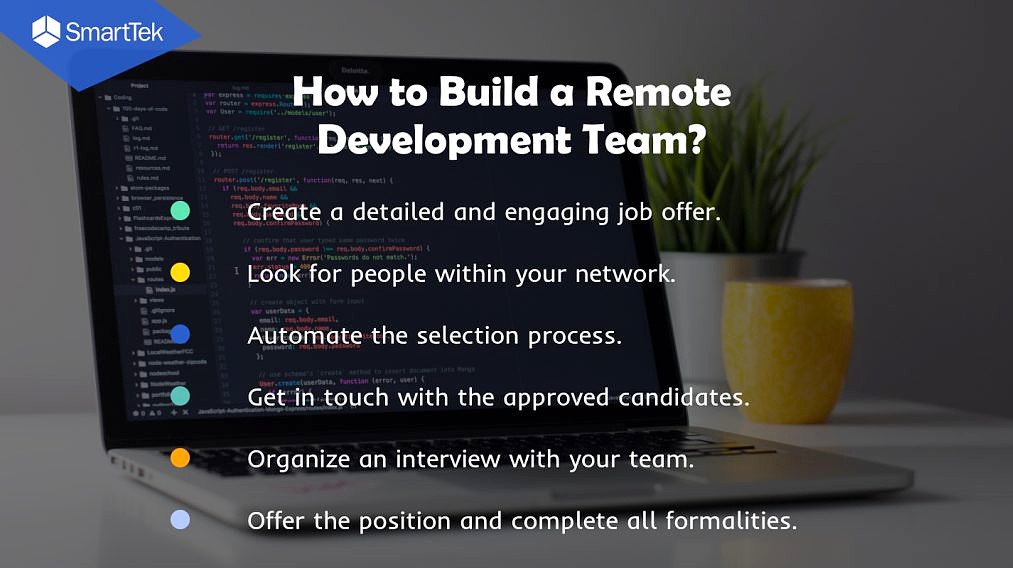 How to Effectively Manage a Remote Software Development Team: 6 Practical Tips
Managing a remote software development team can be a challenging task, but with the right approach, it can be a highly effective and efficient way to get work done. Here are some tips on how to effectively manage a remote software development team:
1. Clearly Define Goals and Expectations
It is important to set clear goals and expectations for the team, including timelines, milestones, and deliverables. This helps keep everyone on track and ensures that everyone knows what is expected of them.
2. Encourage collaboration
Remote teams need to be able to work together effectively to get the job done. Encourage team members to share ideas and work together to solve problems. This can be done through regular team meetings, online forums, or other collaboration tools.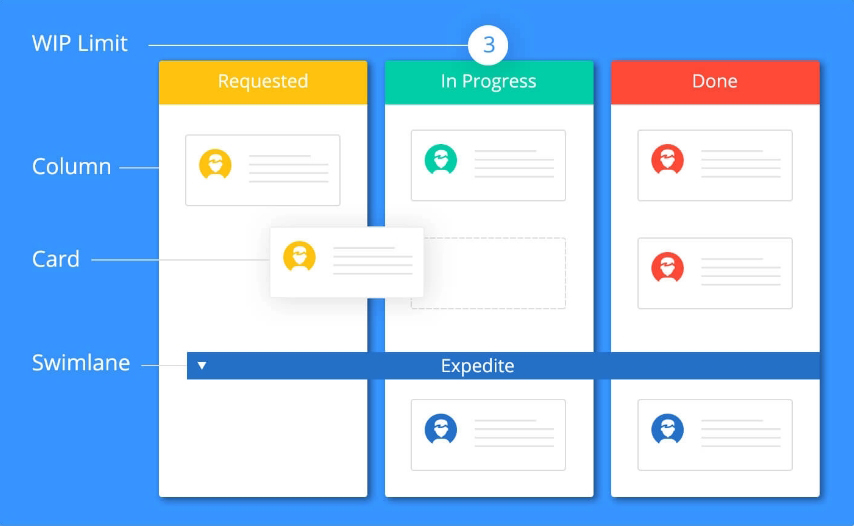 3. Use effective communication tools
To communicate effectively with a remote team, it is important to use the right tools. Some popular options include video conferencing, project management tools, instant messaging applications, and email. Choose the tools that work best for your team and use them consistently.
4. Offer flexibility
Remote teams often have a variety of personal and professional commitments, so it is important to offer flexibility in work hours and location. This can help ensure that everyone is able to do their best work, even if they are not in the same place at the same time.
5. Stay connected
Regular check-ins, team-building activities, and other ways to stay connected can help keep remote teams engaged and motivated. This can also help build stronger relationships between team members, which is essential for success.
Leverage our experience for your success
Expand your development capacities and augment your team competence with a dedicated software development team.
Contact us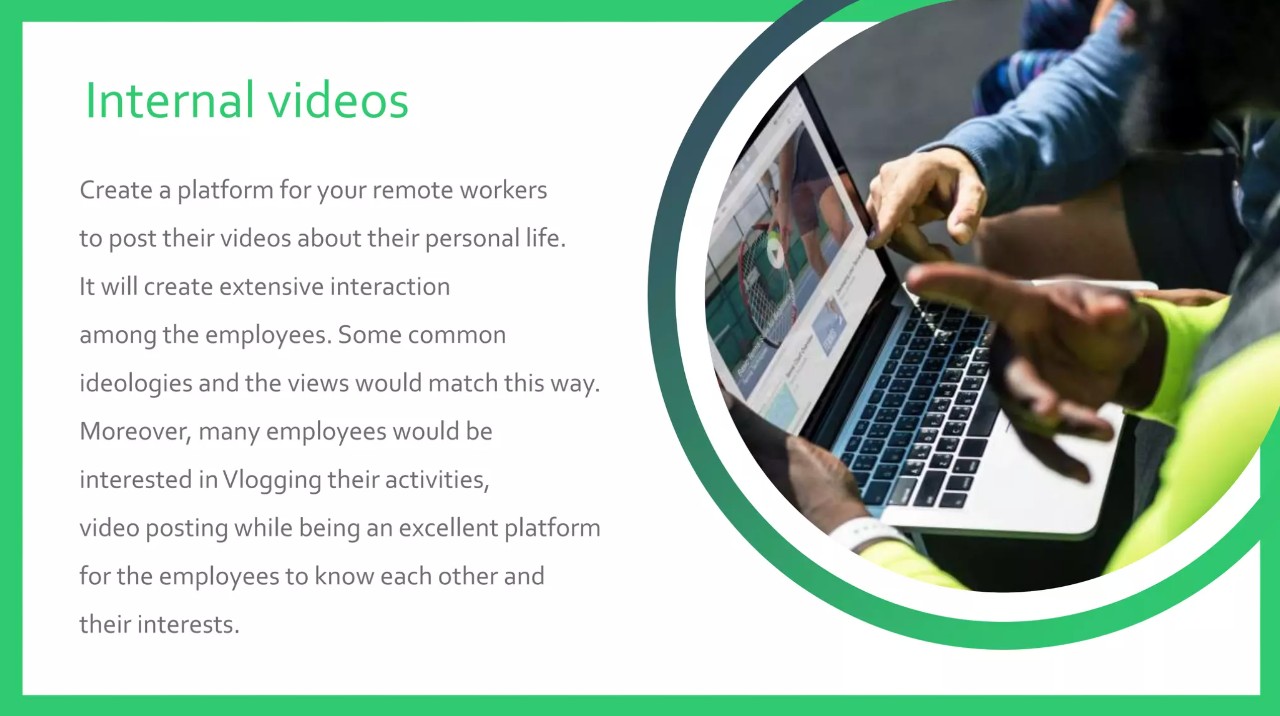 6. Monitor progress
Regular progress reports and status updates can help keep everyone on track and ensure that everyone knows what is going on. It is important to set clear expectations for these reports and use a consistent format.
By following these tips, you can effectively manage a remote software development team and ensure that everyone is able to contribute their best work. With the right approach, a development team can be highly productive and efficient, delivering high-quality software that meets the needs of your customers.
How Our Remote Development Team (R&D) Service Works
Just five steps to a successful project:
1. Request a Quote
Share your project idea and get expert advice for your future dedicated development.
2. Receive a list of candidates
As soon as we receive the request, we evaluate potential candidates. Their technical experience, English level and soft skills to select the best fit for a final interview with the client.
3. You select
At this stage, you can interview the candidates to determine if they meet your expectations in terms of communication and technical skills.
4. Build the team
You can manage your team, regulate the development progress and change the project scope.
5. Start working on the project!
For many years, SmartTek Solutions has been helping clients develop efficient software solutions to meet their business objectives. If you are looking for a reliable technology partner to help you realize your ideas, contact us and let us discuss the details.