Visual merchandising has a clear and positive effect on tobacco retail sales. However, since each tobacco company has thousands of sales points, it is quite difficult to achieve a perfect product layout in each of them, as well as to check the effectiveness of planograms. Virtual and Augmented Reality helps to solve this problem.
Using these technologies merchandising and product shelving can be more effective. In particular, it is possible to test and significantly improve the efficiency of planograms, as well as completely replace the manuals for shelving and displaying goods for merchandisers and employees of purchase points.
Virtual planogramming is a process that allows retailers to create a digital representation of their store layout and product placement. This technology uses software to create a visual representation of the store layout, including the placement of shelves, product displays and other elements.
Virtual Cigarette Planogram as POS Merchandising Tool
Planograms design is an important and fundamental stage for each marketing cycle. It is especially true for the tobacco industry, as tobacco products advertisement is strongly regulated. Therefore, it is very important to ensure the correct facing items per SKU and tobacco products sequence according to planograms at points of sale.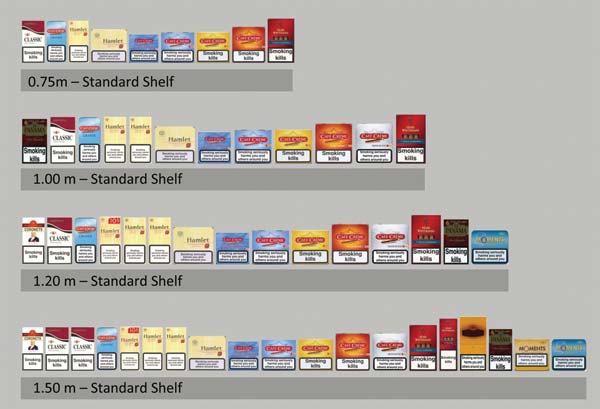 An alternative to printed planograms can be a mobile Augmented Reality application that would be flexible to changes as well as easy to use for both merchandisers and POS employees. This application takes into account all types of promotional stands/displays/showcases and contains "cells" where you can place cigarettes and other tobacco products.
Virtual reality development services
Empower your business with the best tech solutions. We build robust virtual reality applications for different industries.
Contact us
Besides, having such an application, merchandisers and POS employees will be able to conveniently and comfortably manage the displaying of tobacco products on shelves and stands.
All they need is to have the application installed, open it, and point it on the shelf. The AR system recognizes the shelf from any angle and shows exactly which products should be placed in a particular cell. As a result, POS employees have specific visual instructions on how to place goods, and merchandisers can easily check whether the goods are displayed correctly.
Marketers and merchandisers can create three-dimensional shelves and immediately see how they will look in a particular POS from different angles. They will be even able to choose between different types of virtual shelves and see how they would fit a tobacco zone. Such a designing approach allows marketers and sales reps to create the most efficient shopping experience.
Here is a step-by-step explanation of how virtual planogramming works.
Step 1: Collect data
The first step in virtual planogramming is to collect data about the store layout and the products that will be displayed. This includes information about the size and shape of the store, the location of shelves and displays, and the dimensions of the products that will be sold.
Step 2: Create a Digital Representation
Using the data collected in Step 1, software is used to create a digital representation of the store layout. This is done by creating a 3D model of the store that includes all the shelves, displays, and other elements of the store layout.
Step 3: Design the planogram
Once the 3D model of the store is created, the retailer can begin designing the planogram. This involves selecting the products to be displayed and determining where they will be placed on the shelves and displays.
Step 4: Test and finalize the planogram
After the planogram is designed, the software allows retailers to test the layout to see how it will look in real life. After testing the planogram, retailers can make any necessary adjustments and finalize the layout. The software allows changes to be made to the planogram, such as adding or removing products or adjusting the placement of shelves and displays.
Step 5: Implement the planogram
Once the planogram is finalized, the retailer can implement the layout in the store. This involves arranging the shelves and displays according to the planogram and placing the products in the designated locations.
What Are Your Next Steps?
If you are looking for a brand-new and effective solution, contact us here.
Our team specializes in software solutions for the FMCG industry. Our experts will determine the right combination of technologies for your project as well as provide you with various services including VR/AR applications design, development, and 3D modeling.
Want to get a quote for your project? Just contact us.