When talking about software for managing companies, they always mention an ERP system. It is the one that helps supervise and command the entire company. But how do you choose the best-fitting ERP among many competitors? In this article, we compare SAP Vs. Odoo for you to discover where to start the adventure.
Every ERP is like a centralized software to keep all your business activities in one place, simplify communication, automate processes, and speed up information sharing due to a powerful database.
SAP vs Odoo ERP: Briefly Overview
SAP software is one of the popular choices in the marketplace of large organizations. First of all, SAP SE (Systeme, Anwendungen, Produkte in der Datenverarbeitung or Systems Applications and Products in Data Processing) is a huge and leading German brand existing since 1942. It is a big company that produces big ERP software for big-size companies to manage business operations and customer relations.
Odoo is a powerful tool to lead your business in an open-source ERP and CRM solution. It offers a core version that you stow with the required modules or apps for every special company task. For example, you sell toys, so you must personalize your Odoo and install only necessary apps like Warehouse Management, Purchase, Billing, etc.
If you need help integrating the necessary modules and connecting them, we will be glad to construct the system for you. Moreover, we maintain you as you grow and easily and quickly add new necessary modules.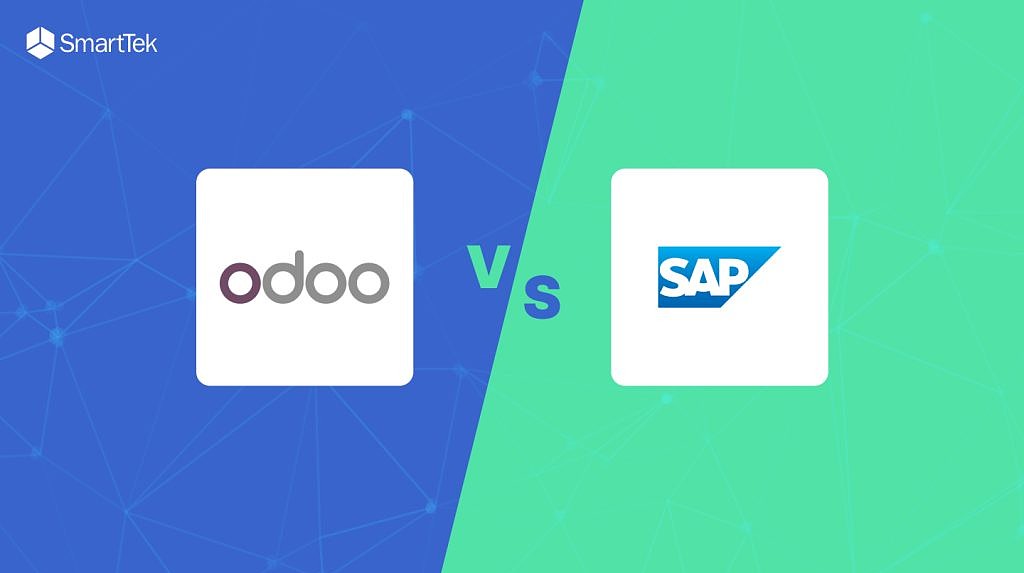 Get started with Odoo
All your business needs under one roof. Talk to the best Odoo ERP functional consultants. We are here to answer your questions.
Contact us
Odoo vs SAP Business One: Detailed Comparison
1. System Maturity
Every vendor continually updates its ERP version to improve functionality and technical capabilities. To assess maturity, we look at how robust, flexible and deep the software is. For example, Odoo uses the PostgreSQL database, while SAP has developed its own cloud. 
2. Scalability
Scalability refers to high efficiency, standard processes or a common operating model. In this respect, Odoo can scale by integrating with eBay, DHL, Ups, Ogone and other popular applications. Meanwhile, SAP lets you connect your core suite to third-party cloud solutions such as SAP Business Suite or SAP Hana. So we'd say you can scale vertically with Odoo and horizontally with SAP.
3. Flexibility
If you plan to grow big and change fast, you should consider a solution that can grow with you and change as your business changes. Odoo allows you to add new modules and applications as your business evolves, such as opening new warehouses or starting email marketing. SAP is less adaptable and customizable, but offers multiple hosting options that you can deploy in the cloud.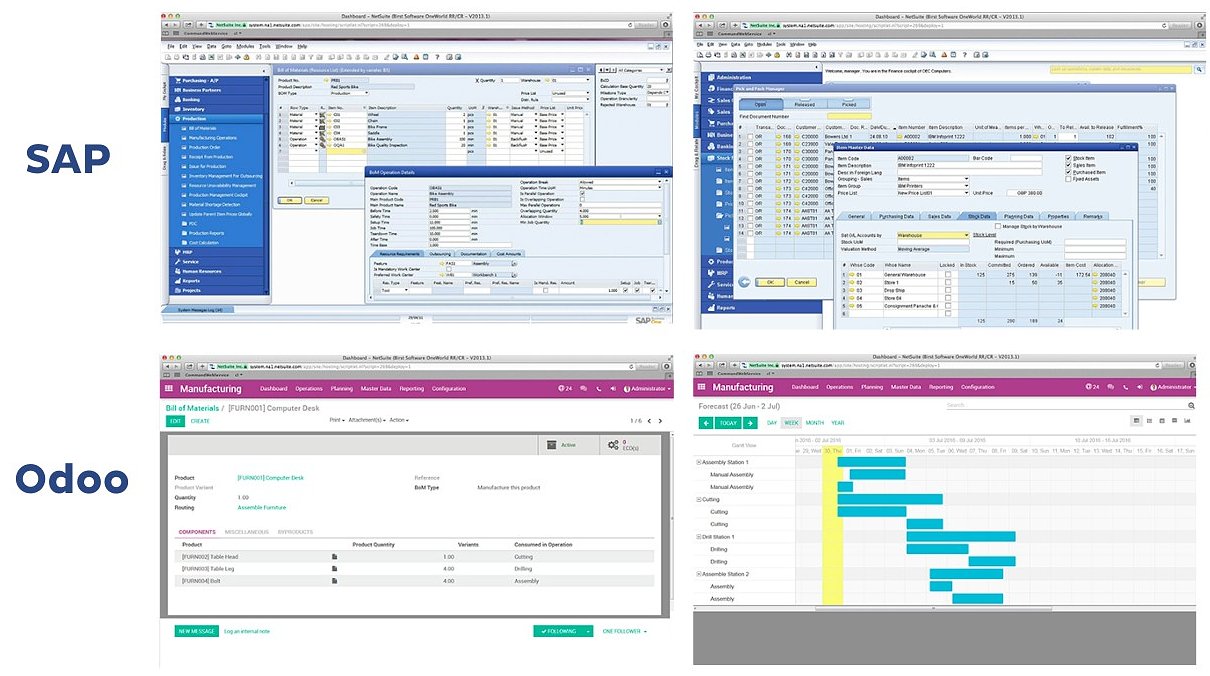 4. General functionality
It all depends on your needs or priorities: financials, customer management, or eCommerce. We recommend visiting the SAP vs. Odoo websites as they give a transparent view of the functionality you can get and benefit from.
5. Connected devices
Both ERPs work with Windows, Android, and iPhone/iPad, but SAP also supports Mac while Odoo is web-based only.
6. Options for system integrators
Finally, you'll want to know what kind of implementation support you'll get if you choose Odoo vs. SAP software. You definitely want to examine how the implementation partner could make or break things. We find that SAP has some very large implementers that might be a good fit for larger organizations.
At the same time, Odoo works for all company sizes and attracts customers with its customizable and scalable nature.
Here is a comparison of Odoo and SAP in the table:
| | | |
| --- | --- | --- |
| Feature | Odoo | SAP |
| Ease of Use | Odoo is known for its user-friendly interface and easy-to-operate. It is designed for non-technical users and does not need extensive training. | SAP has a steeper learning curve and requires more technical expertise to use effectively. It may require extensive training for non-technical users. |
| Customization | Odoo is highly customizable and can be customized to suit specific business needs. There is a large community of developers who can provide extra support and customization. | SAP is also customizable, but it can be more complex and may require the assistance of an SAP consultant. |
| Integration | Odoo offers seamless integration with other software and applications, making it easier to integrate with existing systems. | SAP also offers integration, but integration can be more complex and may require additional resources and expertise. |
| Cost | Odoo is an open-source platform and is typically more cost-effective compared to SAP. The cost of customization and integration may also be lower. | SAP is proprietary software and can be more expensive compared to Odoo, especially for larger businesses. The cost of work may also be higher. |
| Scalability | Odoo is highly scalable and can easily accommodate the needs of growing businesses. | SAP is also scalable, but scalability may be more complex and may require additional resources and expertise. |
| Functionality | Odoo offers a wide range of functionalities, including CRM, accounting, inventory management, and more. It is designed to be an all-in-one solution for businesses. | SAP provides a range of functionality, including financial management, supply chain management, and more. However, some businesses may require additional modules or integrations to meet their needs. |
And to recap, there is a list of frequently asked questions.
Is Odoo the same as SAP?
SAP is for large companies, but also offers a simpler version for SMEs. Odoo is aimed at all types of companies: small, medium or large. This difference is because Odoo is a modular and flexible software, adaptable to any company.
When it comes to the prices, Odoo definitely is a cheaper alternative.
Can Odoo replace SAP?
Especially in the long run, Odoo can shine with more profitable license offers. Compared to SAP, costs can be reduced by a factor of two. Implementation costs alone are also significantly lower – without sacrificing quality or service.
Which ERP system is better?
Both software has their pros and cons. Odoo offers advantages such as low cost and flexibility, but as a newer software, it lacks the established reputation and experience of SAP. On the other hand, SAP has a well-known name and a wealth of experience but comes with a higher cost and longer implementation time.
SmartTek Solutions as an Odoo partner offers all kinds of Odoo development services including custom development, integration, migration, and consultancy.
Contact us if you looking for a reliable technical partner we guarantee the highest quality of our work.