One of the leading ERP systems in the marketplace might be the one you never heard of. Have you heard about Odoo? We bet you've missed some software advantages that can take the business processes to a new level.
Odoo ERP is an online SaaS solution for supporting and integrating business activities such as production planning, manufacturing, logistics, finance, accounting, warehouse management, and human resources.
The key benefits of Odoo are:
Integrate systems and services.
Automate the business process.
Ensure data is shared securely among departments.
Odoo ERP is a popular, functional, and convenient software solution for small and mid-sized organizations. Furthermore, it is one of the few open-source ERP systems that are both viable and scalable for high-growth businesses.
Why Do Businesses Need Odoo ERP for Effective Management?
The ERP system focuses on the integration of corporate processes, which provide a list of advantages for business:
Real-time business process monitoring.
Alerts are sent across departments.
Enterprise-level strategy planning
Management that is centralized, online, and available from any device.
Flexibility in adding apps as your business expands.
Orders are processed, accounts are updated, and notifications are triggered.
Manufacturing and supply chain management.
Keeping track of recruitment and hiring.
Payroll, benefits, and personal information are all managed.
The service selection is impressive. That is why many businesses turn to Odoo ERP developers for a customized platform that will assist every part of their business.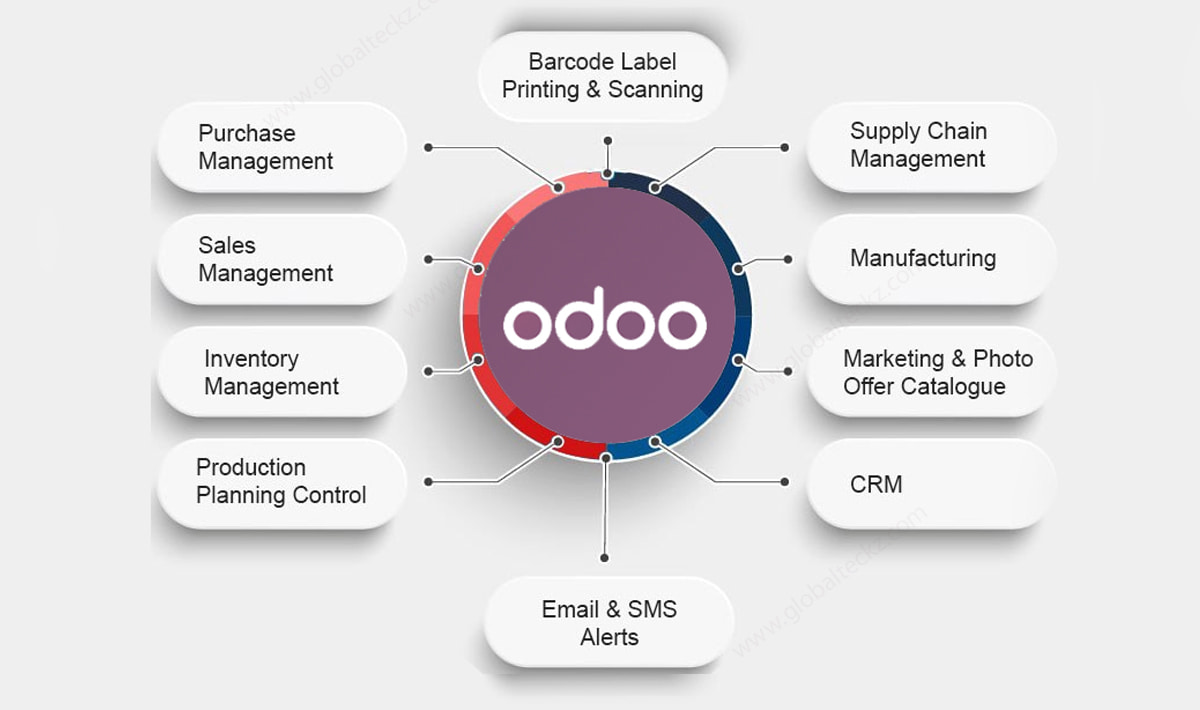 ERP Implementation & Support
We have been successfully implementing Odoo for manufacturing, wholesale, retail business. Get flawless Odoo ERP implementation services.
Contact us
The Major Advantages of Odoo ERP Software
All ERP tools, modules, and software are designed to increase your company's profitability. They're made to make your business procedures more efficient, so you can cut costs and save money. Unlike CRM, it focuses on all parts of your business: cost reduction, increased visibility, and internal process simplification.
Integrated information among all departments
In the old ways, companies used to store information in each department's databases. If other departments want this information, they must inquire from the respective department to access it.
Using Odoo, the system stores the information across all departments in a single database, which is quick and convenient to manage.
Employees need no department approval to access the necessary information, which saves time.
More efficiency for the business process
If you want to duplicate information stored in different databases, there is a high risk that this information may not be the last version. Without Odoo, it provokes inaccurate decisions.
After ERP implementation, everyone can access and update the information from various departments to reflect the latest information in the system.
ERP reduces the risk of duplicating files because all information is updated in single databases. It leads to more accurate and reliable decisions.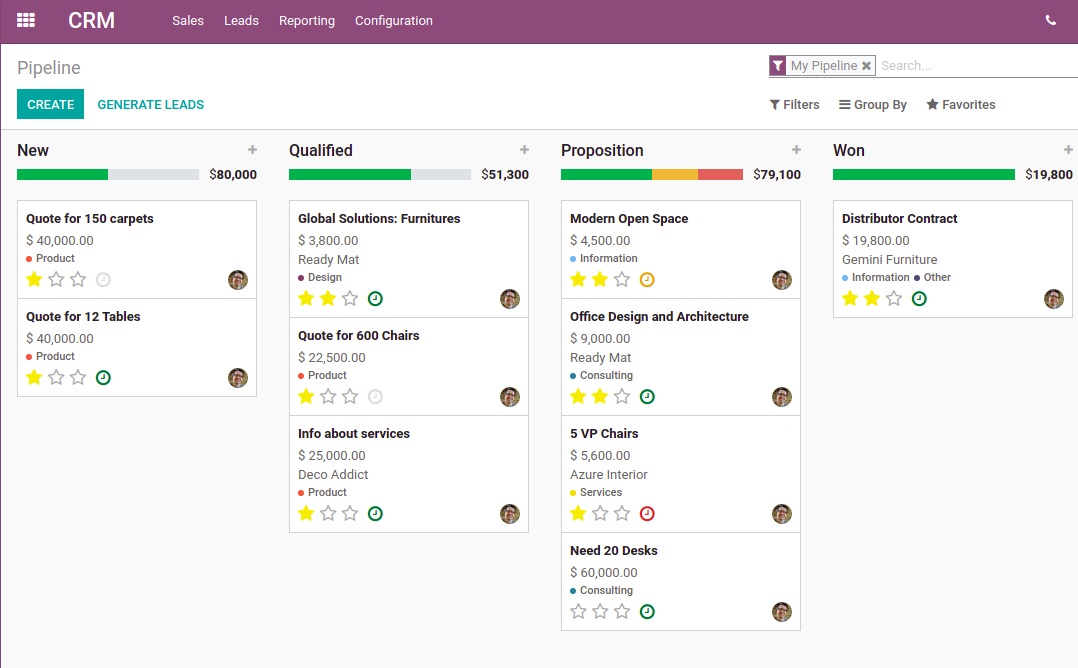 Total business visibility
Management is one of main Odoo benefits. It is able to control inventory levels on a daily or even monthly basis, including future consignments that are yet to be received. Management better controls working capital by knowing where the company stands regarding inventory levels.
The availability of all company information in a centralized location allows for increased collaboration and more streamlined completion of complex tasks.
Complete visibility provides better workflows and allows inter-departmental processes to be easily tracked with maximum efficiency.
Improved reporting and planning
Implementing the Odoo across departments means a unified reporting system for every process.
By having a single source of truth, an ERP system generates useful analytics and reports at any time, as well as produces custom reports without relying on IT help.
Developers create software that helps management to compare and analyze functions across departments/divisions without the bias of multiple emails and spreadsheets.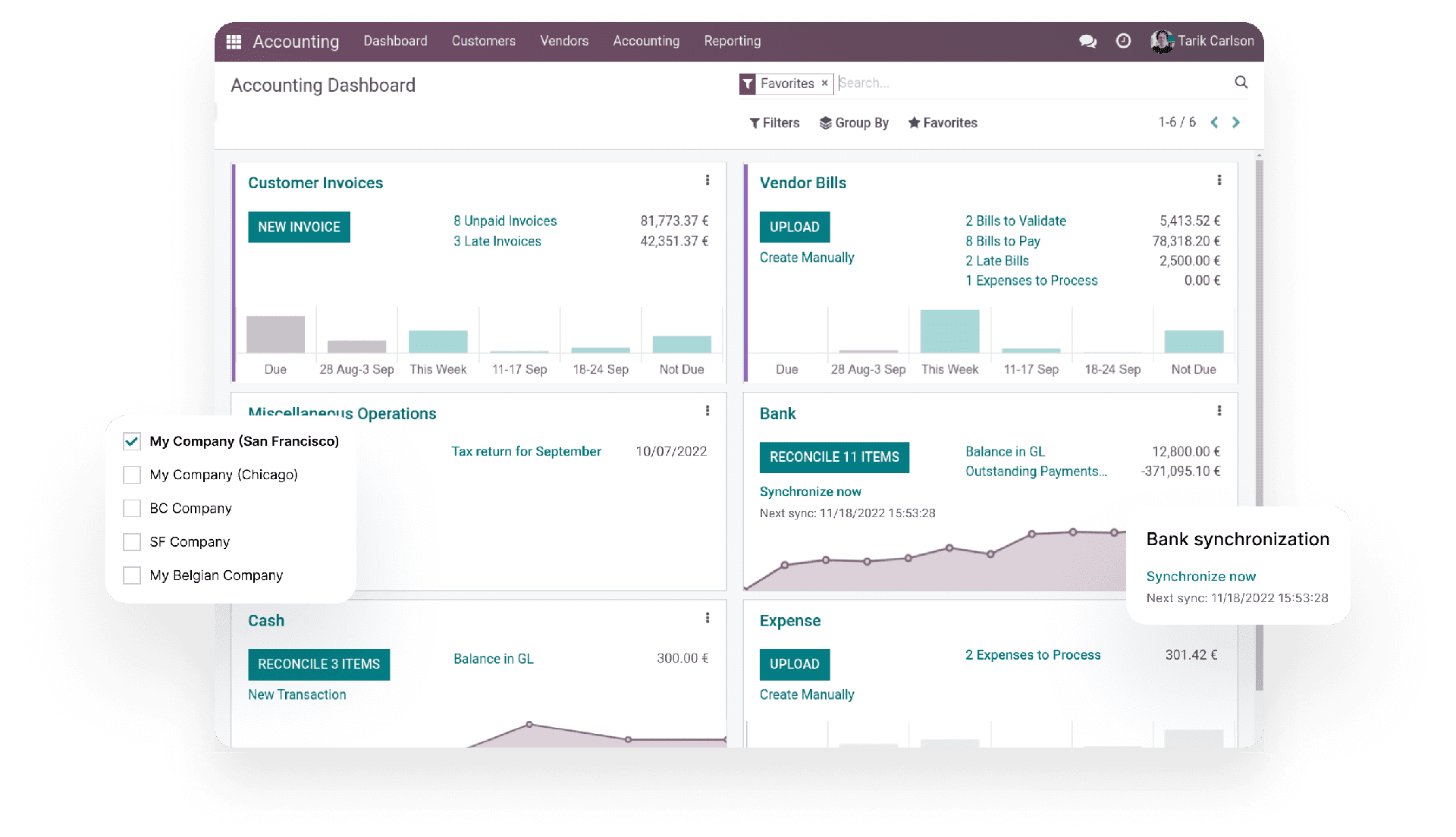 Enhanced user experience
Odoo is easy to master due to its intuitive interface and straightforward user environment. It is feasible to train teams of different ages and levels.
You can add required applications and functionalities over time when your company increases or new departments open. Odoo is quite modular software to fit your specific strategies and initiatives.
It accompanies other systems like existing ERP or CRM to save time by training, implementing, and allowing growth and evolution inside the software.
Get started with Odoo
All your business needs under one roof. Talk to the best Odoo ERP functional consultants. We are here to answer your questions.
Contact us
What Are the Limitations and Disadvantages of Odoo ERP?
1. Cost of ERP Software. The upfront costs of the software alone can be very high for small to medium companies. However, the pricing is direct and transparent, which is perfect for enterprises with a stringent budget.
Even though this cost can be decreased by using a cloud solution with a monthly payment basis, the users can only have access to the system if they continue paying. Moreover, it becomes a more expensive option over a product's lifetime.
2. Customization process. It is impossible to customize Odoo without a dedicated team of professionals. You cannot create a professional view following YouTube tutorials or Google guides. Many companies may also lean on customization when the chosen system doesn't really fulfill business needs.
It may lead to diminishing the best practices built into the system and make it more difficult to upgrade in the future.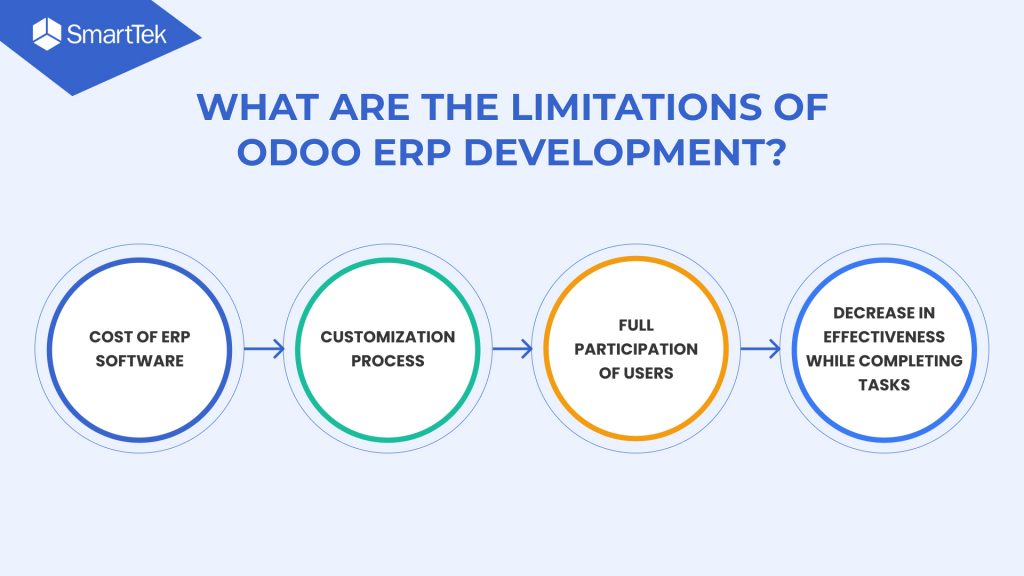 3. Decrease in effectiveness while completing tasks. If ERP is a new word to your team, be patient and resilient before it really works. Besides, it takes time to do the data migration, organize employee training courses, etc. The implementation process can bring a huge amount of loss in terms of time and costs since it influences the employees in doing their routine processes.
4. Full participation of users. Odoo ERP developers cannot improve your enterprise life just by creating software. For a successful implementation, every employee should participate in using the system. It requires training and learning sessions for the employees to understand the system and adapt to it. It requires time and money, but the investment is worth it.
Lack of employee participation or unskillful handling of the system can lead to implementation or operation failure.
Summing Up
If you're a small- or mid-sized organization looking for flexibility and scalability, Odoo ERP will suit you well. Consider that similar processes require extra effort, time, and investments, but the results are worth it. Integrated automation and improved reporting help your company perform easier.

Regardless of which direction you go, it is always good to get an independent view, so feel free to contact us and get a consultation on Odoo ERP development & implementation outsourcing.