Formerly, realtors had to contact customers and communicate real estate parameters verbally or in written form before having prospective clients visit the physical location. Nowadays, it only takes putting on the VR headset to experience what it's like to be in a certain setting.
The prospects for VR/AR solutions market growth are also on the bright side – according to Goldman and Sachs, by 2025 they are set to reach $80 billion.
So how are virtual and augmented reality technologies disrupting real estate development? Below we will examine the interesting use cases of AR&VR in the real estate industry.
VR Property Showcase
The full presence effect is achieved by placing cameras throughout an apartment or a building and shooting a setting from multiple spots. Prospective customers can now take virtual tours online to examine their future homes by getting immersed into high-resolution virtual environments. Customers can also interact with objects in virtual settings and see how they work.
Virtual tours can be shared on a property listing or real estate website, allowing potential buyers to experience the property remotely. This is especially useful for out-of-town buyers who may not be able to physically visit the property before making a purchase.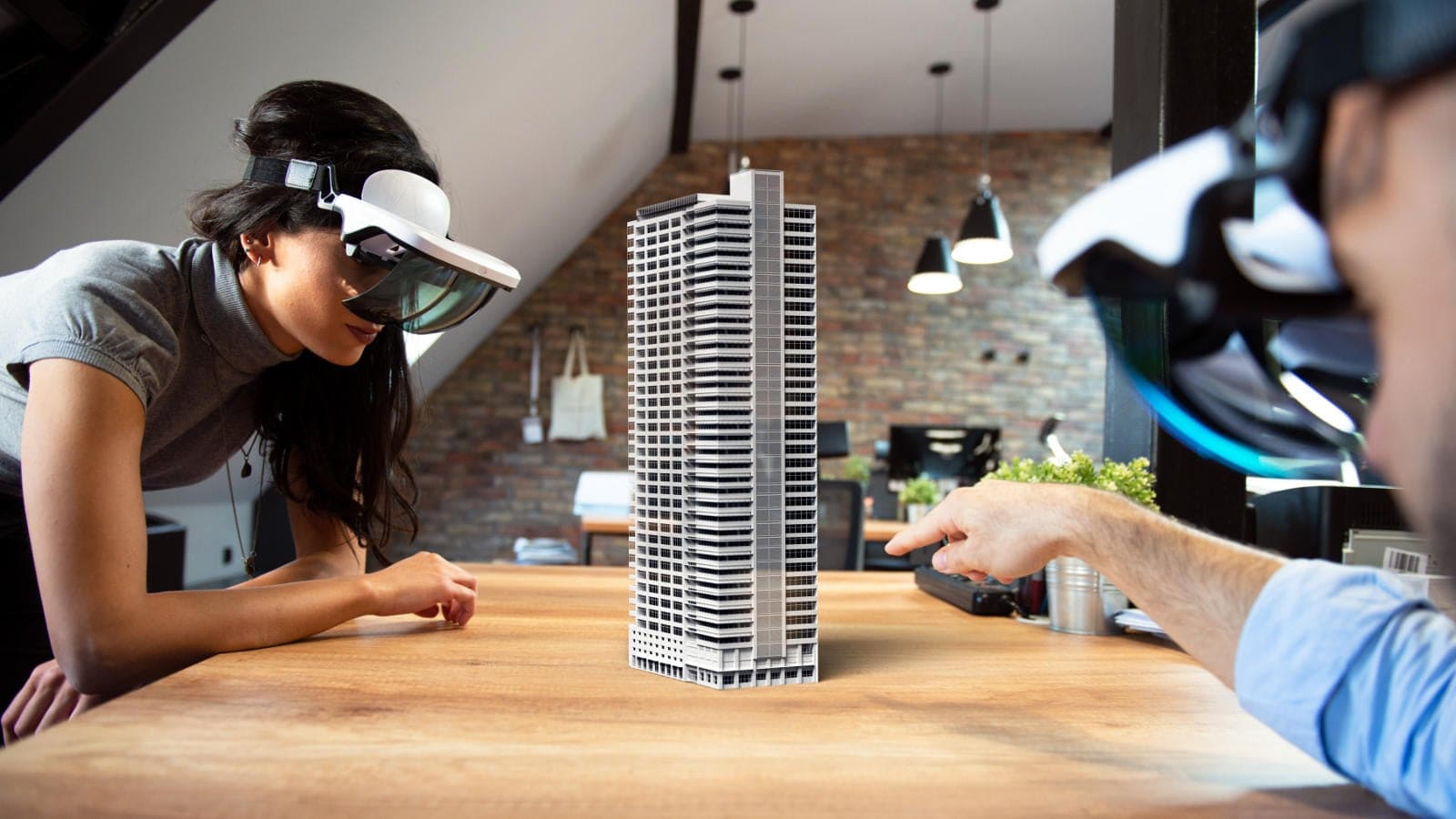 Virtual Bike Tour
At SmartTek, we create 3D architectural visualizations for digital representations to assist realtors in creating virtual tours.
We also create virtual bike tours to help customers envision what it would actually be like to live in this particular neighborhood, ride through its streets and experience how it feels like. Apart from the house and its interior, the neighborhood is often a decisive factor for property buyers.
Mind-blowing AR/VR ideas can't wait
We use the latest immersive technologies for creating apps to exceed our clients' expectations.
Drop us a line
AR-Assisted Real-Estate Marketing
By using AR customers can now learn all the important information about the real estate objects they are interested in before actually contacting a real estate agent.
For example, mobile application enables users to learn essential information about the price, square footage, etc. of a particular object by simply pointing a smartphone at the building. Augmented reality real-estate applications can turn a walk or a drive through a neighborhood into an insightful shopping tour.
Designing Interior with AR/VR
AR/VR technology is helping interior designers to visualize how home decor and furniture pieces would look like in a particular setting. It limit the otherwise costly and time-consuming trial and error stage to a virtual environment where they can easily create and try out various styles and designs before selecting the ones that would fit a particular home perfectly.
Virtual staging is quick, easy and often less expensive than traditional staging. In addition, virtual staging allows for unlimited design options, unlike traditional staging where designers must work within the constraints of available furniture and décor.
Immersive technologies are also helping to create a more cozy and welcoming feel of unfurnished houses by suggesting how they would look if already furnished.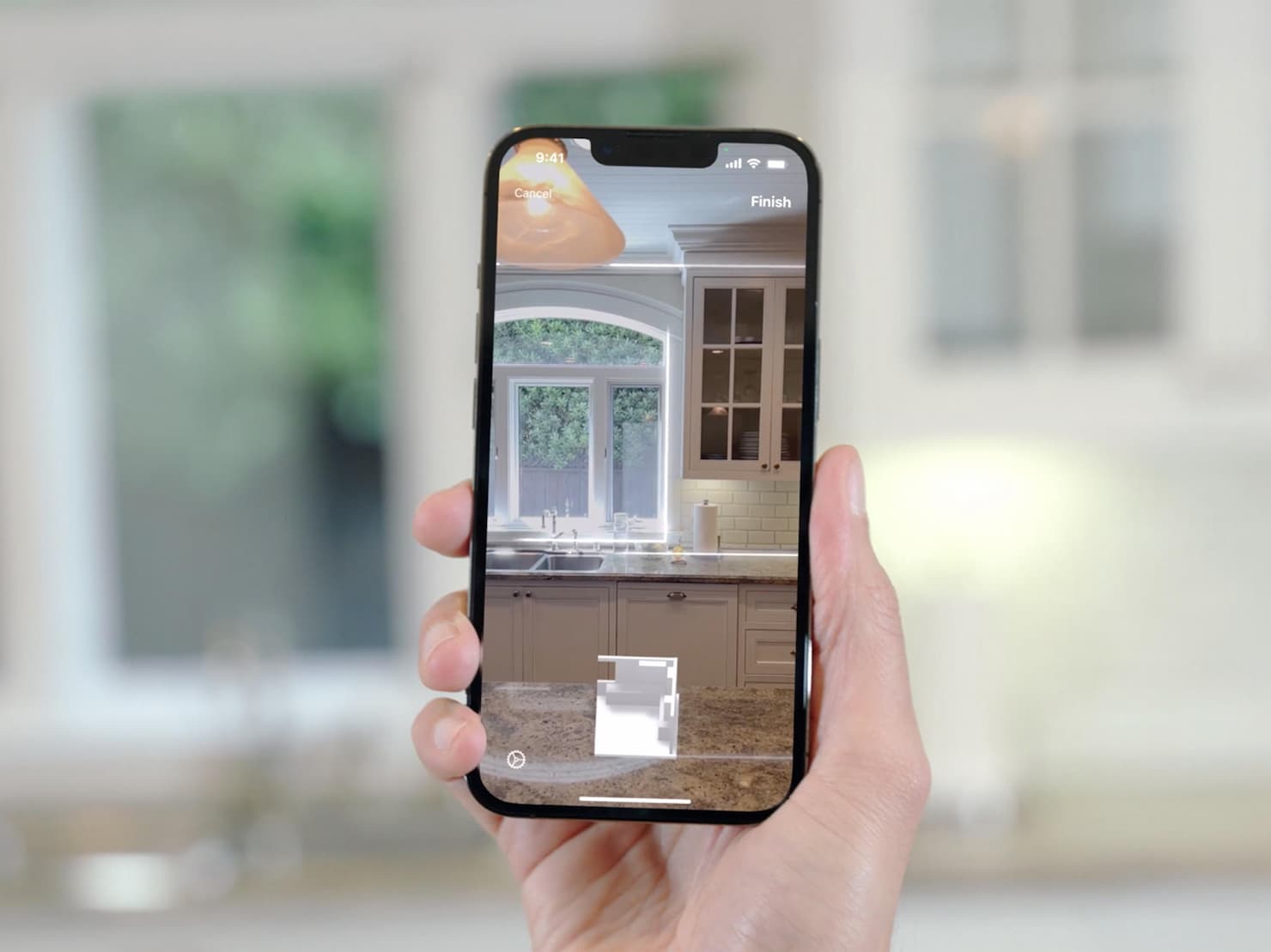 Capture Dimensions And Create Floor Plans
Interestingly, not only do immersive technologies help create prototypes from 3d models, they also help capture dimensions and make floor plans of existing buildings. Apps like MagicPlan can assist in making job estimates, DIY projects and much more.
While previously, you would have to use a physical ruler to measure the room, tools like AirMeasure help you make measurements by simply pointing your device and following instructions.
Property Maintenance
Augmented and virtual reality in real estate can help property managers and maintenance crews identify and address maintenance issues.
For example, a virtual reality headset can allow maintenance crews to see plumbing or electrical systems in 3D, making it easier to identify and diagnose problems. In addition, these technologies can be used to create maintenance checklists or tutorials for new employees.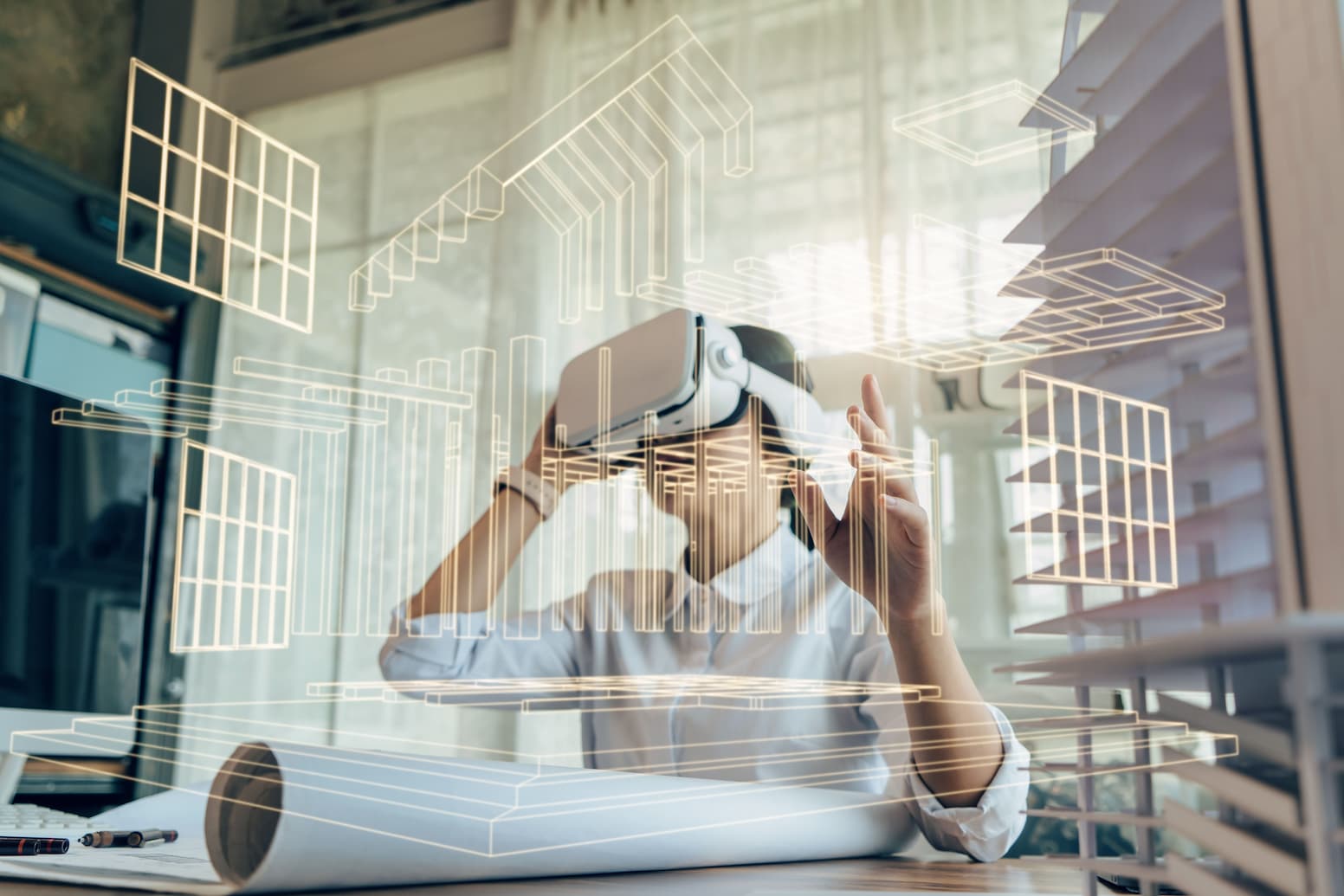 Looking to build an AR/VR solution for construction?
SmartTek is ready to become your reliable technology partner with proven expertise in immersive technologies.
Let's talk
Benefits of Using Virtual and Augmented Reality in Real Estate
These technologies offer a number of benefits to the end consumer:
Native familiarity with the property. The effect of full presence with maximum realism is provided.
Objective evaluation of the space. A figure, for example, 40 square meters. m. may mean nothing to a potential buyer. But virtual reality will give him a clear understanding of how much it is and whether it is enough space for him.
High level of detail and attention to detail. It is possible to see every element, even the smallest, up to the future view from the window (a shot from a quadcopter at the level of the future window is used).
There are also many business advantages:
Relatively low implementation costs. The investment is relatively small. And the customer can even view the object in VR/AR from his smartphone or tablet. Although the best effect is still achieved with glasses or a virtual reality helmet for full immersion.
Multiple device support. In addition to the aforementioned phones and tablets, computers, laptops, TVs and other devices that play video content can be used for 3D tours.
Virtual and augmented reality technology allows you to stand out from the competition: the buyer is not just looking at pictures, he gets a new experience, the process of choosing an apartment becomes more exciting.
Summing Up
The benefits of using immersive technologies are significant: they can be used as both a communication tool for real estate marketing and to assist real-estate development at the architecting, construction and design stages. Their application is not only limited to the use cases mentioned above – AR/VR can also be used for training construction workers and providing DIY instructions to tenants.
Looking for ways to empower your real-estate business with augmented and virtual reality technologies? Contact us and let's talk the details!