The mobile app is evolving in its own and booming way. App industry trends that will dominate 2022 will be completely based on new platforms, languages, technologies, and ultimately new times.
Our society relies on mobile devices, so future apps will become an integral part of our lives if they comply with users' expectations. If the application wants to succeed and be in demand, we recommend to find developers who keep up with innovations, technologies, and new reality needs. Fake news, online thieves, and many more trends will be at stake of the mobile application development industry in the turbulent 2022.
What Is the New Technology in Mobile Development?
Innovations in technology provide opportunities to develop new solutions and enhance existing ones. Keeping up to date with the latest mobile app features can help you build a useful and helpful app that can be easily adjusted to a quickly changing world. And it is not only about app peculiarities but your mind, either progressive or still.
Let's see examples of typical mobile application development trends:
5G technology incorporation.
Augmented and Virtual Reality integration.
Blockchain.
Machine Learning and AI.
Mobile wallets and mobile payments.
Internet of Things (IoT).
Wearable technology.
Chatbots.
Cross-platform development.
It is always a good idea to be on top of the mobile app trends 2022, giving you an edge over your competitors. The COVID-19 pandemic has started the dominance of online channels, and this tendency does not seem to decrease or disappear.
If you want to be at the forefront of the new world, check out less typical trends below.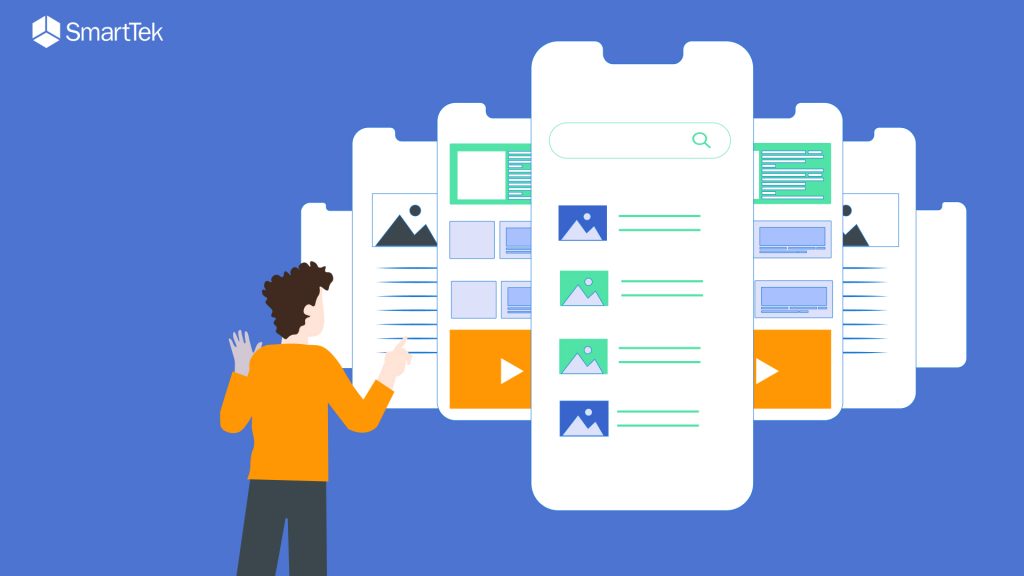 6 Current Trends in Mobile App Developement
Minimalism
Payments, orders, news, music, videos, communication – we use mobile phones to serve our primary and secondary needs. However, people have gotten tired of multiple apps that clog the phone memory and need extra movements to use. We have played enough with our devices, and everyone's phone has become an everyday tool more than a temporary toy.
In the future of application development, super apps like YouTube or Facebook will tuck down the challenge of installing multiple apps for multiple tasks. Users will leverage ONE APP for several purposes to save both their time and phone memory.
One app that unites streaming, videos, analysis, creativity, motivation, skills, fitness, and food!
And people will divide: some will call it a dump while others will enjoy deleting multiple other apps. The best way is to give the user an option on which apps to join within one personal universe.
AI-Based Data Validation
The trends application will help to counter fake information & rumors on social media apps. With the rise and development of social media, an interesting phenomenon has occurred – information warfare. Indeed, when some events happen, you can find both confirmations and refutations.
And it is the real profession to refute fakes and vice versa – to create them. We investigate the world due to social media, so it becomes easy to manipulate us with wrong information. There is a strong need to detect false news, facts, and data before regular users see it.
How to protect yourself from being involved in information warfare? New apps will support you and validate all data by machine learning anti-fake algorithms.
Digital Ledger Technology (DLT)
This mobile app trend will serve as bullet-proof mobile app solutions. Except for the fake news that steals our critical and cold minds, there are real thieves who can steal your online transactions for their own treacherous interests.
The number of such apps rises along with the number of people willing to own your transaction details. Since more and more people pay online, identity theft will get a reality check cryptographic validation.
Smart Voice Interfaces
One more latest mobile app development trend will simplify the control over mobile apps. Touchless UI has the power to outsmart complex app gestures. Even though it's not an innovation, the technology of spoken human interaction will improve understanding of commands, text to speech to play a reply, and answer questions.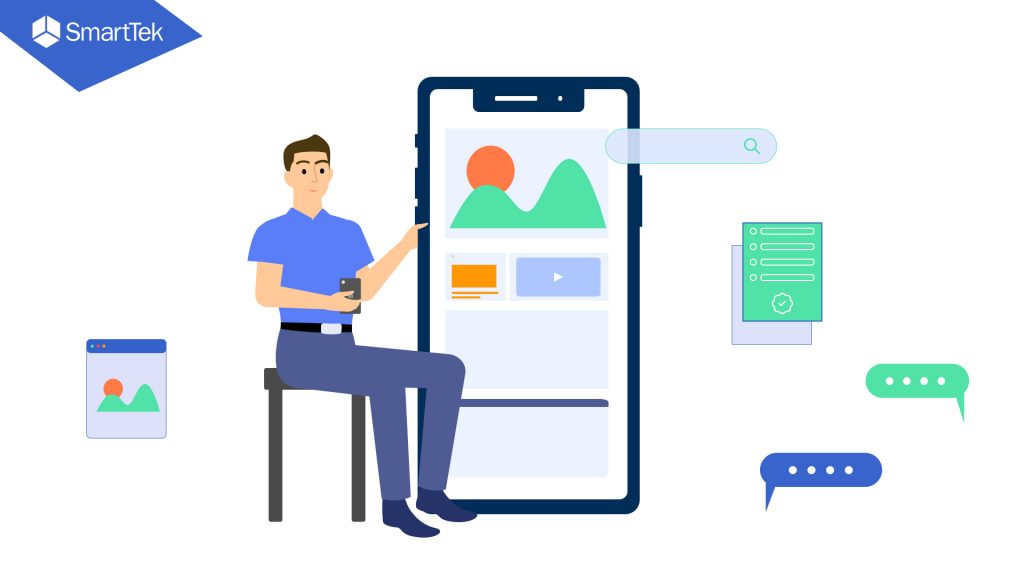 Composable Applications
Such applications are looking at how applications are built so that there's modularity, autonomy, orchestration, and discoverability. For example, such applications occur in businesses like financial service companies to drive customer experience consistency.
Most commonly, within 1 year of launching, 100% of the platform teams become able to reuse composable application components leading to high-cost savings of up to $1 million. Besides, we believe that by 2024, 70% of large and medium organizations will have composability as a key criterion since more companies are building their composable applications, following future mobile app development technologies.
Neomorphism
Using this trend, you can make 3D objects in apps more pleasurable. It is hard to impress people with familiar and plain objects in the app.
The user longs for something more extravagant, unusual, convex, and motley. Meanwhile, 21st-century design modeling will be simple with scrolling and swiping. So, fewer features and unusual design is your path to a successful and trendy app.
And let's talk more in detail about design trends in the next section.
New Trends in Mobile App Development Design
Effective data and content display on the user's mobile interface is important for a sound user experience. Why do some apps attract you while you delete others after 2 minutes of use? It is called UI and UX, and successful mobile application companies invest many resources to develop new patterns, intuitive designs, and interactive interfaces.
As for current trends, designers utilize the following tendencies:
3D elements with flat icons and buttons with a dynamic look.
Dark mode with an elegant, modern, and stylish interface.
Blend graphics and images with soft colors, natural graphics, and a simple layout.
Content focus design with highly readable fonts and immersed content.
Disabled people-friendly design with simple navigation, gesture control, and voice assist.
Product presentation that stimulates curiosity and increases credibility.
Soft shadows, layers, a floating design that creates a vibrant look, engages, and informs.
FreeHand/Hand Drawn elements that give a natural feeling, intimacy, and friendliness.
Engaging swiping experiences that engage and provide direct interaction.
As for now, let's see what is the future of mobile app development in the context of technologies and UI/UX design in 2022.
AR & VR
The impact of design goes beyond the screen, and it impacts not only online but our offline lives too. Have you ever used Snapchat or Instagram filters? It's even scary how they can change someone's appearance.
But your app can benefit greatly from augmented reality mobile app development technology that adds digital components to real-world reality.
It applies to apps that sell furniture, jewelry, clothes, etc. AR enables your potential buyers to try on the things and buy them if they fit.
You can add holography to your smart watches, fridges, or lightening.
Spatial and augmented audio provides immersive soundscapes.
Additionally, virtual reality can immerse your users into a completely new world. At best, it applies to tourism and rental industry apps.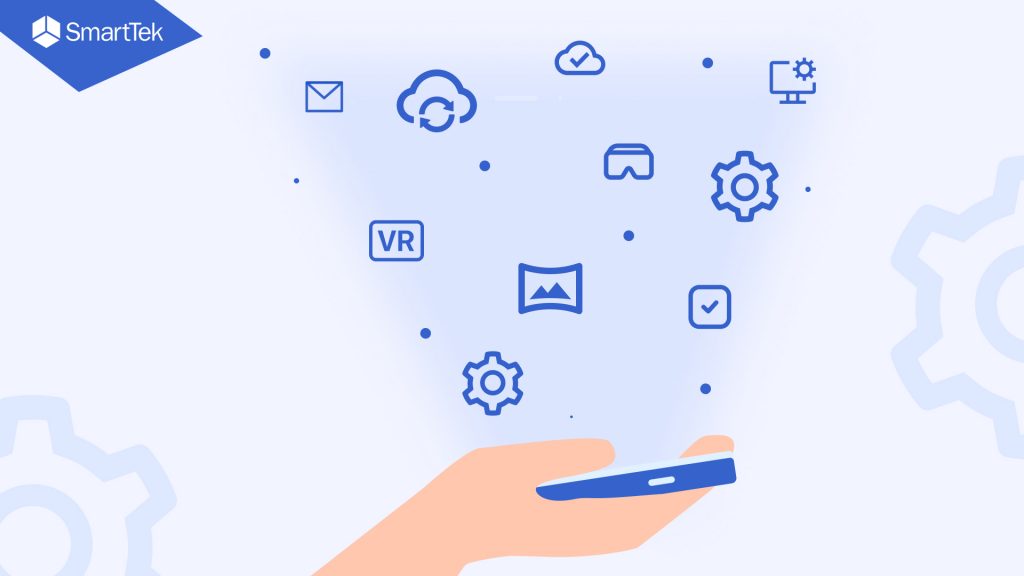 Web 3.0
Back in the day, only a few people created content with some design consumed by most Internet users. In other words, the alternative was absent. Nowadays, more and more people shift from passive to active users, and they would like to become less dependent on YouTube or Facebook.
Web 3.0 is coming as the Internet will become a more decentralized place. Blockchain is a great example of how web 3.0 starts. Good, but what does it mean for UX design?
Designers have to keep in mind the decentralization part: data will no longer be in the hands of big companies or public institutions. They will manage it on the blockchain, which could lead to a more secure and transparent environment.
Metaverse
The Metaverse is an example of united VR and a decentralized Internet. Some define it as a collection of 3D worlds, while others describe it as interconnected worlds. In both cases, designers are required to design this space. So yeah, it is the trend.
UX Maturity
Based on the mobile app future trends mentioned above, UX maturity in companies means measuring the capability and desirability to deliver user-centered design. Unfortunately, many companies are still unfamiliar with this concept, and many companies do not understand the value of UX.
However, new trends will change this tendency. The role of a UX designer is still one where they also have to teach people about their profession and why UX design is worth investing in for such huge projects as Metaverse.
Do you want to improve UX maturity in your company?
Learn to use quantitative and qualitative data to help you prove your design decisions.
Understand how UX and business go hand-in-hand and can support each other.
Actively cooperate with non-designers in your team and make them part of your process.
These tips will help you to grow the UX maturity in your company and, thus, create an understanding of user experience and how to build it stronger.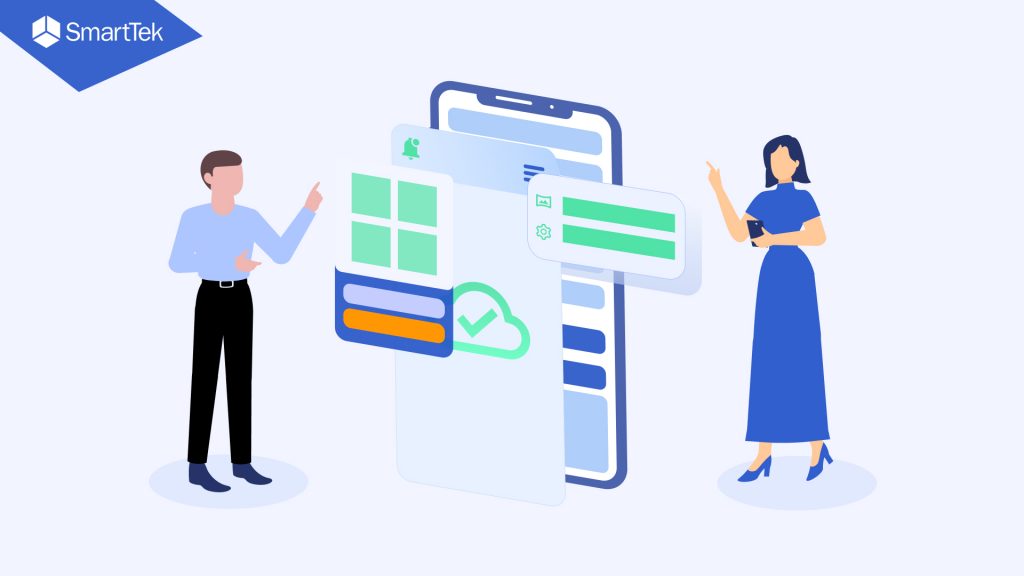 Afterwords
Leading consumer apps set high standards for user technologies experience and interface design. If you want to succeed in the future of mobile app development, your organization has to master new skills and work with new partners to meet growing user expectations.
The app should exploit technologies with novel features such as interactive content layers, circular design pattern cards, and content manipulation. Therefore, designers are creating apps that can accommodate mobile challenges such as partial user attention and interruption.
This all is not only about profit but creating really helpful apps that comply with trends to protect data, simplify interaction, and improve lives.
If you even know the type of app you need, you might be interested in implementing XR innovations for more advanced applications.