Augmented reality (AR) is making inroads across industries, providing customers with better experiences and businesses with a significant competitive advantage. AR in the furniture industry can be implemented in two ways. AppAR involves application development, while WebAR allows you to access augmented reality tools through a web browser.
Just imagine that your clients will be able to try on furniture before purchasing and customize the characteristics of the items (choose color, shape, size, etc.). AR allows you to create virtual exhibition halls, effectively plan space, collect and analyze data. In this article, we are talking about how furniture brands use AR and what benefits they get from this solution.
Furniture is the most popular genre for shopping, with AR clocking in at 60%. Clothing follows at 55%, and groceries come in at 39%.

— Retail Perception
What Are the Benefits of Augmented Reality in the Furniture Industry?
The capabilities of augmented reality technology are constantly expanding, providing businesses with new tools to attract customers. Many furniture companies have been using 3D models for a long time.
The client can examine the item from all sides, twist it, look under different nodes, and pick color and decor. Moreover, AR allows customers to visualize the purchase: place a wardrobe, bed, and chest of drawers in the room and see how harmoniously the furniture fits in design and size. How do you like this? We have highlighted the main advantages of using augmented reality in the furniture industry.
Creating an interactive experience. The client can design his own furniture using simple tools.
More effective interaction with clients. Buyers are fully involved in the process of choosing furniture.
Increasing target audience loyalty. Turn shopping into a fun game, and you are sure to get great results.
Visualization of furniture items. A potential buyer can see what kind of furniture he is buying and can try how it will look in the interior.
Reducing returns due to the fact that the client studies the product he is going to buy in more detail.
Expanding the target audience. Don't limit yourself to the locations where you have stores. A virtual showroom will help you reach more people interested in your product.
Cost reduction. You will no longer arrange expensive photo sessions to obtain high-quality photos or spend money on marketers and salespeople. 3D models can completely replace photos and descriptions.
Effective marketing. Attract customers through interactive applications. Offer your clients important information that opens after scanning the QR code.
Be one step ahead of your competitors. Augmented reality technologies will help not only strengthen a brand's image but also increase sales, reduce costs, and take business to a whole new level.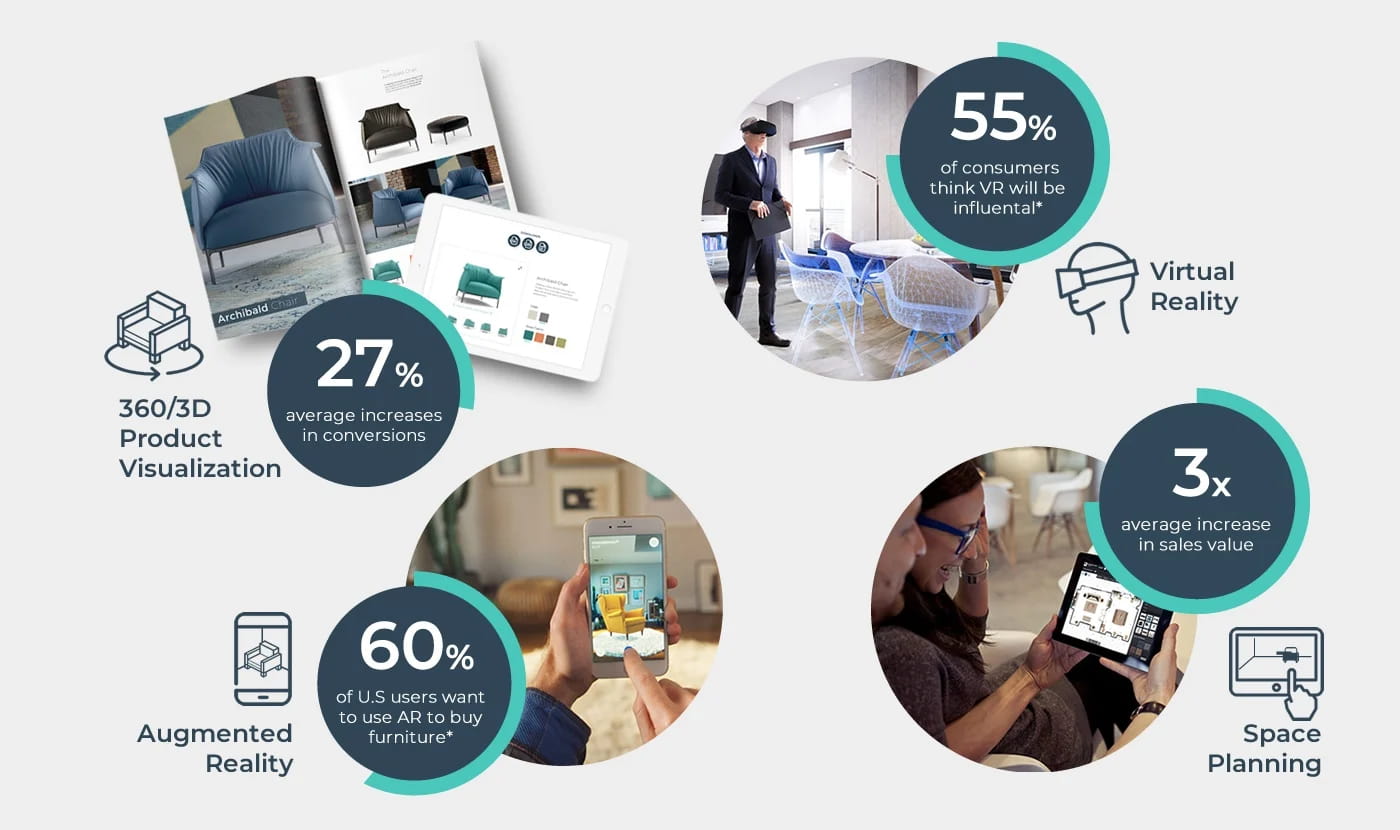 Want to build an AR/VR application?
We are ready to be your trusted technology partner with proven expertise in immersive technologies.
Let's talk
How Furniture Brands Can Use Augmented Reality: Real-world Examples
IKEA is the perfect image of using AR in the furniture industry. This company invests a lot in development. What result does the business have? The furniture is successfully sold in different countries of the world. The IKEA brand itself is associated with environmental friendliness, minimalism, high quality, modern style, and innovation.
What exactly AR tools does IKEA use? First of all, we will look at the IKEA Place application. Utilizing a smartphone camera, the user can select products from the catalog and place them in the interior of their room.
Consequently, the customer makes more informed purchasing decisions and has a more enjoyable experience with the retailer. But IKEA, of course, is not the only example of the usage of AR in the furniture industry.
Wayfair. The Room View app has 3D models the user can arrange in their interior through the smartphone camera.
Crate&Barrel. Interested users can create digital copies of rooms in the 3D Room View application.
Houzz. The user can visualize pieces of furniture and decor in his home. The catalog includes products from different brands.
Amikasa. Space planning software. Designers and homeowners use the application to create 3D models of premises.
Macy's. Each piece of furniture has a tag with a QR code. By scanning the QR code, the client receives detailed information about the product, can read customer reviews, and try on the furniture in the room.
Ashley Furniture. The client can virtually place furniture in the interior in the Ashley HomeStore application.
Overstock. The user can quickly and easily measure a room and evaluate how a particular piece of furniture fits into the room in size and style.
And more:
Furniture customization. AR allows customers to change furniture attributes like color, fabric, and material in real time, allowing them to visualize the final product.
Interactive catalogs. Traditional furniture catalogs can come to life with AR. By scanning a page with a smartphone or tablet, customers can view 3D models of products and even place them in their space.
In-Store navigation. With AR, people can navigate large furniture showrooms by following virtual indicators on their devices that lead them directly to the products they're interested in.
Assembly assistance. AR can overlay virtual instructions onto physical objects. This is especially helpful for DIY furniture kits, showing customers in real time where each piece goes.
Enhanced training. AR has the potential to train company staff on the nuances of products and their assembly and repair processes.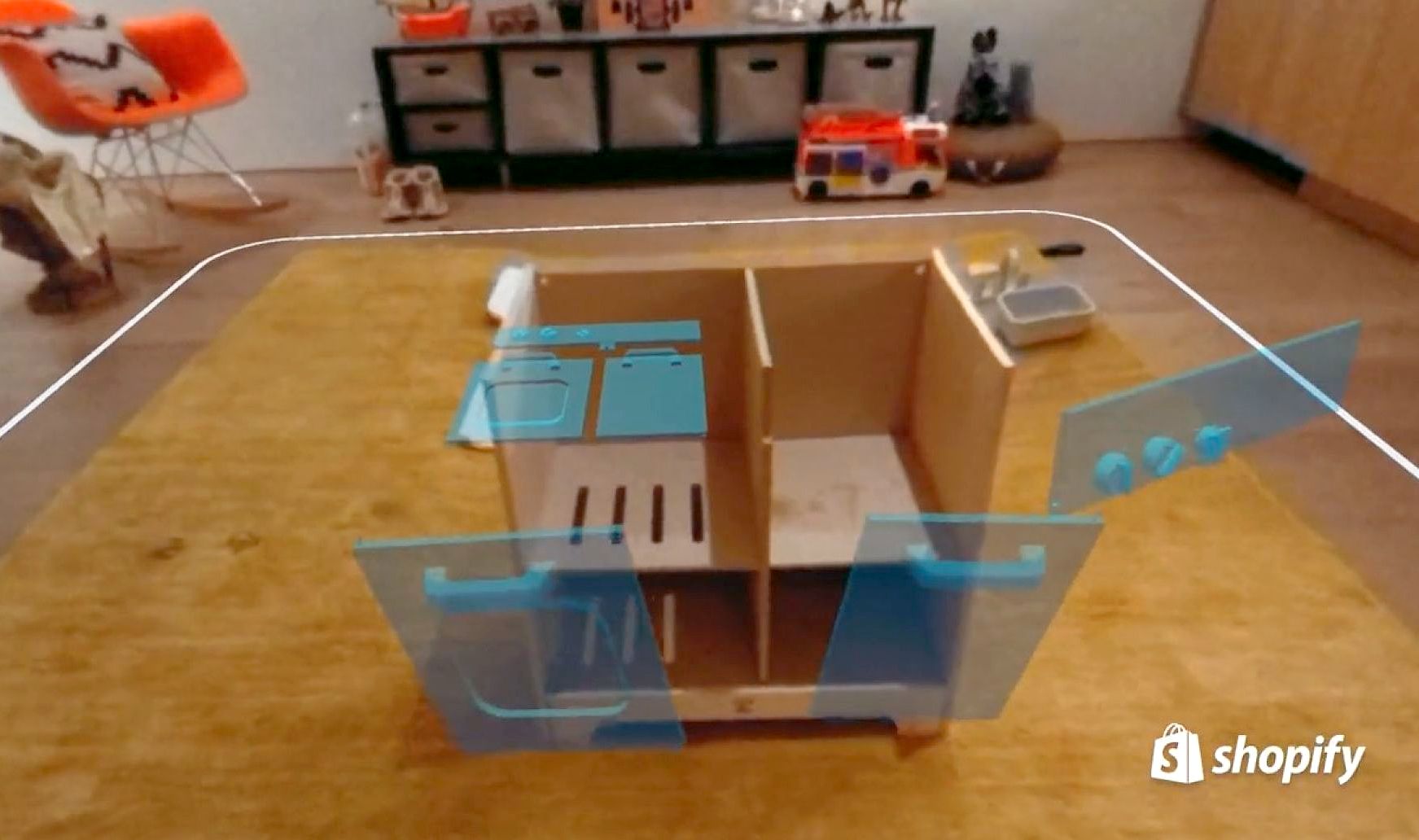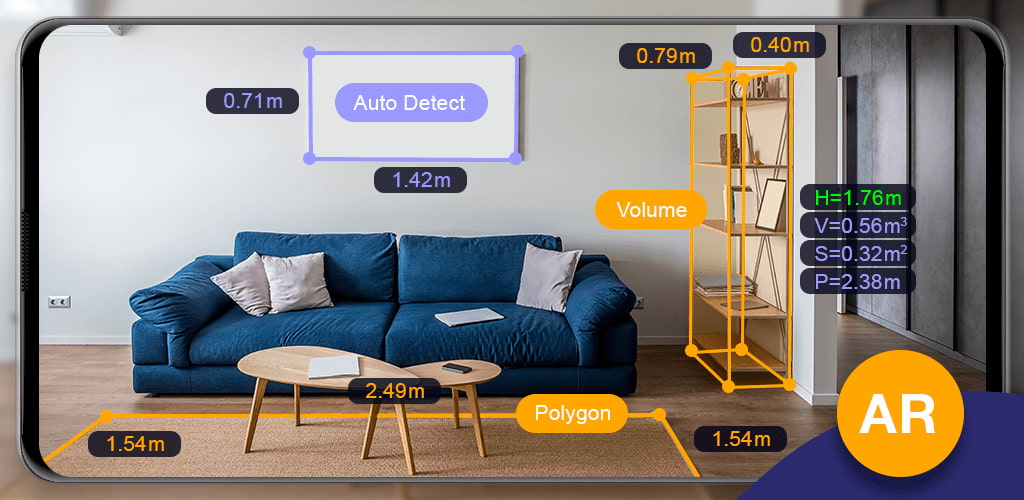 Furniture companies are using augmented reality technologies, thereby demonstrating technical savvy and a willingness to keep up with the times. We have only looked at a few examples. By using AR, brands provide customers with a more valuable shopping experience. It has a positive impact on both the company's image and sales.
Mind-blowing AR/VR ideas can't wait
We use the latest immersive technologies for creating apps to exceed our clients' expectations.
Drop us a line
Why Augmented Reality is the Future of Furniture Sales?
Let's take a look at the numbers. More than 40% of customers are willing to pay more if a retailer offers an augmented reality experience. 72% of customers stated they bought more than they planned just because they could interact with an AR app.
Almost 58% of buyers said they would be more willing to buy furniture from an online store if they had the opportunity to visualize objects in space. 77% of clients like to try on pieces of furniture in different colors, sizes, and styles in the interior.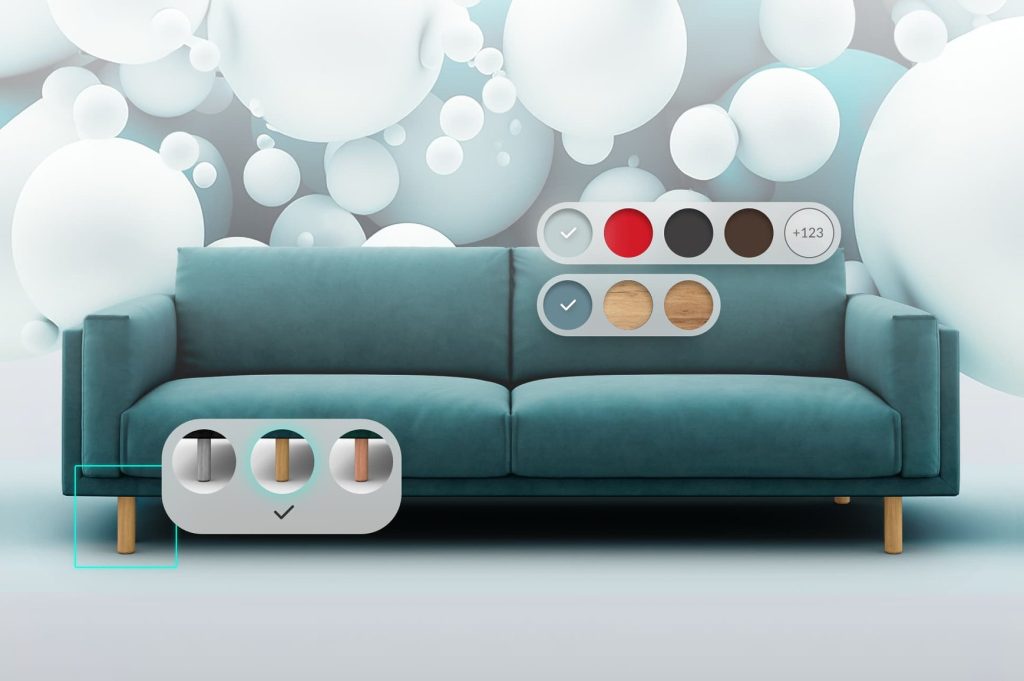 We are confident that augmented reality is the future of the furniture industry. Technology enables more effective customer interactions, better shopping experiences, personalization, reduced returns, and many other benefits for businesses.
Final Thoughts
Digital technologies such as augmented reality allow potential customers to make informed purchases without leaving home.
Do you think implementing AR in the furniture business is difficult and expensive? It is not always the case. Just bear in mind that you should find a reliable partner who can create and customize a product that meets your requirements.
Contact us, and let's talk about the details!