Augmented reality allows for integrating virtual objects into the real world and opens ample opportunities for users and developers. At the current moment, you can implement it in many ways, and one of those that is rapidly growing is WebAR.
Compared to app-based AR, this technology implementation method has several advantages making it a good choice if you aim to provide an immersive experience to your audience. So, let us delve into this topic in more detail.
What is Web-based Augmented Reality (WebAR)?
Unlike app-based AR, web-based AR does not need a separate application installed to use it. All users have to do is click a particular URL or scan a unique QR code, and they will be able to interact with augmented reality features right in the browser.
WebAR lacks a wide range of functions but is easier to use and cheaper to develop. The powerful evolution of mobile browsers takes access to this technology to the next level.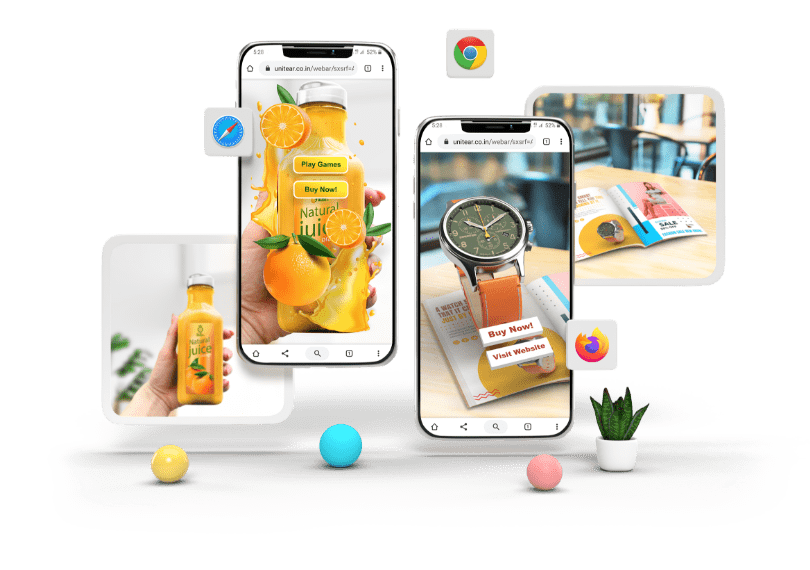 Based on technical implementation specifics peculiar to the web environment, WebAR has several advantages:
no need for users to install a mobile app that consumes memory on their devices and may be difficult for them to understand and use;
high-speed access to content. All you need to do to start interacting with augmented reality is to follow the link;
WebAR requires only a browser to work, and that ensures maximum compatibility with almost any modern mobile device;
developers can easily make changes to the content or product features as they do not have to compile or moderate new versions, and users do not have to reinstall it like mobile apps;
a web interface allows business owners to collect various statistics, analyze user behavior, and track different metrics, based on which they can make vital business decisions.
Mind-blowing AR/VR ideas can't wait
We use the latest immersive technologies for creating apps to exceed our clients' expectations.
Drop us a line
How Does WebAR Work?
Users start interacting with WebAR when they follow a link to a specific webpage in a browser on their device and click on an element initiating the interaction.
Commonly, that is the moment when the browser asks the phone/tablet for permission to access the device's camera (sometimes also to other functions), which is necessary for further actions.
The browser window displays the live image taken by the camera, and based on the identified objects (markers) or environment analysis, the app adds digital elements.
As a result, the browser window shows users a unique visualization that combines real and virtual worlds. They can also interact with a 3D model through a smartphone — move it, look at it from different angles, and change its size.
Examples of Web-based Augmented Reality Applications: Where Can Technology be Used?
There are numerous ways to apply the technology in practice, and multiple companies have long been using WebAR to achieve particular business goals.
By using web-based AR, e-commerce companies get a splendid opportunity to demonstrate essential product features to potential buyers even without their visiting an offline showroom or communicating with an adviser. Clothing, jewelry, and beauty industry retailers were the first to use augmented reality to drive sales.
If potential buyers are interested in any product, the technology allows them to view and test it in 3D, and that approach increases conversion rates.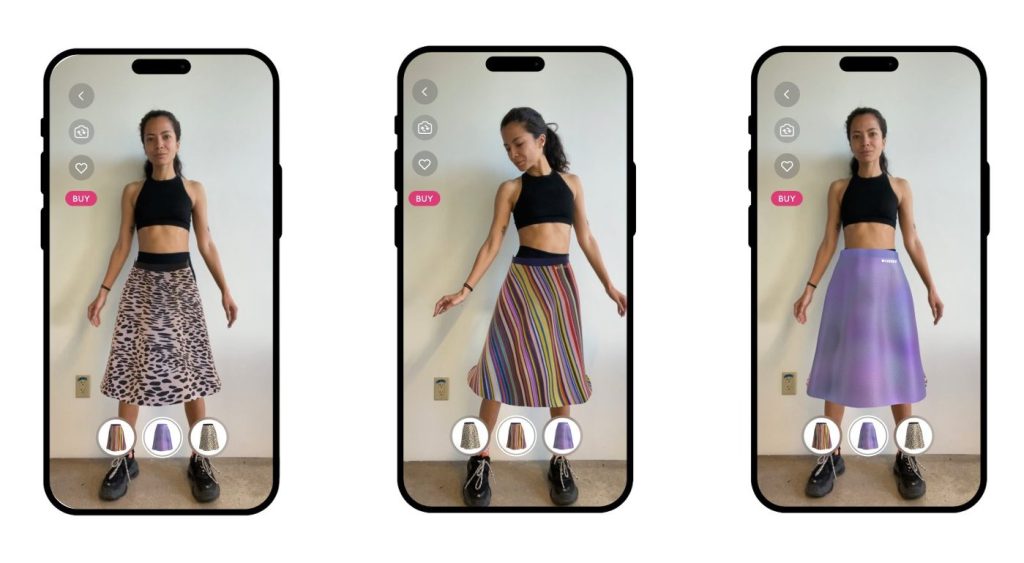 According to Ericsson Emodo Primary Survey Research Study, 74% of users agreed that AR ads are more likely to grab their attention.
The interactivity level provided by WebAR makes it a good tool for advertising and marketing campaigns. Look at the voice-activated WebAR experience created  for the film "Jumanji: The Next Level":
The educational industry also resorts to WebAR, taking the learning process to the next level. Students or trainees should just follow a link or point their smartphones at a QR code to open a world map on their desks or watch a 3D image of a prehistoric animal in their living room.
Navigation is another area where WebAR can find its practical use by superimposing virtual pointers or hints on the map using your smartphone camera.
Interior designers, furniture and decor producers, and home accessories manufacturers can visualize the changes they will make to customers' homes.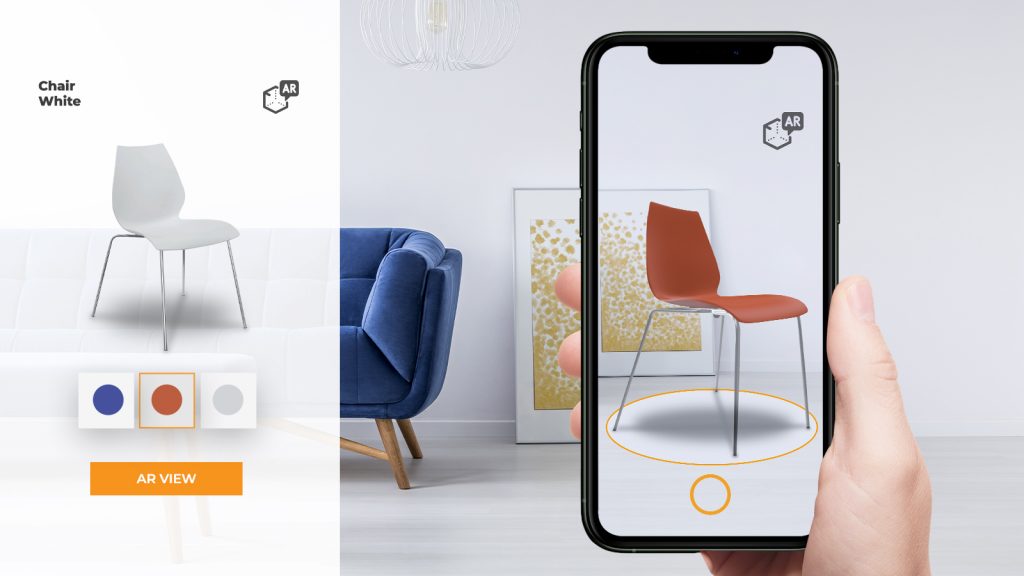 Car producers and dealerships can demonstrate new car or motorcycle models, show what their passenger compartments look like, display the same vehicle model in different colors, configurations with additional options, etc.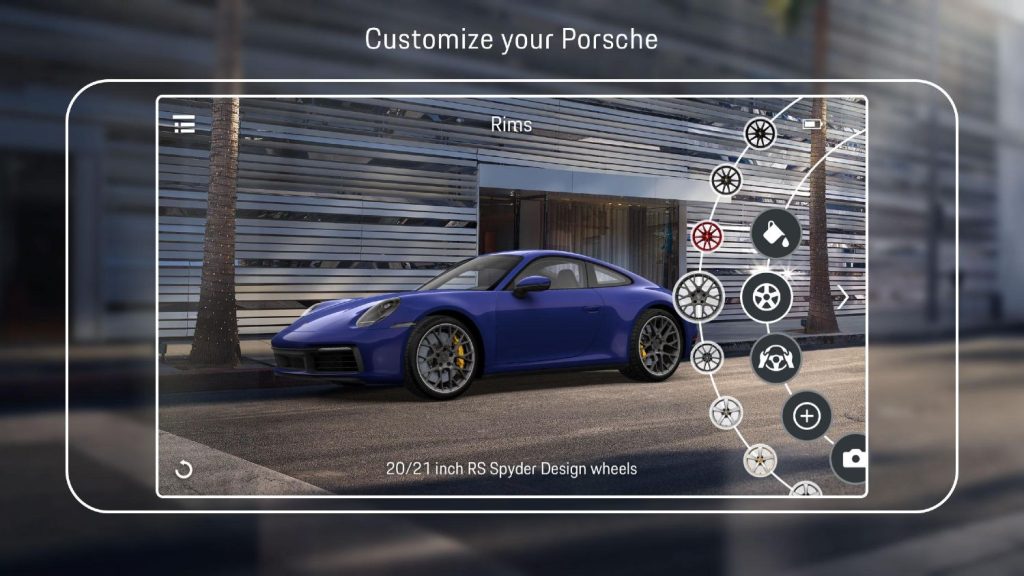 Read the related case in our portfolio: AR Jaguar Car Showroom
Conclusions
The examples we have provided in this article show that augmented reality in a web browser has a wide range of applications, and companies operating in various industries can successfully use it.
WebAR is developing. More and more ways to use it are emerging daily, and people respond positively to the interactive experience that the technology provides.
If you want to expand your web app capabilities using augmented reality technologies, contact us, and we will be happy to advise you!