Many companies choose Eastern Europe software development outsourcing (Ukraine particularly) to support and expand. Additionally, developers are no longer attached to a specific office, and this freedom and variety of projects result in more motivation and hours per week. What has happened?
Remote work is new black, having broken a trust barrier and showed the model's viability in the long term.
Rapid (and forced) digital transformation of companies, governments, and states to move processes online effectively.
It created an environment where cost optimization via outsourcing is now more accessible due to tools and a proper mindset.
Therefore, if you're wondering whether it's a good time to outsource development to Eastern Europe, the answer is definitely "yes".
Eastern Europe's IT Outsourcing Landscape: Quick Stats & Interesting Facts
Revenue for the software outsourcing industry in Europe is expected to hit $138.20 billion in 2023. –Statista
The region is home to more than 1.9 million skilled IT professionals working for leading technology companies or as freelancers, and more than 3000 companies specializing in software development outsourcing. – Eurostat, Clutch
The average IT service rates in Eastern Europe vary from $25 to $75/hour.
In 2027, the market volume for software outsourcing in Europe is poised to reach $186.40 billion. – Statista
The local Ukrainian IT sector is developing by leaps and bounds, having grown over 60 times, from $110 million in 2003 to about $6.8 billion in 2021. – IT Ukraine Association
World-famous unicorn startups such as Petcube, Preply, Grammarly, GitLab, and Depositphotos were established in Ukraine.
More than 65% of companies that outsource IT-related projects do so in Europe. – Deloitte's research
Looking for a dedicated development team?
We create complex software products, web or mobile applications and carry out engineering.
Contact us
7 Reasons Why to Outsource Software Development to Eastern Europe
If you hire software developers in Eastern European countries, you will get several advantages in promoting your business, whatever area you operate in. Read about some main reasons why it is worth paying attention to this region.
A Huge Talent Pool
Only in Poland and Ukraine combined, the total number of IT specialists currently exceeds 500,000 people. They are professionals with a wide range of technical skills and industry specializations.
An equally important trend lies in the fact that the Eastern European technical talent pool continues to grow, and most of the employees boast profound experience, cooperating with customers from the US and other countries around the world.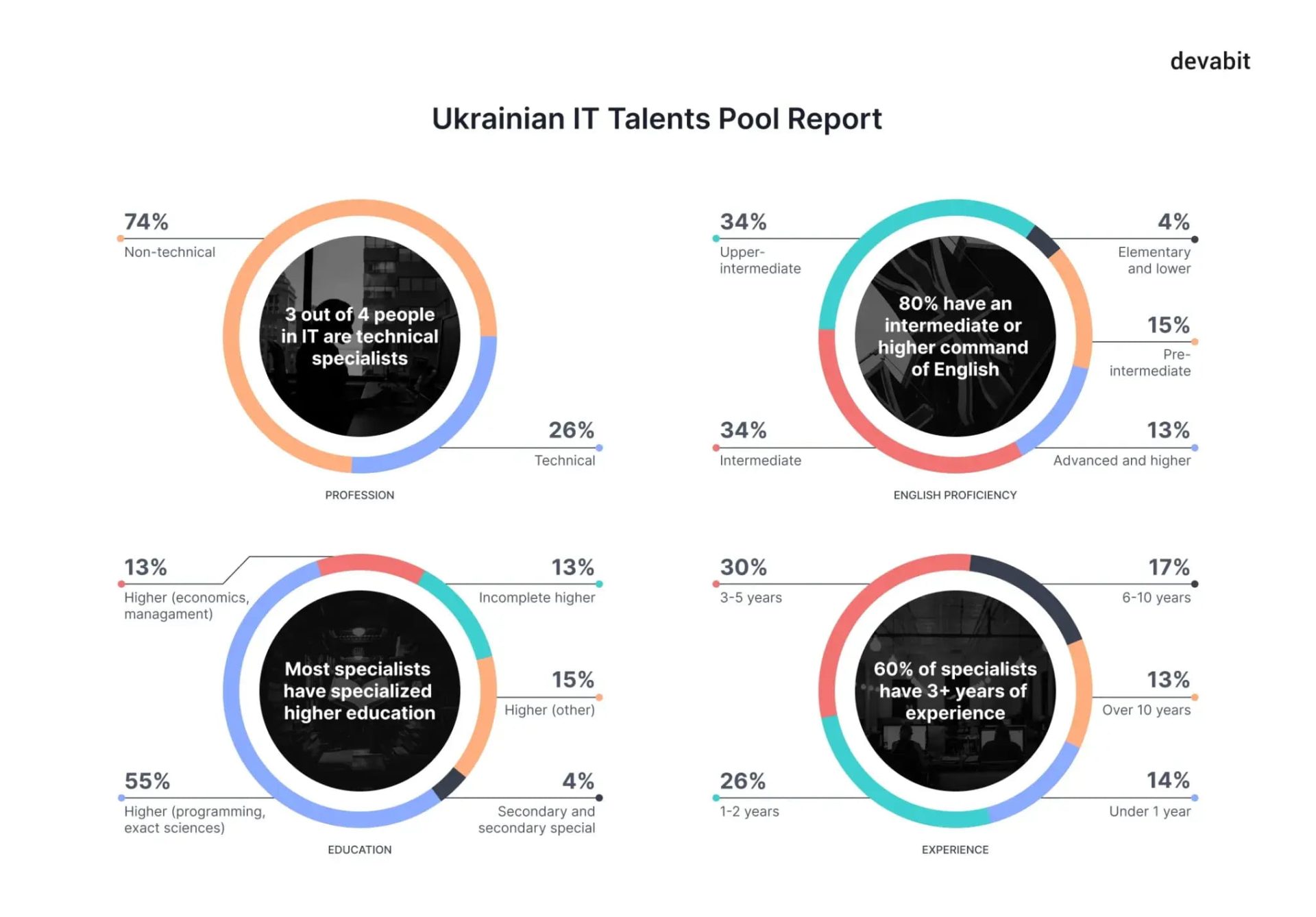 Affordable Developer Rates
Even if you take the upper range of hourly rates when outsourcing software development to Eastern Europe, you will see you can save half of your budget while working on your project compared to the US IT market.
Leading software outsourcing companies in Eastern Europe are ready to provide you with senior developer work at a rate of $60 or $80 per hour in Ukraine and Poland, respectively.
| | |
| --- | --- |
| Seniority level | Hourly rate |
| Junior | $20-30 |
| Middle | $30-40 |
| Senior | $35-60 |
Average software developer's rates in Eastern Europe
Language Proficiency
Most specialists (80%) employed by Eastern European IT companies can speak English at the Upper-Intermediate/Advanced level. This fact greatly simplifies software development outsourcing, as customers and teams do not experience any language barriers between them.
Local IT development companies constantly focus on good English language skills among their employees as it is one of the main factors affecting their competitive standing in the market.
Speed and Flexibility
Software development outsourcing to Eastern Europe provides another meaningful advantage: it will not take you long to assemble a team of required specialists. To say more, the IT service provider you plan to work with may already have the necessary people employed even when we mean specialists of a niche profile.
Moreover, you can promptly and flexibly manage the development team personnel increasing or decreasing it depending on your needs as a customer.
Commendable Quality of Work
Available R&D hubs, high-level specialized education, and the environment promoting the development of essential IT skills make software developers from Ukraine and other Eastern European countries reputable quality work providers. It is not acceptable to sacrifice quality over quantity here.
When developing software, these teams extensively use the Agile methodology and efficiently combine the best practices with advanced technological solutions.
Where Is the Innovation? Top Outsourcing Countries in Europe
1. Ukraine
Despite the political situation, IT sphere is thriving and keeping the country afloat. It provides 200,000+ IT professionals on the market, and 60%+ of Ukrainian IT talent is outsourced. They are great in leading international business all over the world. Besides, 20,000+ graduates enter the market every year.
Ukraine focuses greatly on digital transformation, e.g., the 1st in the world digital pass or a new educational project called IT Generation. Join Google, Huawei, and Samsung to make sure you enter this digital decade on time :)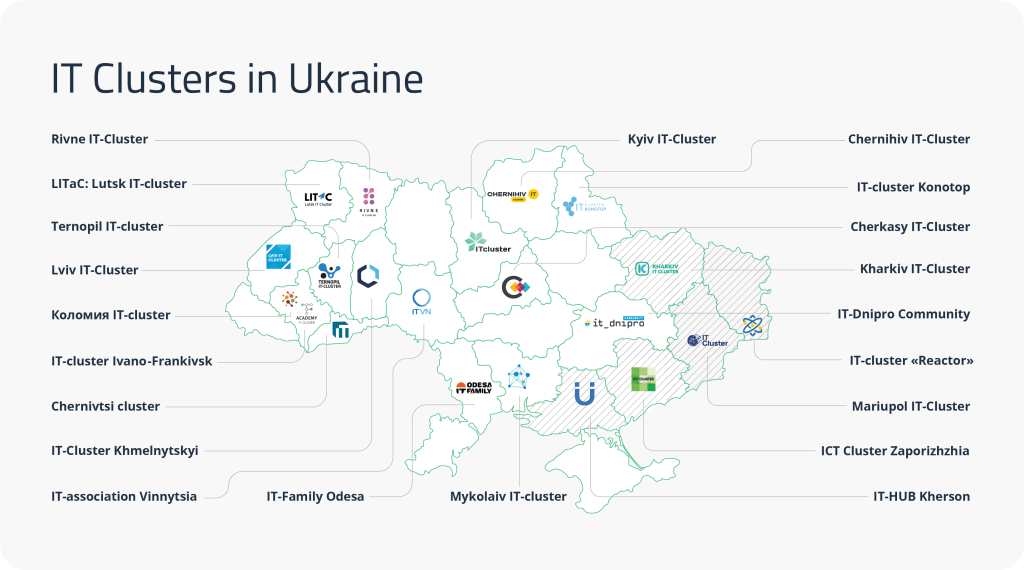 Grow faster with remote R&D team
We are well-versed in people and projects, and we are able to connect them successfully.
Get in touch
2. Poland
Poland is a great example of a country shifting from old Europe to one of Europe's largest economies in merely three decades. The IT market covers 8% of the country's GPD due to the excellent talent pool. Their specialists primarily work on international projects and adhere to EU standards. They know how to do business transparently and attract innovations.
Uber, Amazon, WordPress, Microsoft, and Google have already expanded their market to this region, so don't hesitate to do so.
3. Romania
Romania is making a great pitch on outsourcing and offshoring its multilingual talents. As a result, the value of the Romanian IT sector is more than $7 billion. They support tech-oriented education, and 8,500+ students graduate every year from IT faculties. The country offers a favorable business environment and the newest technologies in web development, customer support, and fintech.
Additionally, they promote the cost-competitiveness factor and political stability for global IT giants. Microsoft, Oracle, Google, and Amazon have already joined them.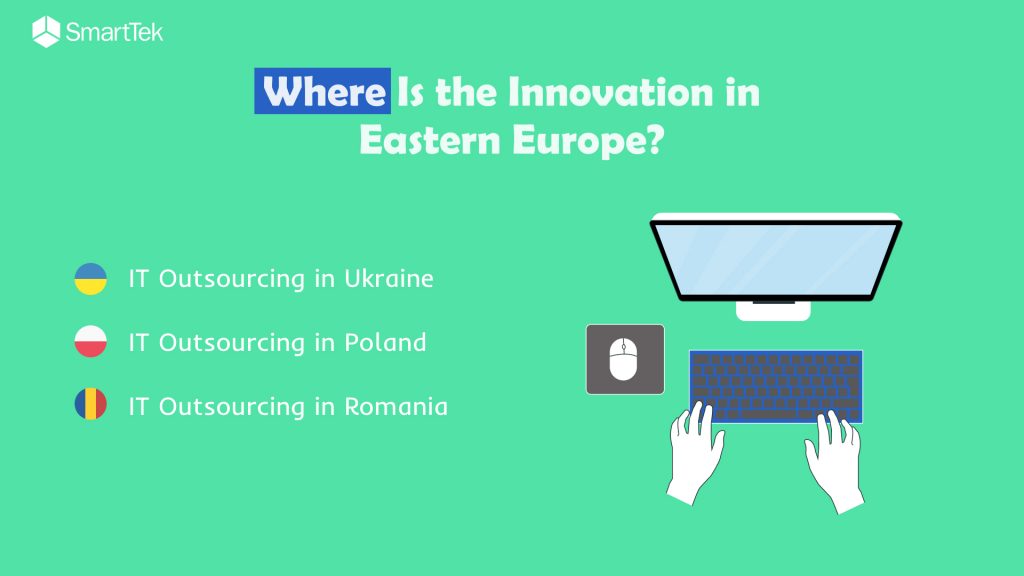 4. Bulgary
Since joining the EU in 2007, Bulgaria has been one of the most stable and rapidly growing economies. The government has invested significant budgetary resources into developing the IT sector and implementing the necessary regulations, positioning the country as an ideal outsourcing and investment destination for global businesses.
In recent years, Bulgarian IT graduates have gained widespread recognition for their skill, precision and aptitude. The country has proven to be a rich reservoir of IT talent with skills in full-stack, back-end and front-end programming.
Why choose our company as your IT outsourcing partner in Eastern Europe?
Smart Tek Solutions provides software development services to customers from all over the world. We cooperate with companies of all sizes and industries, helping businesses improve their operational efficiency and increase their profits.
With more than 15 years of expertise in IT product development and outsourcing, we are close and assistive to our customers at all stages of software development, starting from an idea or MVP and finishing with product release and support.
Some facts about us:
🔸 15 years of experience in software development
🔸 The in-house team of 150+ skilled professionals
🔸 4,9 – rating on the most reputable review platform Clutch
🔸 300+ successfully finished projects with 99% of job success
🔸 Headquarters in the U.S., R&D offices in Eastern Europe
🔸 An official Odoo ERP Silver Partner.
If you're ready to outsource your project to Ukraine, start your project with us or take your existing project to the next level!