Augmented Reality (AR) adds digital elements to the camera of your smartphone, creating the illusion that holographic content is part of the physical world around you.
Unlike virtual reality (VR), you are not immersed in an artificial environment. In turn, AR changes reality by adding three-dimensional objects, sounds, videos, graphics. This technology enriches or augments what you see.
How Does Augmented Reality Work?
Augmented reality is applied in a variety of ways – you can use it to make yourself look like a cute kitten or find directions in malls. AR allows you to virtually try on glasses or see how new home appliances will look on your desk.
To show the relevant content to the user AR uses computer vision, simultaneous localization, mapping, and depth tracking (sensor data calculating the distance to the objects). This allows cameras to collect, send, and process data in order to show digital content relevant to what the user is looking at.
For instance, imagine that you are using AR navigation, like in the picture above. First, computer vision processes the location and objects captured by the camera and recognizes it. Then, the program puts labels on the surface. The process happens every time the user holds a phone camera in front of the location that has been previously mapped. This type of AR is markerless.
Another example is a soccer game. The app recognizes a person's foot, by setting virtual footprint on the actual foot and its motion, so the user could kick the virtual soccer ball down the alley on the screen and 'remember' the player's foot to keep scores for each session. Thanks to the function of object recognition, the user's foot can be detected, allowing the program to identify each player and offer a new game for another user respectively.
Mind-blowing AR/VR ideas can't wait
We use the latest immersive technologies for creating apps to exceed our clients' expectations.
Drop us a line
Where Augmented Reality Can be Used?
Better Customer Experience
Augmented reality is a powerful tool for retail, as it allows customers to see a three-dimensional image of the product in their environment, evaluate its appearance in full size, try on how this object will look in the room, and more.
Besides, to gain experience interacting with your products, the buyer does not need to install additional software as everything is available on the smartphone.
Moreover, it has already been proven that the use of augmented reality significantly increases the number of sales. According to Shopify interactions with products having 3D/AR content showed a 94% higher conversion rate than for products without AR/3D.
Indoor and Outdoor Navigation
Augmented reality navigation perfectly works both outdoor or indoor. In the first case, AR navigation systems work as virtual guides and show information about real objects while hovering a smartphone on a certain object, as well as direct you along the route. Isn't that cool! Also, AR guide can lead you inside large buildings, such as shopping malls or airports. Besides, for owners of commercial buildings, such applications are another available advertising space.
Moreover, augmented reality navigation can perfectly work even in an apartment or house. Using AR, you can give guests a full 3D home tour with the press of a button.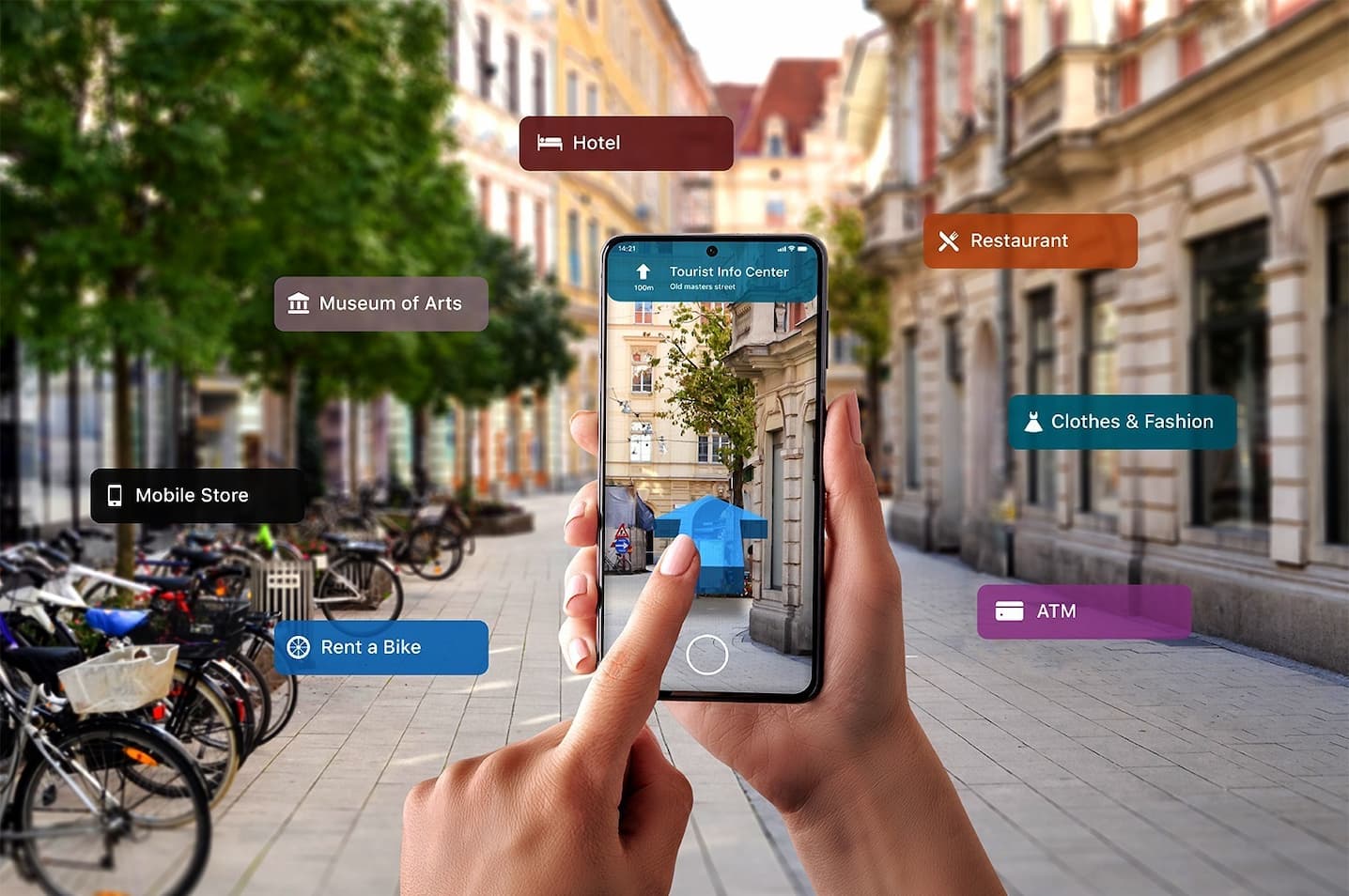 Medical Treatment
The possibilities of Augmented Reality in Healthcare are less than in Virtual Reality, but they are still very notable. Let's start with the fact that augmented reality allows you to make the training of medical staff more interactive. It makes the process of onboarding new equipment faster and more comfortable because to find out how this or that part of the medical device works an HCW only needs to point the smartphone camera at instead of checking the manual.
Besides, AR apps can be used for treatment. For instance, scientists have already proven the effectiveness of augmented reality applications that treat phobias. Read more about it here.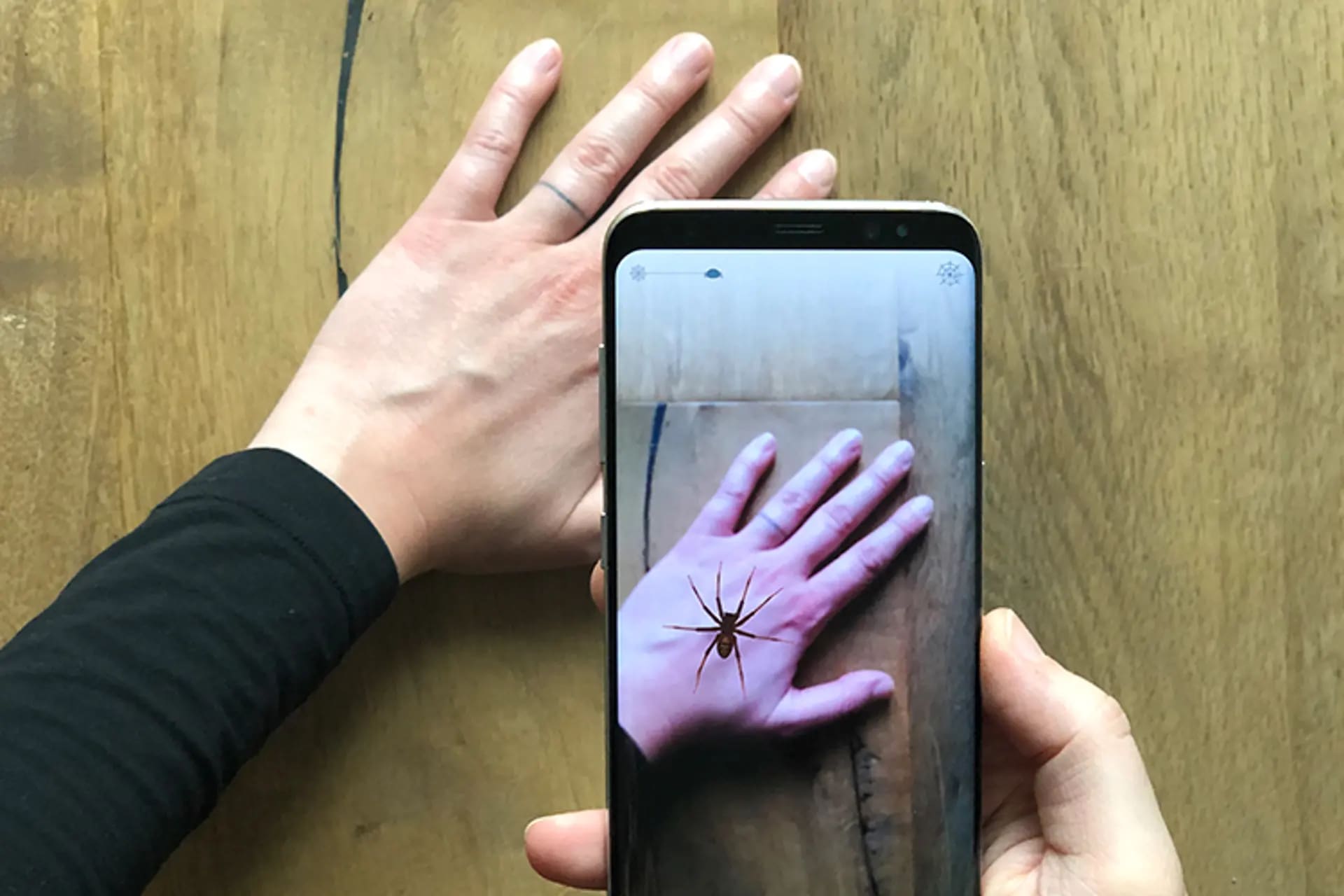 Visualization of the Future Result
The main function of augmented reality is to intertwine with the real environment and add virtual but life-like elements. It is very effective for demonstrating future results in Construction, Interior Design, Retail, or Medicine.
Thus, you can give home buyers the ability to see what their future house will look like, how a new sofa will look in your room, or see what your smile will look like after a visit to the dentist. Augmented reality makes it all possible!
Summing Up
Retail, healthcare, education and real estate companies already benefit from augmented reality and today is your turn. Ready to create augmented reality? Contact us right now and get a free consultation! If you have any questions, don't hesitate to ask — we are here to help.