VR can be a safe, effective, and drug-free solution for some types of pain. The greatest benefit from virtual reality is obtained by people with severe pain who are intolerant to certain drugs as well as patients with chronic pain who could not use pain relievers due to their high addiction or health problems.
Virtual reality can significantly lessen pain signals, especially for those who experience more severe pain. Moreover, this technology also allows managing chronic soreness, or discomfort during long-lasting painful procedures.
Let's find out more about this technology in healthcare.
Quick Statistics & Interesting Facts
In November 2021, the Food and Drug Administration approved the first VR technology – called EaseVRx – for the treatment of adult patients with diagnosed chronic lower back pain. — FDA
Of the studies, 33% assessed patients for side effects incurred from virtual reality therapy. There was a significant reduction of pain related to virtual reality therapy utilization in 67% of the studies. — National Library of Medicine
VR, which completely immerses users in a three-dimensional computer-simulated environment, is thought to reduce pain primarily by distracting attention away from noxious stimuli. — Scientific Reports
More than 100 hospitals across the United States are using Virtual Reality, as a form of therapy for patients to help manage symptoms such as pain and anxiety. — Voice of America
How Does VR as a Pain Reliever Works?
There are several approaches used in VR applications to relieve pain. The first includes immersion and distraction from pain or unpleasant medical procedures. These features are implemented in VR games, meditation applications, apps with 360 videos.
Another way to control pain with virtual reality is augmented hypnosis. These apps provide the patient with an audio recording of hypnotic induction, and suggestions for pain relief, and then drift the participant into the virtual world.
Looking to build an AR/VR solution for healthcare?
SmartTek is ready to become your reliable technology partner with proven expertise in immersive technologies.
Contact us
Virtual Reality Applications in Pain Management
The technology has shown promise as a non-pharmacological intervention for pain management. Here are some examples of virtual reality applications and use cases in pain management.
1. Ease the Pain during Childbirth
Epidural anesthesia is considered rather dangerous for dealing with discomfort during labor. However, it is often painful to give birth without any pain management. We need an alternative solution. A great option is using relaxing virtual reality apps.
The woman wears a VR headset, where she sees soothing pictures of nature, and a background voice tells her how to breathe properly. This method of pain relief has been repeatedly tested in practice and has got many positive reviews from patients.
The FDA is looking to create frameworks for how to manage future VR products as they are developed and in March 2020 held a public workshop: "Medical Extended Reality: Toward Best Evaluation Practices for Virtual and Augmented Reality in Medicine".
2. Burn Victims Rehab
Bandage replacement and wound care is a very painful procedure that is constantly faced by patients with burns. Therefore, as an alternative to medical pain relief burn survivors started using VR gaming to lessen the excruciating pain. VR was found to decrease pain levels, anxiety and time spent thinking about pain.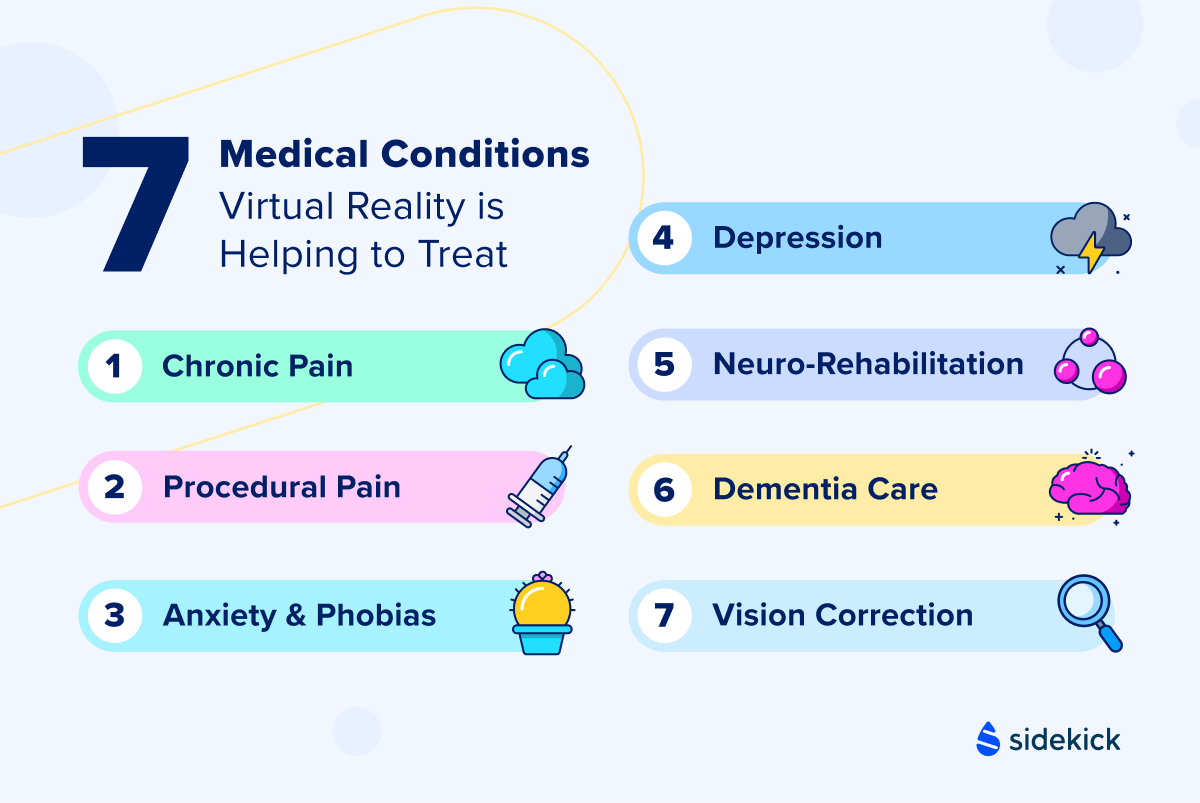 3. Reducing Discomfort during Dental Procedures
Dental procedures are usually unpleasant. Because of this, many patients delay a visit to the dentist until the last moment. VR applications will help to solve the problem of pain during the treatment of the oral cavity.
4. When the Anesthesia Is Contraindicated
Anesthesia can often be even more dangerous than the medical operation itself due to a large number of possible complications and precautions. That is why there is a large number of patients who are generally contraindicated to reduce pain with medication. However, their need for pain relief does not disappear.
The use of VR pain management apps perfectly solves this problem. Additionally, it doesn't require a lot of resources – just a headset and an application.

5. Pediatric Pain Distraction
VR makes injections and other painful or potentially frightening procedures less distressing to children. Before the procedure the little patient is put on VR goggles with exciting games or videos and the child does not pay attention to unpleasant manipulations in real life.
6. Help with Phantom Limb Pain
Nowadays, amputees avoid phantom pain in lost limbs by playing VR games. In the virtual environment, patients could see and move missing limbs, which had a positive effect on their prosthetic adaptation skills, mental health, and overall quality of life.
7. Dealing with Cancer Pain
Studies show that VR supplements help cancer patients withstand painful medical procedures, including chemotherapy, lumbar puncture, and port access. 82% of children stated that treatment with VR was better than previous treatments and they would like to use VR again.
Let's discuss your project
Drop us your idea to know how the SmartTek developers team can help you with its tech implementation.
Get in touch
8. Relaxing during Routine Medical Procedures
Many routine medical procedures, such as a blood draw, intravenous placement, and immunization can be painful and anxiety-provoking. The virtual reality app helps patients to switch their attention from the procedure and instead meditate, play games or even learn useful information thanks to 360 videos.
9. Chronic Pain Management
VR applications for overcoming chronic pain have two main functions – relaxation and physiotherapeutic. The first one works in VR meditation and relaxing apps. The second one contains the necessary set of exercises that patients need to perform.
VR can help people better manage pain and other symptoms that traditionally require medication. Yet several more questions need to be answered to better understand the full potential of VR in a clinical setting.
Looking for a VR software development company? We provide custom VR services with a rock-solid track record of success. Contact us and let's talk about the details!