The wide use of VR technologies makes learning more accessible and engaging. Complete immersion in the learning process allows students to achieve high concentration and increase the intended training efficiency and results.
Training while playing and using visual props are those significant perks brought to trainees through VR techs. Simulated environments allow for studying a subject in detail and applying the acquired knowledge in practice.
A recent study by Bethany Cieslowski, associate professor of Nursing, and colleagues found that immersive virtual reality (VR) training has been shown to be as effective as inpatient training for students learning to provide care for acute care pediatric patients.
The Essential Advantages of VR in Education
The possibility to learn in a completely safe and controlled environment is the first fundamental advantage. For instance, industrial workers are safe using VR technology that reduces the risk of injury and minimizes case fatality rates at major hazard installations.
Employee training takes place on 3D models and in a completely safe simulated environment. In the meantime, trainees can study equipment structure and operation principles, breakdown/accident causes, and ways to eliminate malfunctions.
A high level of interactivity and personalization is the second meaningful advantage of using VR in training. Employees test apps firsthand, use theoretical knowledge, interact with objects, and observe what consequences their decisions bring. Therefore, interactive learning is superior to traditional in-class learning methods.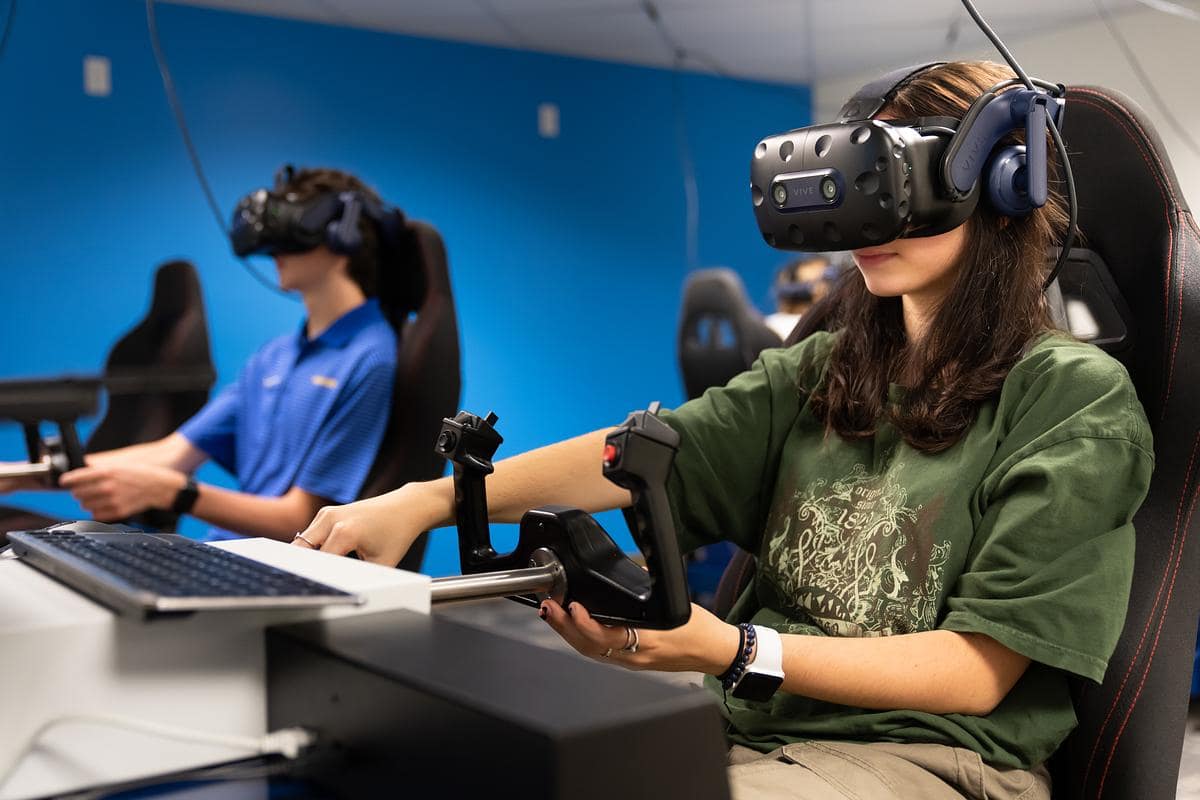 Cost-cutting and, consequently, better accessibility of VR education is another considerable advantage of this learning method. In some areas, like industry and healthcare, real-world experience is inappropriately expensive as it demands costly training prototypes, dedicated educational courses, or field-specific specialists to train employees.
Want to build an AR/VR application?
We are ready to be your trusted technology partner with proven expertise in immersive technologies.
Let's talk
Many Fortune 500 companies are already using immersive learning to save on conventional training. Boeing, Walmart, and UPS are just a few examples of well-known companies that use VR techs to improve their current employees' skills and quickly train new personnel.
VR app development and dedicated equipment manufacturing cost money. However, this approach is still far less expensive than building laboratories, manufacturing machines, equipping rooms, etc. At the same time, while employees train in a simulation environment, companies can save on equipment insurance and repairs.
How Training Takes Place Through VR Foreign Language Learning Simulator
Foreign language learning is among those niches in education, the popularity and demand of which remain consistently high. So, let us use it as an example to explain how VR training works.
→ How does the learning process take place?
Students enter interactive simulations like those in real life. For instance, they have to order meals at a restaurant or check in at a hotel and thus improve their language skills through the appropriate communication model. VR mentors counsel students, introduce them to tasks and provide instructions.
→ What do students obtain?
While playing, students practice listening comprehension and speaking, enrich their vocabulary, memorize correct pronunciation, and master grammatical constructions.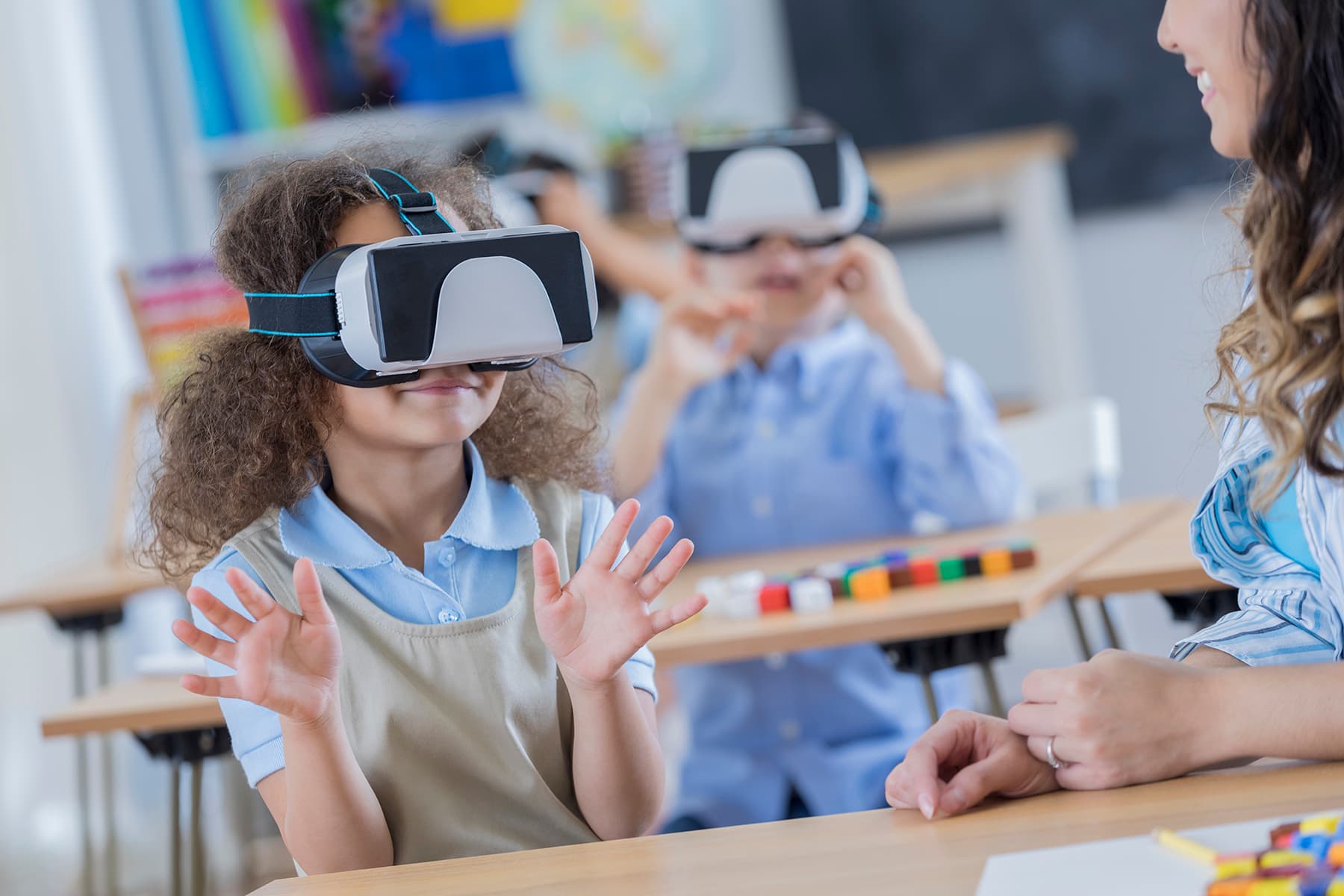 → How are the results estimated?
The VR system automatically records trainees' learning results and displays them on the web portal. Teachers receive statistical data on every student: the mistakes made, the best communication parts, the fastest level clearance, etc.
Below are some ideas for VR language learning projects:
in-game grammar knowledge quizzes.
quests for students to find parts of speech or words;
city tours, allowing students to know more facts about valuable sights of other countries whose languages they learn while seeing them.
Research shows that virtual reality can teach and develop new skills much faster and better than conventional methods like lectures or books.
Why it is Necessary to Implement VR Techs in Schools
The new generation is not like the previous ones. Nowadays, kids have known how to use smartphones since their early years and live in a digital world. It surrounds them everywhere — outdoors and at home. Schools cannot do without it in their classes either. Society has to advance as technology develops, and schools must meet the demands raised by new generations.
Teachers should be two steps ahead of their students to remain attractive to them. Therefore, it is crucial for them to constantly look for new lesson formats that include mobile apps, interactive tasks, 3D models, as well as virtual and augmented reality techs in particular.
SmartTek Solutions is a leading VR application development company that helps build custom immersive solutions. Get in touch, and transform your educational process with our VR development services now!