Any software development team can lack the size or expertise to fulfill and maintain the business and development processes of your company. Without team extension Europe or a dedicated team, it tends to create an ever-growing backlog that puts at risk your company's success and stability.
Hiring additional top experts can be exhausting and time-consuming while hiring freelancers doesn't allow you to scale enough. Meanwhile, fixed-price outsourcing is famous for its postponed deadlines and inflexibility.
What Is Team Extension Europe Model?
Staff augmentation or team extension type of engagement still means a group of specialists sitting under one roof. But the engagement is designed for something quite different. In team extension engagement, you build a group of developers in a foreign location like Europe. In that case, you get people from an IT consulting vendor, but you interview developers in the same way that you would your full-time staff, e.g., coding tests.
So, you're building your team within that external network, which is super powerful. The critical difference is that you become responsible for the outcome. Thus, new experts provide you with brain horsepower while you're still accountable for, e.g., web development results.
Use the team extension model in software development, you can choose from the best experts around the world and find the perfect fit for your company.
Want to hire a software development team?
Let's talk about your requirements and compose the perfect-sized team for your needs.
Contact us
Why Does the Staff Augmentation Model Scale?
The IT world is one of the most changing environments, so the skill sets have to adapt to new requirements rapidly. Onsite staff is more focused on long-term commitment, so companies discover and testify team extensions for unfixed and quickly changing needs.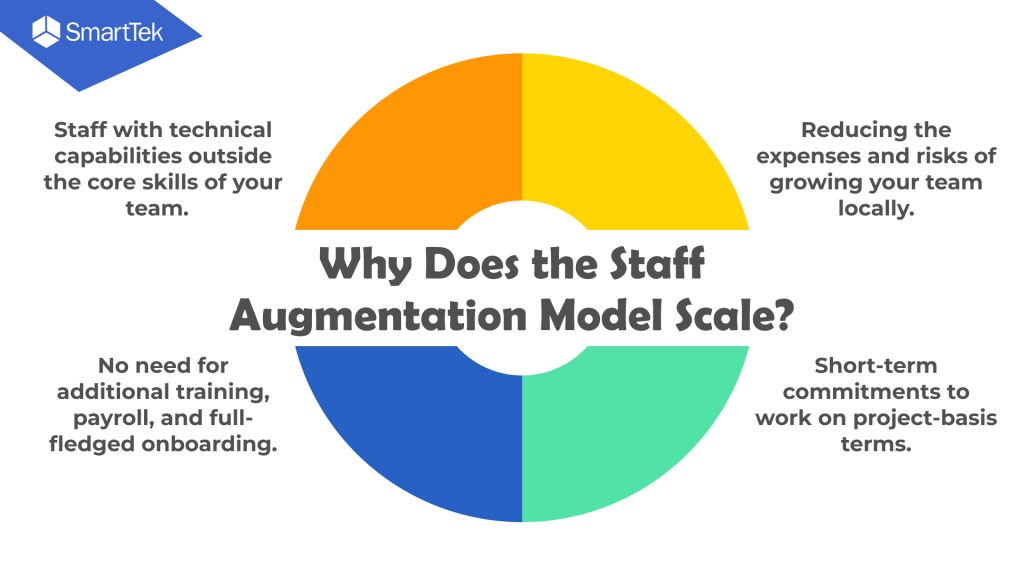 Scaling a software development team is always a costly and risky occupation, so cooperating with a staff augmentation Europe company looks more attractive than searching through the market of freelancers.
Advantages of cooperating with a staff augmentation Europe company include:
Staff with technical capabilities outside the core skills of your team.
Reducing the expenses and risks of growing your team locally.
No need for additional training, payroll, and full-fledged onboarding.
Short-term commitments to work on project-basis terms.
As an outsourcing strategy, team extension help you keep up with the latest innovations, acquire top experts' experience and knowledge, and stay competitive in your industry.
Benefits of the Team Extension Model in Software Development
Clients recognize European teams as the highest-performing teams in this ecosystem. They have a high level of English proficiency, rich expertise, and more advantages:
Scalability – meeting development deadlines.
Flexibility – risk-sharing.
Cost-cutting – low overhead for no need to hire the entire team.
Best value for money – hiring top experts you thoroughly choose.
Safety – not replacing or threatening your employees and managers.
Trust – no micromanagement of team leads.
Integrity – matching with people of similar cultures and philosophies.
Stability – team steadiness and knowledge sharing.
Team extension Europe is one of the best scenarios due to the large tech talent pool, rare skills, and cultural proximity. Growing IT industry and tech education offer skilled candidates with experience in startups and tech companies.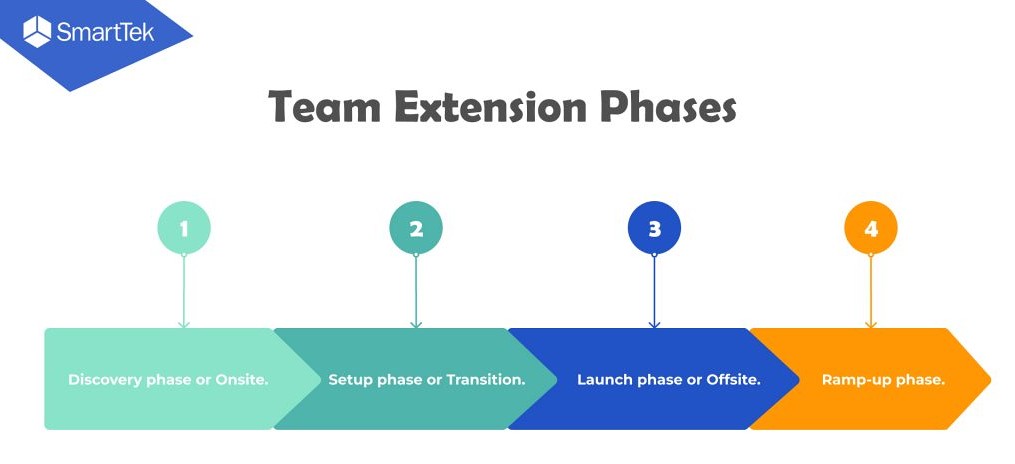 When should you choose the Team Extension model?
This model of cooperation in software development is a good choice in following cases:
When a company needs to scale up quickly, without the long-term commitment of hiring full-time employees.
When a business needs to develop software in a technology or skill area where they lack expertise.
The team extension model is useful for project-based work, where customers need additional resources for a specific project or a set period of time.
When a company is going through a period of transition or restructuring, it may experience a temporary shortage of employees.
When developing software for a specific industry or business domain, it can be challenging to find in-house developers with the required expertise.
When a company needs to improve software development efficiency over short time frames. If you need help with defining what models best suit your specific business, feel free to contact us and get a free consultation.