Outsourcing is an efficient way to achieve your company's objectives. Its essence is to transfer specific business processes to a third-party company.
You can use this cooperation model to optimize the most diverse aspects peculiar to your company's operations. One of the most popular application areas is to outsource software development. Obviously, businesses of any size can considerably benefit from doing that.
Software development outsourcing is especially relevant for small businesses. Even a company of just a few people may need dedicated software to run its business efficiently and confidently compete in the market. Sure, there is no sense or possibility for micro-businesses to put software engineers on a payroll. In their case, it would be the best practice to outsource software development.
This article goes into the significant examples of IT/software outsourcing and lists its profitable advantages for small businesses.
When it comes to small businesses that leverage outsourcing, a significant 37% of them outsource their IT services. More than 50% of total global outsourcing value is generated by software development companies.

— Source: Statista, Zippia
Why is IT Cheaper to Outsource?
When you outsource operations, you start working with a contractor who already employs the required specialists and can build an entire team from scratch in the shortest time possible.
The customer saves time and money, avoids related costs (e.g., administrative), and reduces risks. Taken in the complex, all these benefits provide an opportunity to save money and maintain the quality of the results at the same time.
Below are some typical IT services that companies outsource most often:
web and mobile app development
CRM system development and ERP integration
web and mobile app support and update
IT infrastructure setup and maintenance
cyber security and data management services
outdated software reengineering, etc.
The Top reasons for IT Outsourcing are cost reduction (71%), business transformation (50%) and improving service quality (50%).

— Source: PA Consulting (UK)
Looking for a reliable technology partner?
Accelerate your roadmap with our experienced dedicated software development team.
Contact us
Why is Software Development Outsourcing Good for Small Businesses? 7 Key Benefits
Let us take a closer look at why you should use an IT outsourcing service if you have already thought about it.
1. Reduced Overhead Costs
That is one of the main reasons why companies outsource software development and other IT tasks. By hiring offshore software developers, you do not need to provide remote employees with social security or equip their workplaces, as is the case with full-time employees. These expenses are your service provider's sole responsibility. Customers pay exclusively for the work performed.
Moreover, you avoid expenses incurred when you hire and onboard new employees. You do not have to pay for software licenses, expensive equipment, office rent, etc.
For instance, when developing AR/VR apps at SmartTek, we use specialized headsets that cost thousands of dollars. Customers outsourcing software development to us do not need to purchase such equipment.
2. Decrease Your Risks
When you cooperate with experienced professionals, you significantly reduce possible risks. Delegating the work on a project to an IT outsourcing provider, you can rest assured they will select qualified specialists for you, interview them, and verify they are suitable for solving specific tasks.
If a specialist (project manager or team lead) responsible for your project has trouble solving an issue, they can seek advice from other employees in their company. This approach guarantees your access to best practices and deep industry expertise.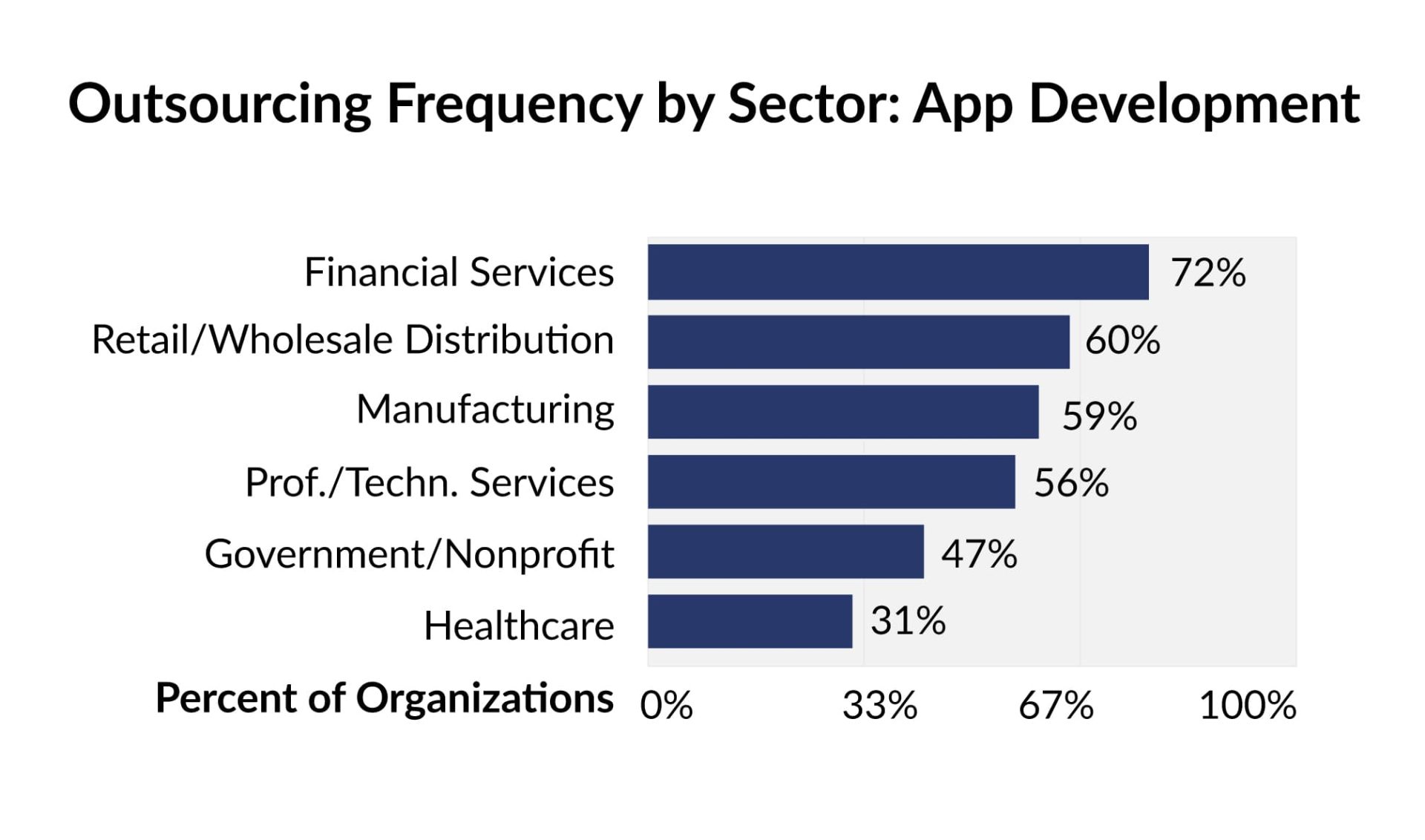 3. Quick Start of the Project
Outsourcing provides another significant advantage for businesses. A hired offshore development team can start working on the project in the shortest possible time. Even if the developer company does not have the required specialists on staff, it can hire them specifically for your project, taking into account its specifications.
4. Access to a Pool of the Best Technical Talents
This point is not as evident as cost reduction, but I would call it the most consequential benefit you can get from outsourcing in most cases. That is especially relevant if you need to find people possessing highly specialized technical or industry expertise.
Such specialists can be very expensive, and most companies do not have the necessary budget to cover the costs of putting such people on the payroll. Using the outsourcing model, you can engage them on a project basis and exclusively for the period you need.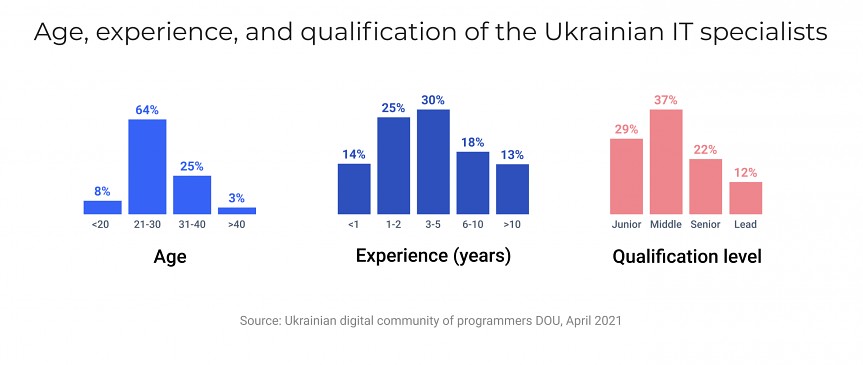 Grow faster with remote R&D team
Our nearshore software development teams onboard quickly to jump-start your tech projects.
Schedule a call
5. Flexibility & Scalability
Gaining access to a larger talent pool than the local market can present, you can hire an outsourced development team in whatever composition you need at any moment. This approach lets businesses scale their activities quickly and increase or reduce the number of involved developers flexibly, depending on the available budget and current project needs.
6. Focus on Your Core Business
Software development outsourcing helps small business owners free up time and resources and direct them to company development. Thus, you get the best results across the board, as each party focuses on the tasks they do best.
This advantage is highly reasonable for companies operating in non-IT niches. In their case, it is always better to outsource the work on the project to an IT service provider and concentrate on their own essential business operations.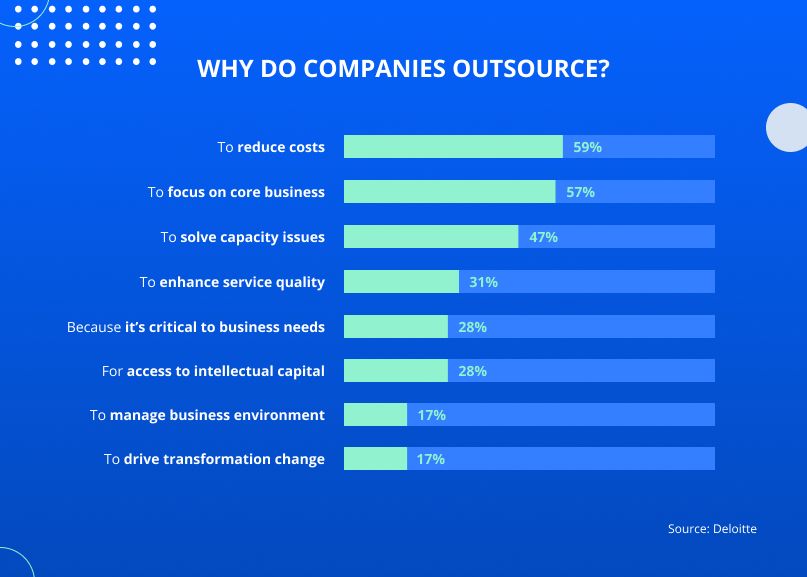 7. Increased Competitiveness
Competition is any business's agenda now. Consider outsourcing advantages recollected above, and you will clearly see that businesses can gain a higher competitive edge in any market. Sure, you will manage to develop the software you need faster, cheaper, and better than the players who ignore the opportunities ensured by outsourcing.
Start Using Technology to the Benefit of Your Business
Thus, small businesses can receive multiple benefits from IT outsourcing regardless of the niche in which they operate. By partnering with a reliable and qualified team of remote developers, you can make a qualitative leap, taking your company to a whole new level. So, why not give it a try? It may be just the solution you need.
SmartTek is a full-cycle software development company and a reliable IT outsourcing service provider. Looking for strong software developers for your next project? Get in touch and let's discuss the details.