Markets have always experienced a shortage of qualified IT specialists. This trend has been relevant for years, and companies are constantly searching for new ways to cover their staffing needs to stay competitive. One of these ways is to outstaff developers and other IT specialists.
In this article, we will take a closer look at what IT outstaffing is, who can benefit from this model of interaction, and what types of projects it is best suited for.
What is Outstaffing and How It Works
In short, we can describe the essence of this concept as employing non-staff personnel. Three parties are the participants of this process: a customer, an outsourcing company that provides personnel, and directly hired employees.
In legal terms, an outstaffing company hires the required specialists and establishes employment relations with them. When an outstaffing contract is signed, specialists will perform the stipulated work for a customer while on the provider company's staff. The latter solves all the issues related to personnel selection, hourly rates, and enrolment. It also keeps the necessary documentation and solves various administrative matters.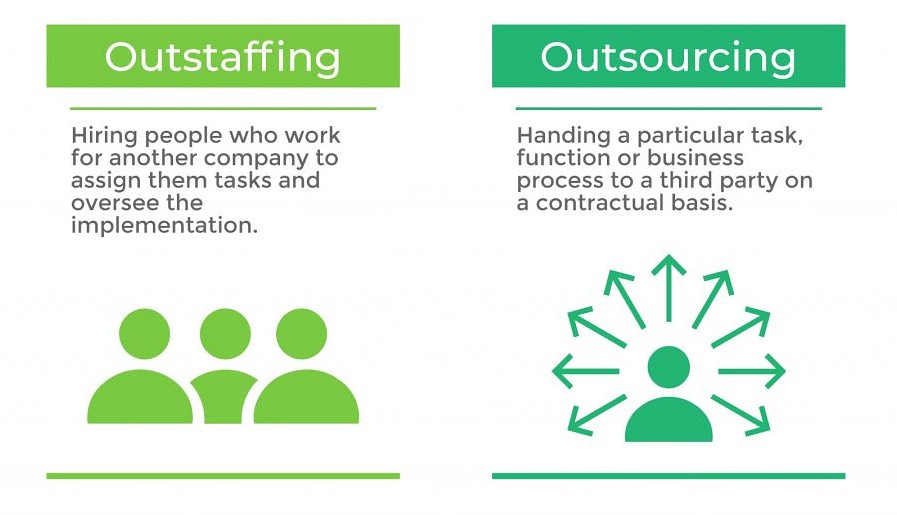 Therefore, the outstaffing company allows another company to use the services provided by part of its employees for a predetermined charge.
Grow faster with remote R&D team
Our nearshore software development team onboard quickly to jump-start your tech projects.
Schedule a call
As a software development project, the IT outstaffing model looks like this:
An employee or its team provides a specified number of engineers to a customer in the capacity of full-time employees in most cases.
Commonly, an engineer or a team works on one project or several ones on rare occasions.
A customer selects job candidates according to specific criteria and often resorts to test tasks or live coding sessions.
A customer also sets tasks, defines backlog, and generates reports and commits. Specialists communicate directly with a project manager or even a customer.
Two basic payment models: Time & Materials — an hourly rate or, on rare occasions, Retainer — a fixed monthly amount.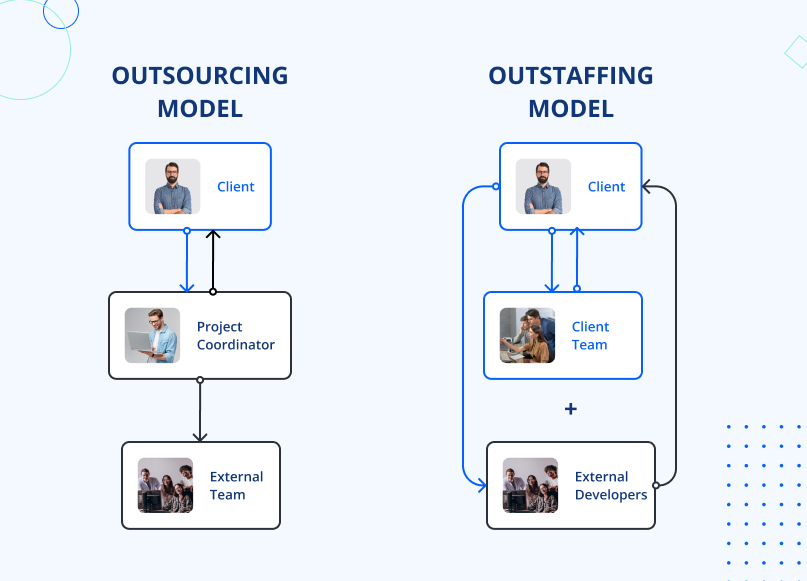 IT Outstaffing Main Benefits
In the software development area, this cooperation model has gained wide popularity. To a large extent, it happened because remote work has become ubiquitous, companies have increased their capabilities, and new tools allowing them to organize remote work on a project for entire teams have emerged.
Outstaffing helps companies to optimize their operations. Below, you will see some meaningful benefits it provides for businesses.
1. Cost reduction. First, accounting and HR department expenses are lower because a significant part of their operational functions are no longer necessary. Moreover, companies can spend less on equipment, software, corporate events, bonus payments, training, etc.
2. Access to technical expertise. An outsourcing company usually has a pool of expert-level specialists proficient in a comprehensive technology stack. Customer companies would need plenty of time and HR specialists to find such personnel directly. IT outstaffing makes it possible to attract specific specialists in a matter of just a few days.
3. Staff management flexibility. Companies hire as many people as they need to carry out the current work volumes. Expert personnel do not sit idle due to low workload, and if tasks increase in number or amount, software development service providers can quickly enlarge their development teams. If some employee fails to meet the requirements for any reason, providers will select replacement staff for free.
4. Guarantees and stability. Customers have insurance against a situation when a specialist suddenly resigns: firstly, they are bound by a contract with the outsourcing company; secondly, service providers always have worthy job candidates in case of force majeure.
5. Risk reduction. If there are insurance or other contingencies related to staffing, taxes, or regulatory reporting, outstaffing companies handle these issues using their own means.
6. Key expertise focusing. Business efficiency is often undermined due to resource scattering on numerous small or non-essential tasks. Entrusting them to outstaff developers, customers can calmly attend to their primary business objectives and rest assured all technical issues are in good hands.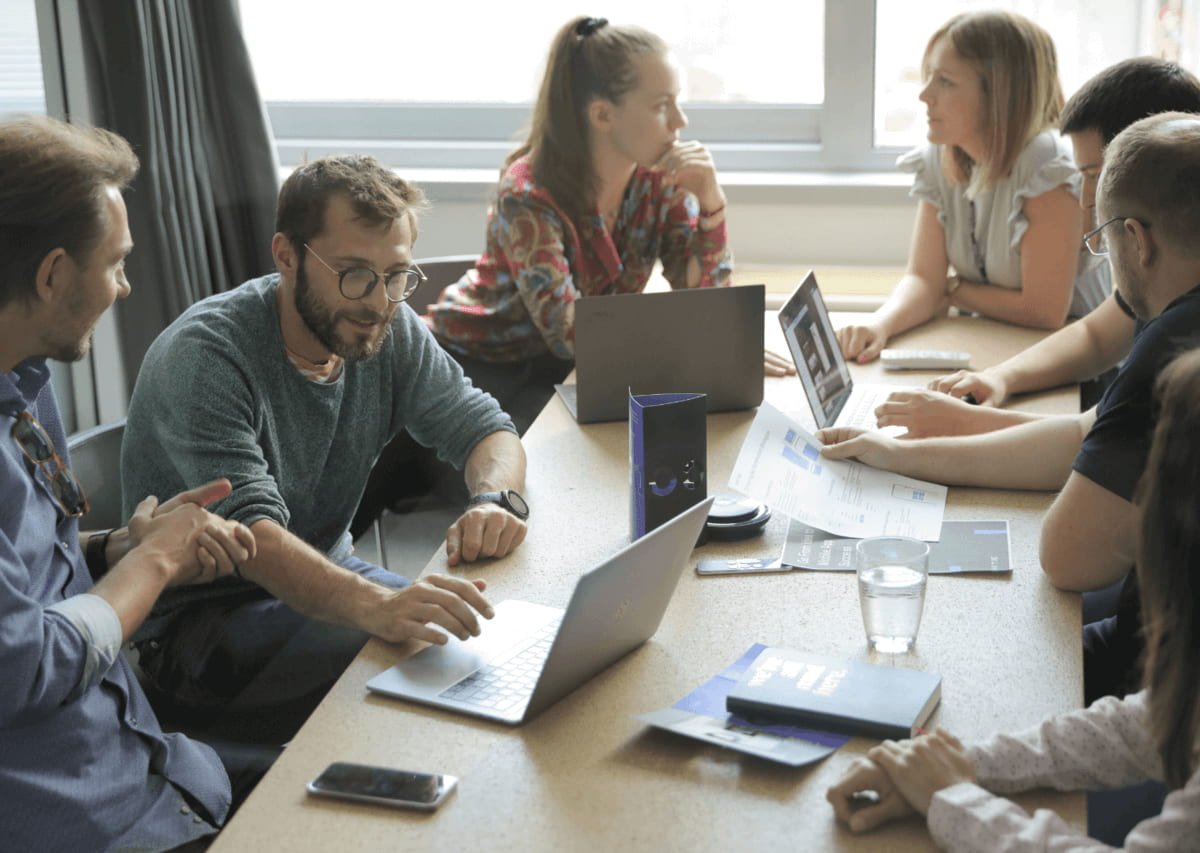 Leverage our experience for your success
Expand your development capacities and augment your team competence with a dedicated software development team.
Contact us
Who can Benefit from IT Outstaffing, and When is it Best to "Rent" Engineers Rather than Hire them?
Outstaffing is a good solution under multiple circumstances, even when you have insufficient staff to implement a project. As a cooperation model, it will be a sound choice in the following cases:
if you want to strengthen the team employed for your small IT department but there is no need or opportunity (limited local market) to hire new people.
a startup needs to quickly test some hypotheses, for example, develop a new feature and check on user feedback.
you are late with launching your project on your own or want to speed up the development for other reasons.
you require single-time expertise or quickly employ some staff to unblock the work on your project.
you have to speed up the product (or MVP) development and release to the market, and your internal team's resources are insufficient.
you have to attract people with narrow expertise, and it will take you long and hard to select the appropriate job candidate independently.
Practically, it is sometimes quite unobvious which interaction mode is better: IT outstaffing, outsourcing, or hiring the necessary in-house specialists. If you want to make sure you have made the right choice, contact us for advice, and we will be happy to help you.