Manufacturing landscape digitalization and innovations hold out good prospects for the industry, ensuring advantages for companies, their employees, and customers.
The Internet of Things (IoT) technology is one of the fundamental digital transformation directions allowing manufacturing companies to streamline their business and operational processes by creating "smart factories" and propelling intelligent production.
The Industrial Internet of Things (IIoT) refers to the integration of internet-connected devices and sensors with industrial processes and machinery. It enables real-time data collection, analysis, and remote monitoring, leading to increased efficiency, predictive maintenance, and optimization of industrial operations.
This article will show you ways and options for using Internet of Things technology (IoT) in manufacturing.
The global market for industrial Internet of Things (IIoT) was sized at over 263 billion U.S. dollars in 2021. The market is expected to grow in size in the coming years, reaching some 1.11 trillion U.S. dollars by 2028. — Statista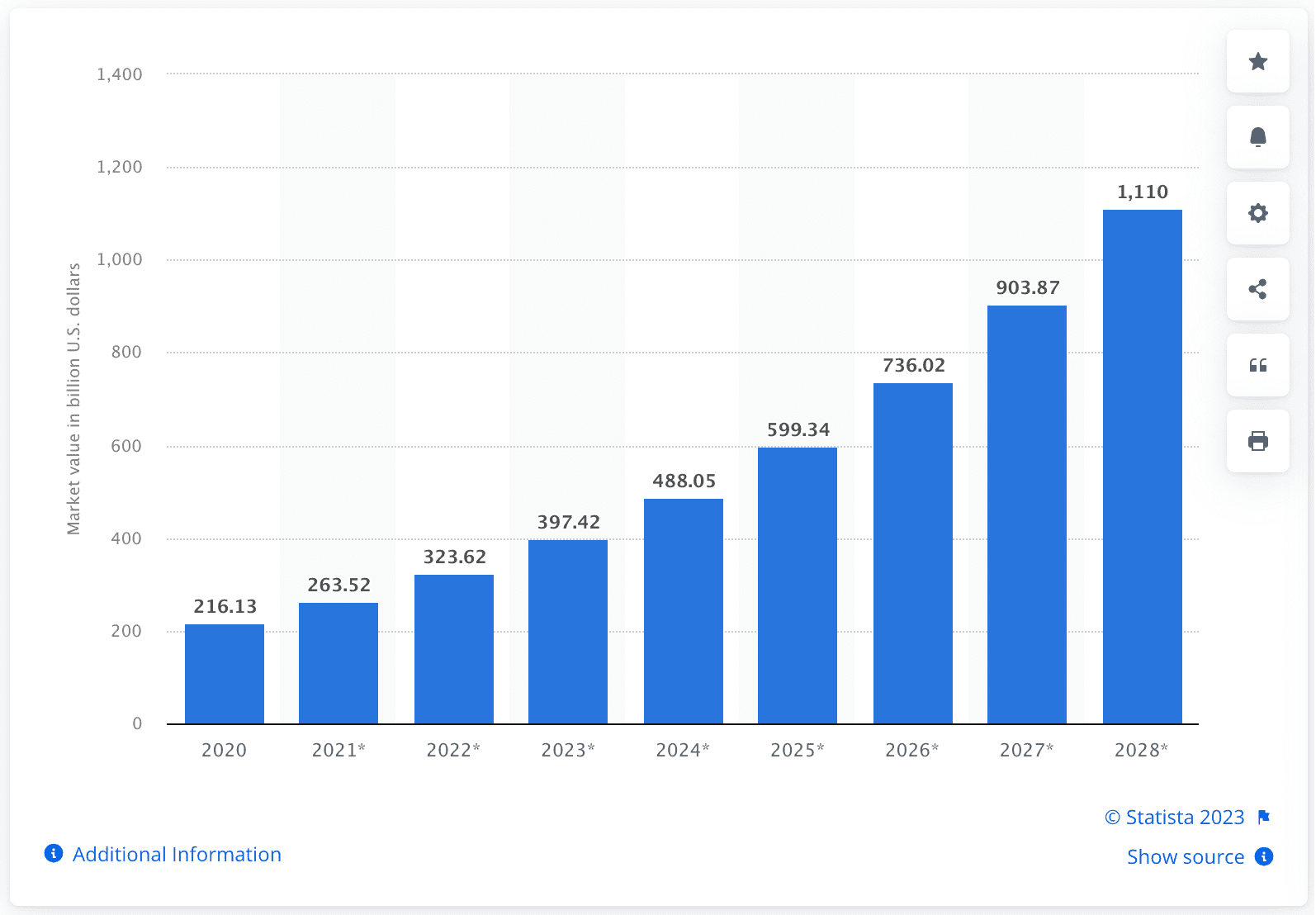 How is IoT Being Used in Manufacturing? 8 Real-world Examples
Manufacturing companies can apply IoT technologies in several promising ways to hope for greater prospects in the future. However, some things are already being actively implemented, and that is what we are actually talking about.
Logistics and Warehouse Management
Logistics is an integral part of the manufacturing company's activities. Implemented IoT can improve supply chain efficiency due to things like:
transport and products movement real-time monitoring
transport routes optimization
reduced fuel and delivery costs
shorter order processing and execution time
improved stock and warehouse management efficiency
controlled environmental factors affecting raw materials and stock products.
As a result, IoT implementation in manufacturing lets companies save millions of dollars by solving the unique problems peculiar to this industry.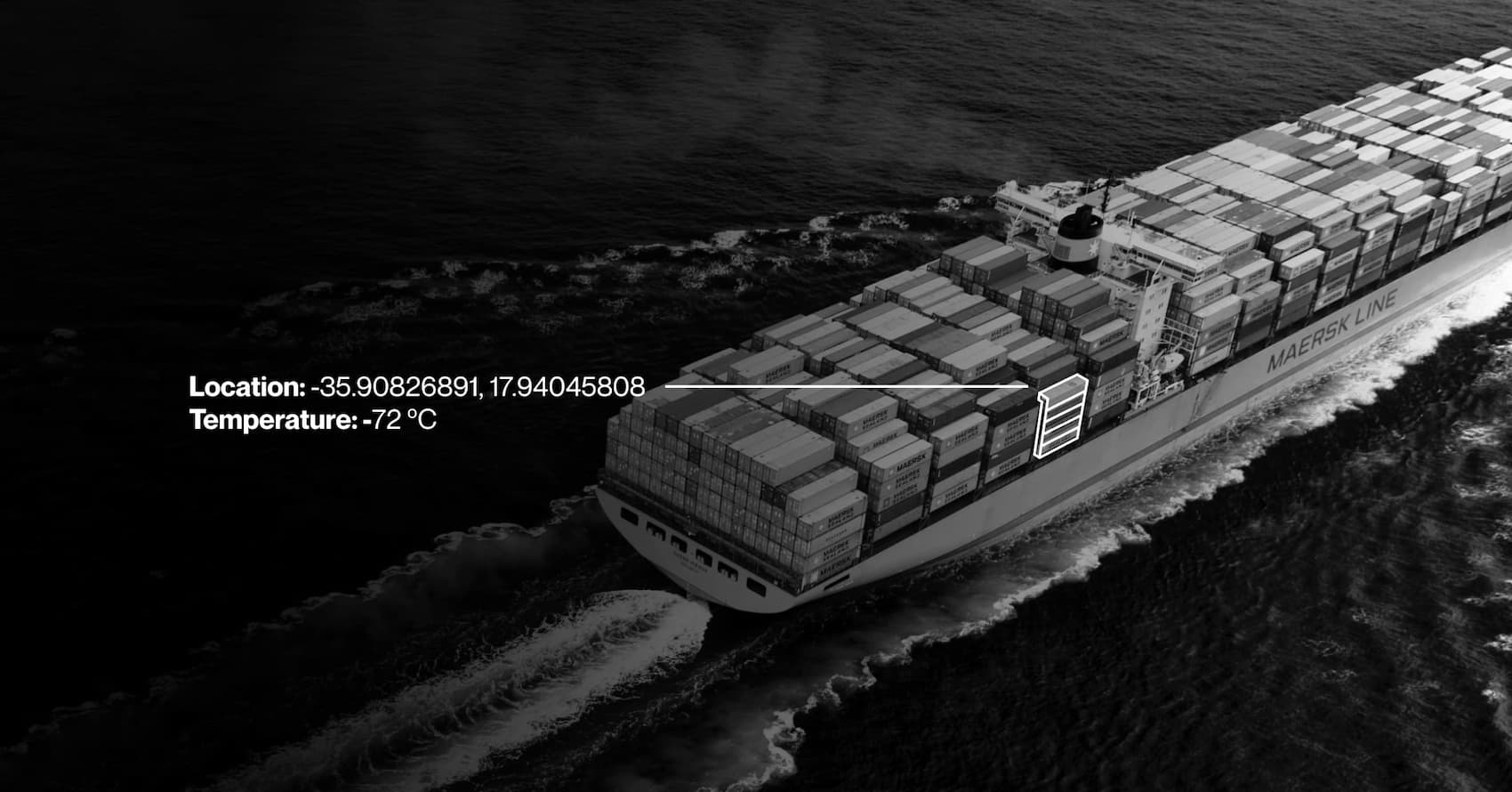 Custom IoT Development Services
We can help you to scale the engineering capacity of your manufacturing operations.
Read more
Safety Monitoring
Connected IoT sensors let companies efficiently monitor working conditions at manufacturing sites, identify potential risks and hazards, and preemptively eliminate them to provide employees with a safer work environment. Specifically, sensors can detect gas leaks, increased harmful emissions, or hazardous work activities that can cause injuries.
For instance, the well-known heavy equipment manufacturer Caterpillar uses helmets with embedded sensors and smart cameras to scan and assess their miners' working conditions.

Source: Cat.com
Production Quality Control
By deploying Internet of Things devices in manufacturing, companies can detect possible product defects and eliminate malfunctions causing defective products. To conduct quality control, manufacturers can also use sensors to monitor product storage and transportation.
Manufacturing bottlenecks like poorly configured machines or excessively worn equipment that needs preventive maintenance are also possible to detect. Calibrated and monitored reference parameters let specialists detect exceeded recommended threshold values that can lead to product defects or equipment failure.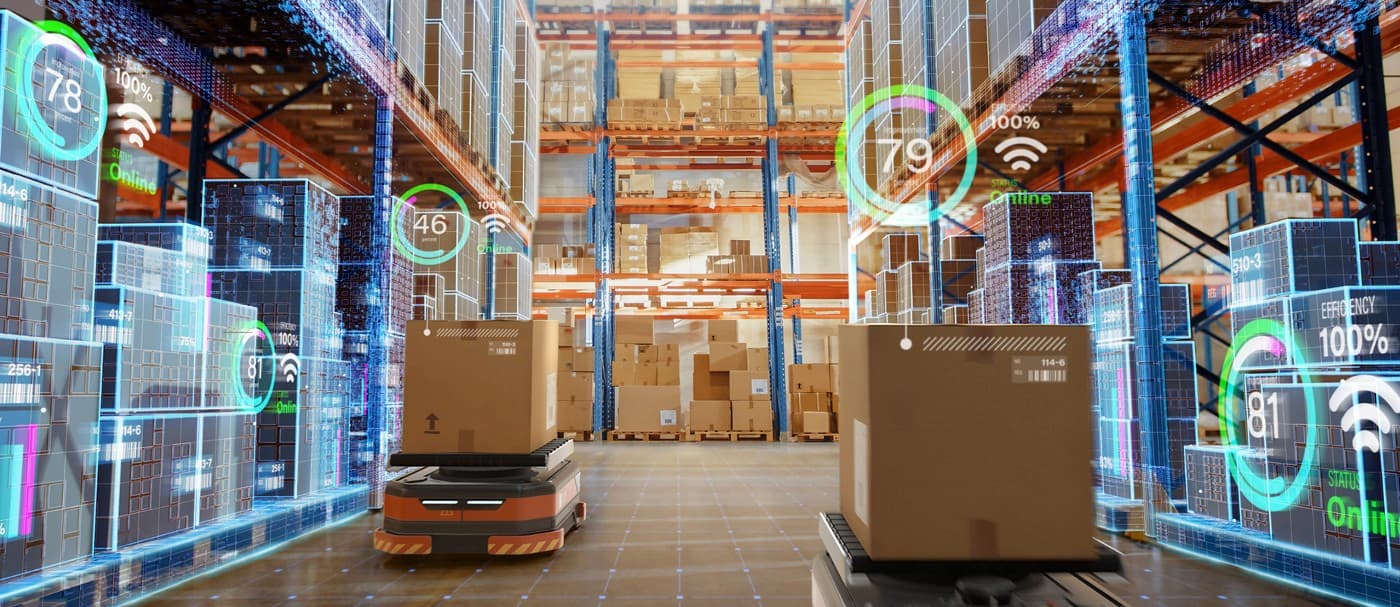 Remote Monitoring and Control
Smart sensors can collect data on the mechanical condition of equipment, monitor changes in the environment, and remotely control the production process in real-time. The technology ensures timely equipment maintenance, quick changes, downtime reduction, and general manufacturing system reliability.
By implementing IoT sensors to monitor energy flow and identify inefficiencies, Cisco was able to achieve a significant 15-20% reduction in energy consumption at a single manufacturing facility.
We cover a wide range of custom IoT development services and can build a product from scratch if needed.
Predictive Maintenance
IoT emergence and development open up new opportunities for improved manufacturing equipment maintenance. Devices and machines with Internet connection allow companies to use artificial intelligence to collect and interpret data that helps them identify and fix potential issues before they cause malfunctions.
For example, wireless sensors analyze machine vibrations, ambient temperature, mechanism operation acceleration, and operational sound frequencies to determine whether the machine operating conditions are within normal parameters.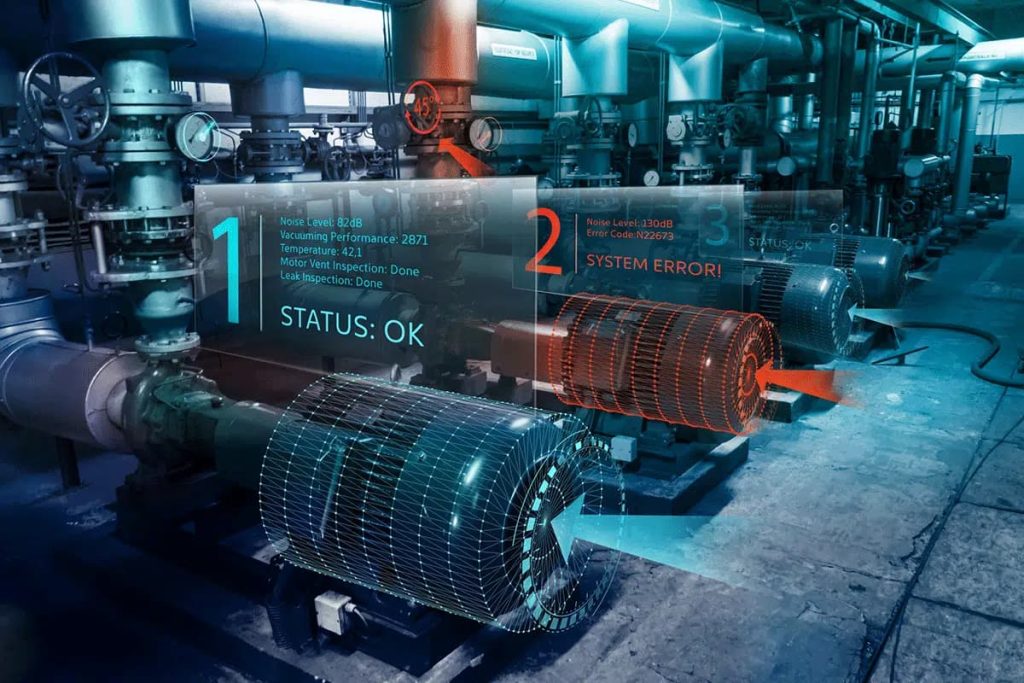 Energy Consumption Optimization
Heavy industrial machines and similar equipment require high amounts of energy to operate. Besides, manufacturing facilities constantly run heating, lighting, air conditioning appliances, and other systems. If you consider your production scale, even small savings in electricity, water, or other resources can turn into large numbers in monetary terms.
IoT sensors connected to manufacturing equipment and facility support systems help production enterprises adjust their operation to minimize energy and resource consumption.
Let's drive innovation in your company!
Share your business needs and we will help you develop the perfect-fit software solution for your company.
Contact us
Digital Twins
A digital twin in manufacturing is a virtual copy or representation of a physical product, process, or system. It is a digital model featuring all relevant data and specifications peculiar to its physical counterpart, including its design, geometry, functionality, performance, and behavior.
That is an impressive and promising use case for IoT in the industry. It lets manufacturers test alterations and simulate their impact without making physical changes.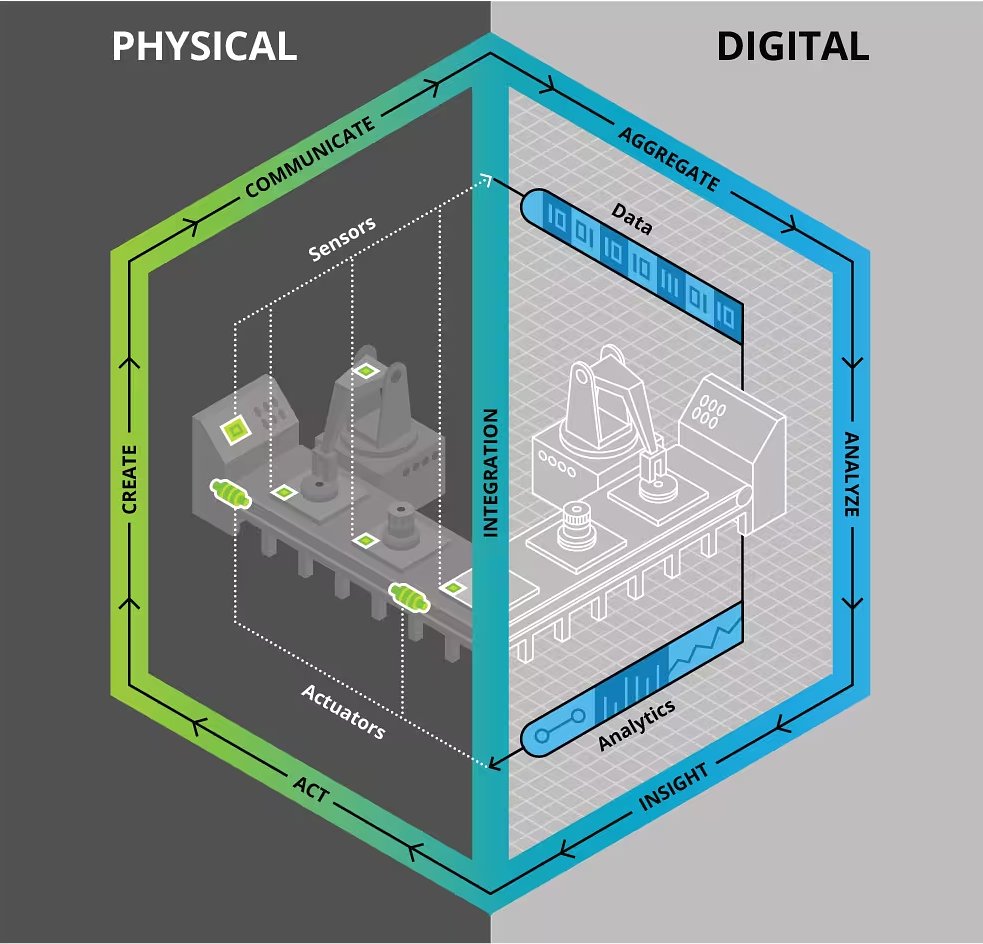 Smart Factories
The latest technologies like IoT, effectively implemented in production, allow manufacturing enterprises to monitor equipment operation efficiency, track employees' work, and exchange data among departments in a real-time environment. Taken in a complex, all these features turn any enterprise into a single intelligent system, which we can call a "smart factory."
By integrating digital technologies, "smart factories" increase productivity, improve product quality, minimize the human factor, and reduce expenses, ultimately revolutionizing manufacturing operations.
Takeaways
Intelligent solutions based on sensors and software have the potential to redefine the manufacturing industry for the better. That is not only about increased productivity, higher transparency, and lower immediate operating costs, it is also about a solid foundation for further long-term development.
IoT provides a coherent picture showing the entire manufacturing enterprise activity, allows remote supply chain monitoring and management, and collects essential data on the fly. These are the technologies that allow you to get your own "smart factory" here and now.
If you are willing to implement IoT-based solutions in your production process right now, SmartTek Solutions experts can help you do it at the best level. Contact us, and let's discuss the details!