Virtual reality and tourism are undoubtedly similar in some sense. While real-life traveling allows physical moving from one interesting place to another, VR is also associated with moving, but mental.
Virtual reality in travel and tourism gives an opportunity to place people in various artificial environments. Nowadays, more and more tech companies are trying to experiment with VR technology in order to provide people with a life-like experience of tourism.
Thanks to VR travel apps, people of all ages can swim in the Pacific Ocean, pilot an air balloon, or fly a jetpack over New York City.
Let's describe some critical connections between virtual reality technology and the travel and tourism industry.
VR in Travel and Tourism: Interesting Statistics & Facts
The market size of the global virtual tourism industry was estimated at five billion U.S. dollars in 2021. As forecast, this figure is expected to grow substantially in the following years, totaling over 24 billion U.S. dollars by 2027. — Statista
The global tourist virtual reality headsets market is estimated at USD 600.0 Million in 2022 and is projected to reach USD 977.34 Million by 2032, at a CAGR of 5.0% from 2022 to 2032. — Future Market Insights (FMI)
Smartphones, massive and easy access to the internet, and geolocation are the main factors that boost AR in travel.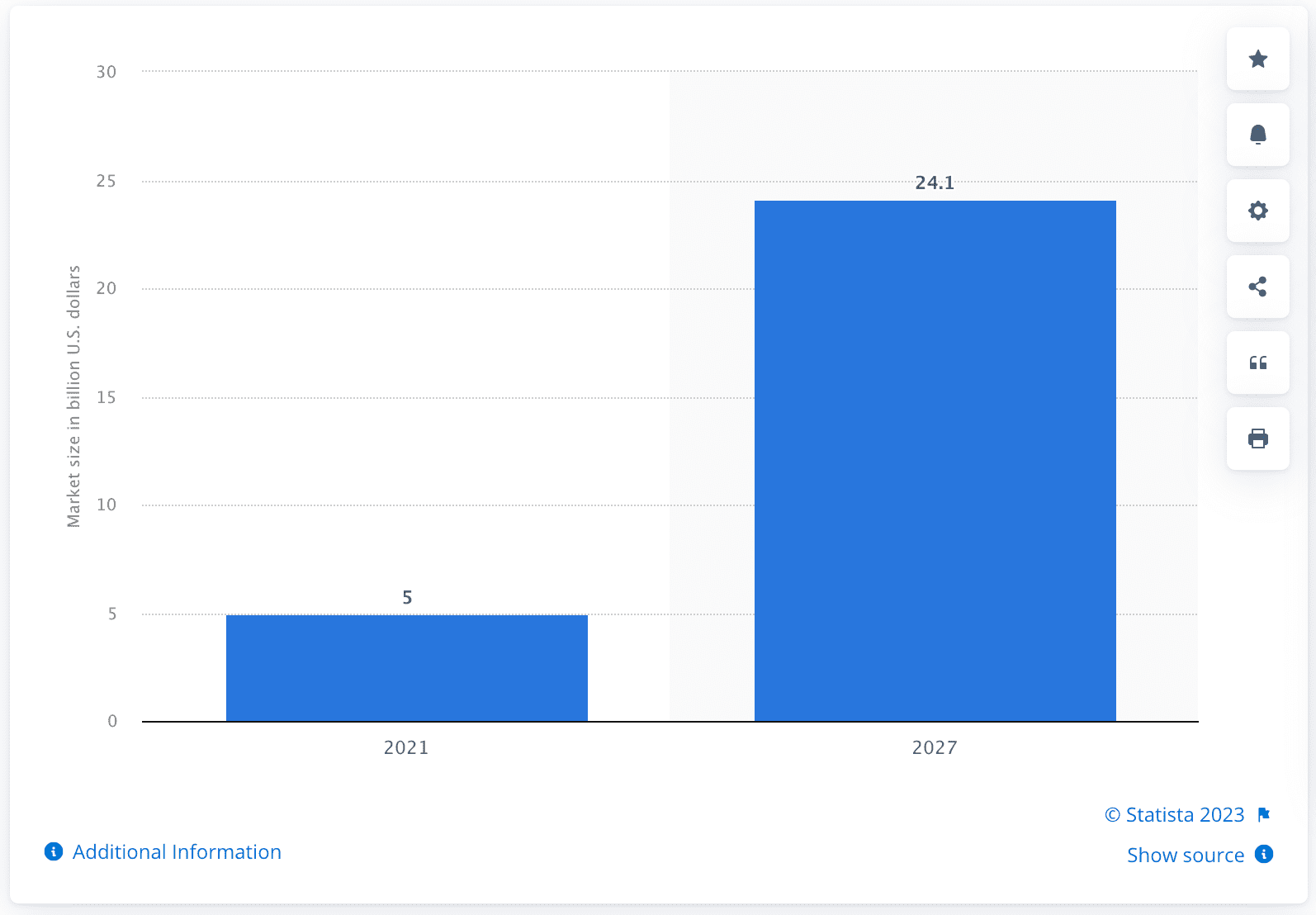 Looking to build an AR/VR solution for travel business?
Take a look at our AR & VR app development services.
Discover more
Virtual Reality as a Marketing Tool in Tourism
VR tours allow travel agents to effectively market travel propositions engaging diverse segments of society, both younger and older generations. Realistic productions and detailed videos not only can captivate clients' interests but also may convince them concerning the safety of their future journey.
Thus, the utilization of virtual tours is an effective marketing tool that successfully promotes new destinations and inspires customers to travel.
Virtual Travel Through Time and Space
Immersive technology allow feeling as if you have just traveled thousands of miles in a few seconds. This incredible feature benefits both travelers and travel providers, transforming long journeys into an accessible way of entertainment.
However, how about traveling to the past centuries? At first look, this question sounds crazy and unrealistic, but don't forget that VR makes even imaginary things seem real. For instance, sky100 and the acclaimed virtual reality experience design house TimeLooper created VR Time Travel: Step into Old Hong Kong, a set of 360-degree videos for VR users.
This virtual tour represents typical Hong Kong scenes, such as Hollywood Road in the 1960s or the areas nearby Kai Tak Airport in the 1980s. Thanks to this project, travelers can instantly 'step into' the old days of the city and walk down the streets of 19th-century Hong Kong.
For example, let's describe the VR project created for the American Museum of Natural History. The museum's special exhibition introduces visitors to the age of dinosaurs by representing them Tyrannosaurus Rex.
In this virtual experience, visitors can interact as a team, take bones to build a skeleton of a T-Rex, and bring the dinosaur to life. Subsequently, VR applications allow travelers to investigate parts of nature, which they cannot explore within real-life interaction.
Benefits of Using Virtual and Augmented Reality in the Travel Industry
Primarily, businesses get a whole set of tools to promote and improve their services:
A quick introduction to the sights in countries and regions customers are interested in.
Presentation of interesting tourist attractions in any location on the planet.
Cooperation with other companies to promote tourism development in specific regions.
Powerful storytelling for museums, exhibitions, and even entire cities.
The immersion effect, created for customers, ensures completely new emotions unavailable with conventional marketing tools.
VR technology, used in the tourism industry, increases customer loyalty, especially when it adds new features facilitating the interaction experience and decision-making.
Mind-blowing AR/VR ideas can't wait
We use the latest immersive technologies for creating apps to exceed our clients' expectations.
Drop us a line
Besides the advantages mentioned above, virtual and augmented reality techs will provide a few more benefits for the tourism industry:
A possibility to have a look around an object that doesn't exist yet or no longer exists. For instance, a tourist can see the site where the ruins of a historical monument are located.
The virtual booking interface is another recent development designed for VR tourism. Customers can book their vacations by putting on a headset, and the booking process will take place in the virtual world.
The same location can be shown in different seasons and various weather conditions. New technologies will allow you to find out where exactly you are going and what awaits you in the location.
The tech is currently the best advertising tool possible. No other technique available on the market can present a tourist destination better than complete immersion in its virtual copy.
The Sky Lights Company practices a fascinating approach. They use virtual reality not for direct airline promotion but as a tool allowing travelers to endure their flights in a more relaxed way, namely to overcome aerophobia. This way, the brand helps travelers to cope with worries and relax during the trip.
We can name dozens of scenarios for using virtual reality in the travel and tourism industry. With time, their number will definitely increase because technologies become more accessible, convenient, and practical every year.
If you are looking for a software development company with expertise in delivering VR/AR solutions, we are ready to help. Contact us and let's talk about the details!