X reality (XR) stands for Augmented (AR), Mixed (MR), and Virtual (VR) realities. For most, XR reality is just a convenient way of bunching AR and VR together in this field of spatial computing. Thus, we will separately talk about effective AR and VR examples in diverse businesses.
Extended Reality (XR) refers to the use of immersive technologies, including virtual reality (VR), augmented reality (AR), and mixed reality (MR), to enhance the human experience.
The primary goal of X-reality is to bring people together in some virtual environment and have them feel like they're sharing the same experience, almost face-to-face. As a result, your business can have a much more effective form of collaboration with clients. Yes, XR reality is happening now, not in the future.
What are the Business Benefits of XR?
There is a short list of main benefits:
It develops new business models.
It assures innovative customer experiences and retains them.
It increases the value of the product or service the brand proposes.
It boosts sales by attracting and engaging new audiences.
It allows employees to train in everyday work scenarios more effectively.
It collects users' personal data for marketing purposes.
Suppose your customers have a modern way of visualizing the environment of your product or service. In that case, it puts your business in a much better position for people to avoid errors that cost at least $5 or human lives at most.
Mind-blowing AR/VR ideas can't wait
We use the latest immersive technologies for creating apps to exceed our clients' expectations.
Drop us a line
The global extended reality (XR) market which includes augmented reality (AR), virtual reality (VR), and mixed reality (MR) reached 29.26 billion U.S. dollars in 2022, rising to over 100 billion U.S. dollars by 2026.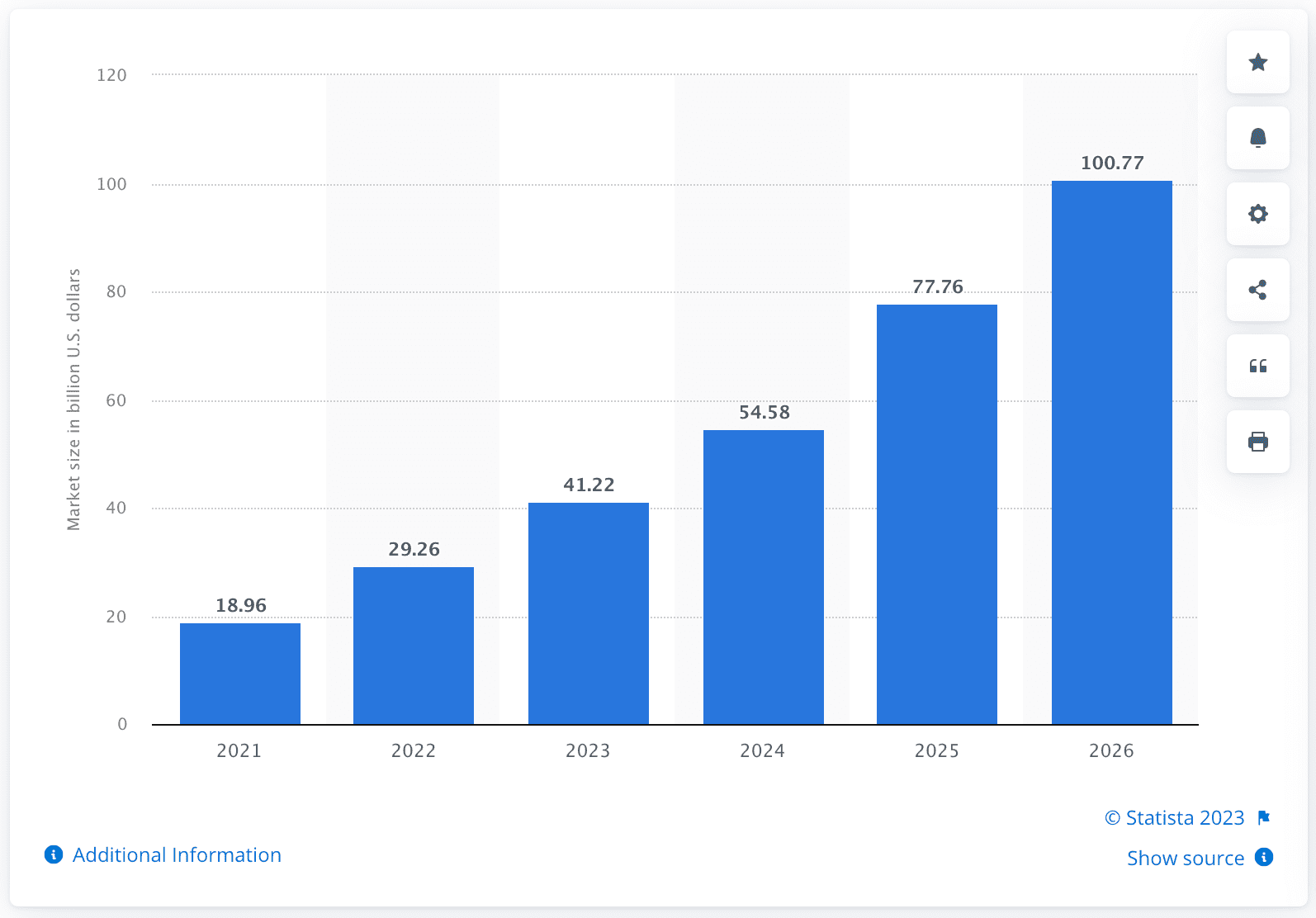 How can Extended Reality be Used in Business?
Here are a few examples that demonstrate extended reality in a real application.
VR Collaboration
People are actively trying to collaborate remotely, and VR apps offer a feeling of presence, which is important for any human being. Zoom doesn't provide such an interaction, so you can go further and address XR development services to develop a better app if you work in this industry. Besides, VR is beneficial for reviewing a 3D design remotely, e.g., a building, a car, or furniture.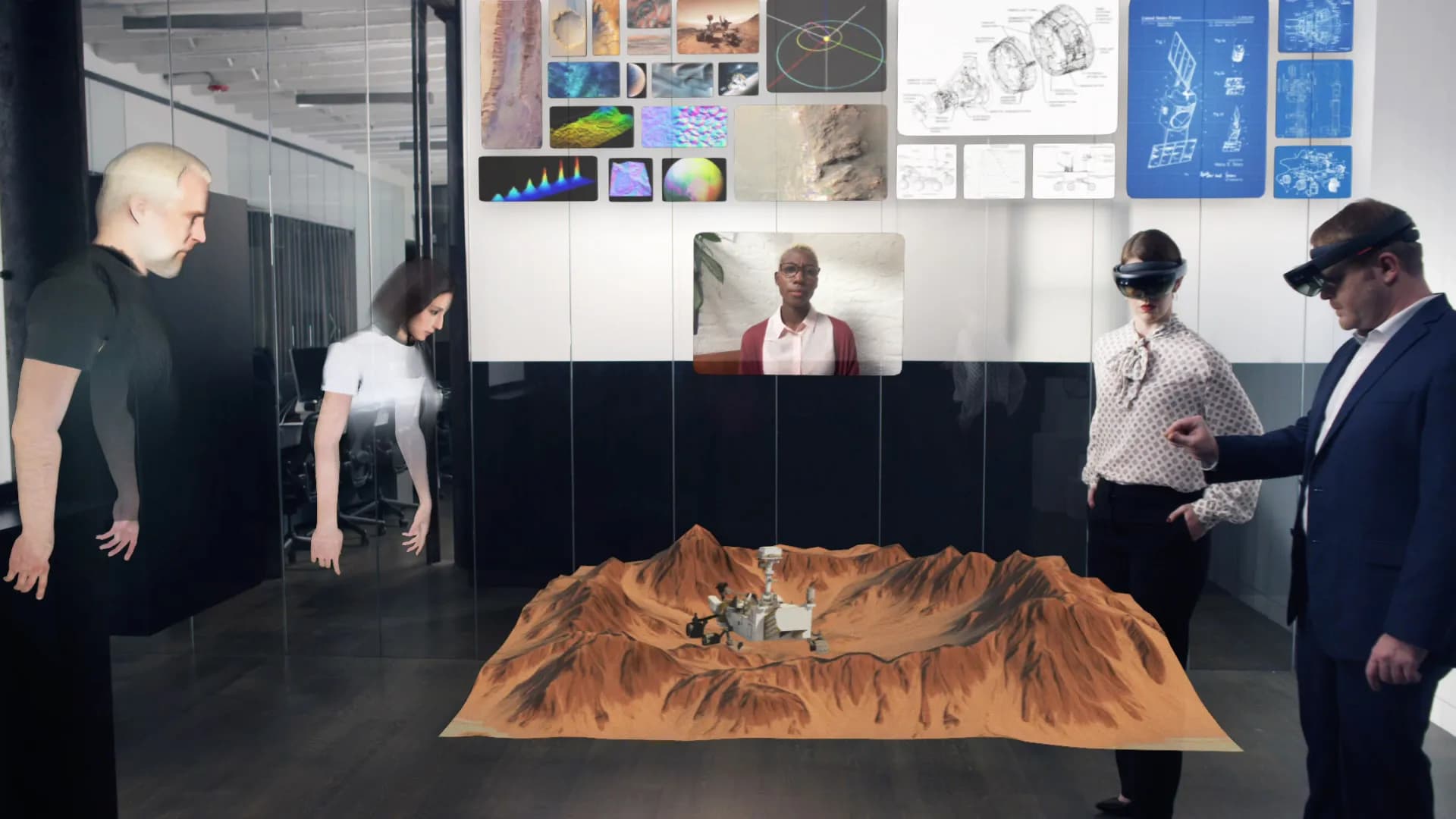 Marketing Events
VR is a great tool to showcase huge and expensive products that need to be transported. For example, in an exhibition about heavy machinery, boats, interior design, or private planes, you can set up a pair of VR headsets and showcase your product in an immersive way, namely more exciting.
Appliances, Furniture, and Other Tangible Products
If you develop an IKEA-like business, either online or offline, we advise using XR reality development services to create an app that helps visualize any item in a real customer's bedroom or kitchen. They just click on a product, instantly see it, and no longer hesitate if it fits their interior.
Besides, seeing some products in their natural surroundings increases the probability of buying because people become more emotionally attached to an item.
Mental Health
There is increased attention to the mental health and emotional well-being of people. If you run a business in a complementary field or want to, consider using VR glasses for quicker patient recovery. People with trauma who need special conditions will get a safer space for them to process and confront, e.g., their anxieties or phobias.
Clothing & Fashion
AR stimulates in-person shopping experiences online by allowing customers to see how a product might look on them. Thus, they can see how the virtual version of the jacket fits or doesn't their body type or skin color. They can also try on jewelry, makeup, and sunglasses. It is called virtual fitting room technology.
Virtual User Instructions & Assembly Instructions
AR-based virtual user manuals can display 3D holograms, overlays, and visual instructions in the form of 3D animations for products such as vehicles, refrigerators, cameras, and more. Consequently, if you're a big retailer, you can develop one app with access to all items you sell.
When it comes to assembly instructions, users can see the construction of items such as desks, cabinets, and more in many phases. As a result, people do not get irritated and come back to your shop with confidence and trust.
Ready to implement VR training?
SmartTek provides custom virtual reality development services with a rock-solid track record of success customized to your business needs.
Contact us
Hotels, Resorts & Restaurants
Before people book a room, they naturally want to see it. But clients become more demanding, and simple pictures are not enough. To cater to them, film your place in a VR environment with attention to all details. When people walk around the pool area or restaurant, they imagine how they'd swim or eat here, which increases sales conversion. 
Car Retail
For example, if your client wants a completely different interior of a Mercedes car, they might hesitate regarding color or design. VR glasses give them a complete look of a red interior with white buttons or a green car with white tires. And it is called a client-oriented approach. You give them a personalized experience, and they are happy to pay you.
To Sum Up
It doesn't matter whether you run a large, middle, or small business, as well as the industry you're in. XR application will make sense for most of your cases and provide business value. It helps whether you're trying to increase your revenue, impact sales conversion, create new revenue/sales channels, maintain organization efficiency, or decrease production costs.
If you hesitate whether your business is ready for the new generation of customer experience, feel free to talk to a Smart Tek expert and ensure you make the right choice.