From new devices to new smart home technology standards – there is much information about the ways to improve your house with gadgets. That's why smart home app development is in demand because they are mostly application-based.
How Smart Homes are Revolutionizing Modern Living: Quick Stats & Facts
The global smart home market is expected to grow from USD 99.89 billion in 2021 to USD 380.52 billion in 2028 at a CAGR of 21.1% from 2021 to 2028. — Fortune Business Insights
American smart home device owners spent an average of $1,172 on their smart household electronics. — Mortgage Cadence
Smart speakers are the most popular smart home devices for the living room, with 35.6% of US consumers owning at least one. — Reviews
According to a study in Europe in 2021, smart building technology can save up to 23% of the energy used in office buildings. — Yahoo Finance
63% of homeowners want their homes to have a smart security system. — Comfy Living
97% of smart home device owners are either somewhat or very satisfied with their devices. — Smart Energy Consumer Collaborative
81% of consumers say they are more likely to purchase a new home that has smart technology. — Coldwell Banker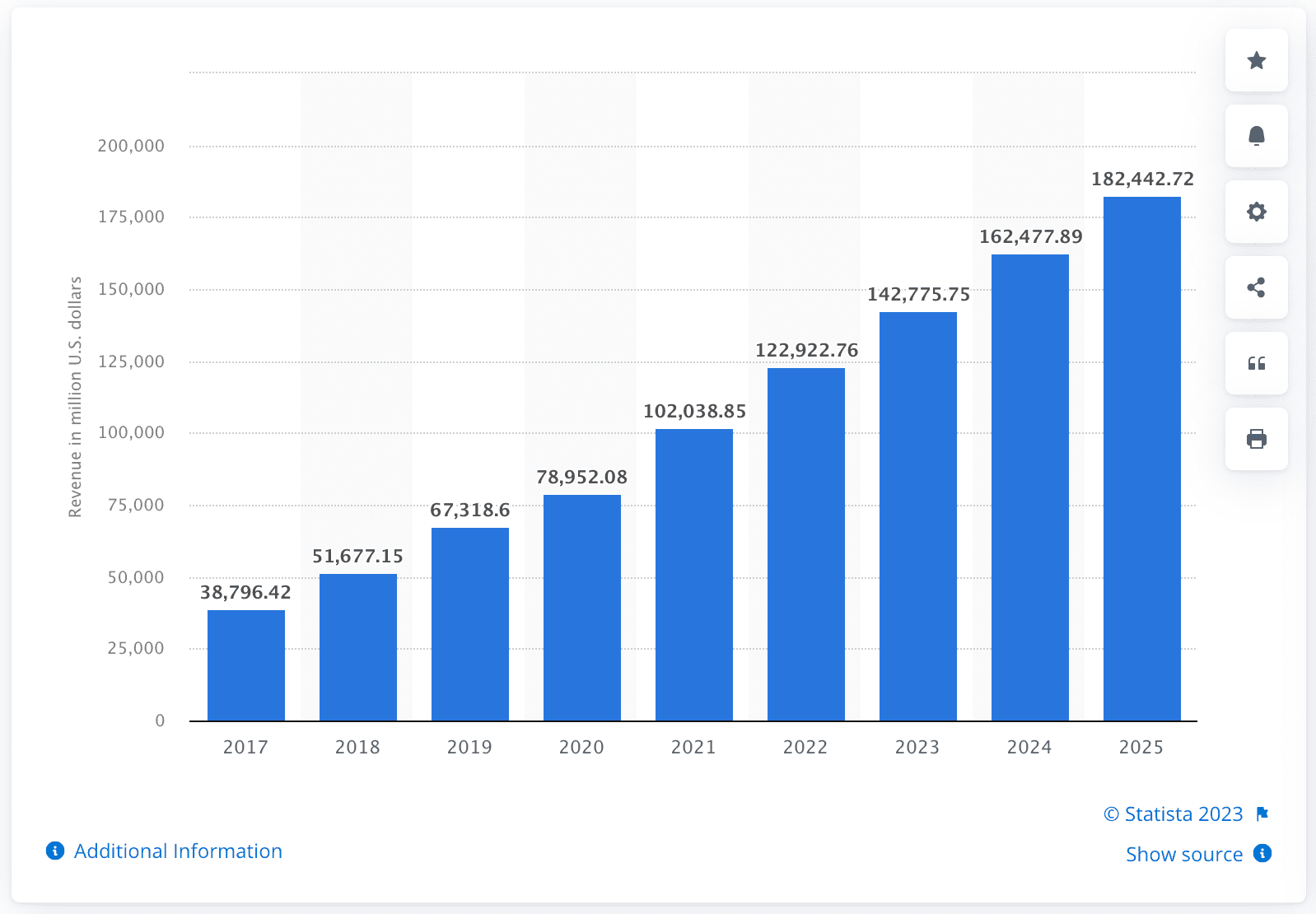 How to Develop a Smart Home App: Must-have Features
Once you've chosen a platform, here are some key features to consider before you start developing a smart home application.
Clear Authentication
Password, Face/Touch ID, etc., are integral components of any app connected to a specific place like someone's home. Also, think about how they will firstly connect, change the password, or confirm the account.
Want to hire a software development team?
Let's talk about your requirements and compose the perfect-sized team for your needs.
Contact us
App's Main Screen
General information about your device should be accessible from the Home Screen. It includes battery charge percentage, functioning status, signal power, etc.
Well-Structured Onboarding Guide
Your app might be a typical one or present some innovative functionality. In both cases, you never know who installs it, so make sure your smart home developers design a step-by-step instruction that represents your brand and/or proposes a custom "guide animal".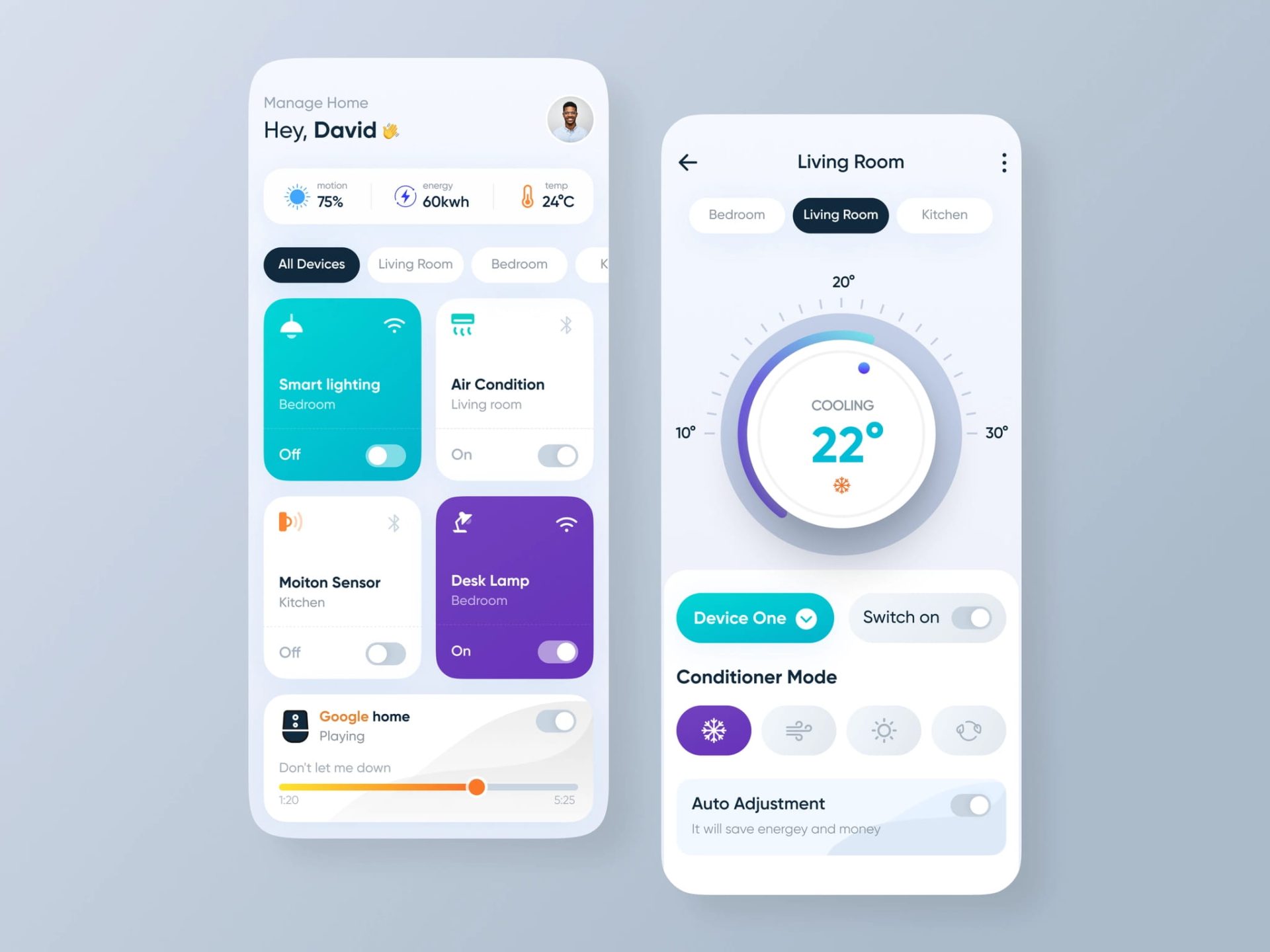 Quick Access
Every app has distinct functionality, but each requires turn on/off and connect/disconnect buttons. Think about your specific app and functionality that users would mostly prefer to be located on the Home Screen for quick access.
Energy Management
Users can optimize the energy use of their smart home devices and appliances. By monitoring energy consumption, users can reduce their energy costs and save money on their utility bills.
Voice-activated controls
This option enables hands-free operation of smart home devices, making it easier and more convenient for users to control their smart home. Users can simply speak commands to turn lights on or off, change the temperature, or play music without having to physically interact with their devices.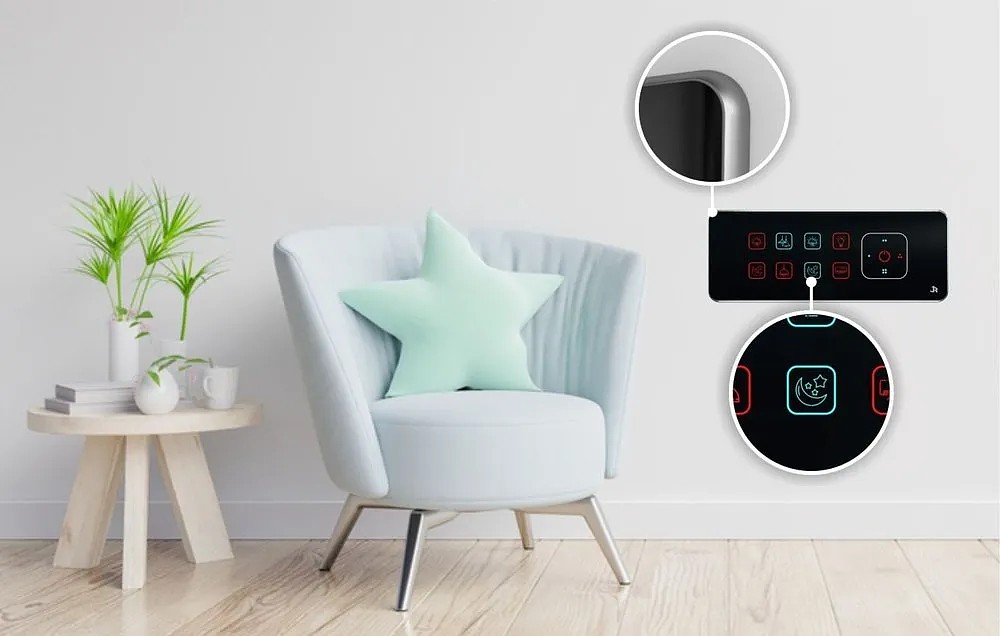 Customizable Push Notifications
They include both security alerts and completed washing message. User should be able to customize their sound, view, and urgency.
We move to robots, advanced cybersecurity, and AI-powered assistants to discuss future perspectives of smart home development. Here are some predictions for future trends:
Health sensors;
Robotic kitchen arm;
Light-up walls;
Smart shower;
Rollable televisions;
Shape-shifting furniture;
Tech-free room.
Home Security
It helps keep users safe by monitoring their home and alerting them to potential threats. Motion detectors, door and window sensors, and video surveillance can all be integrated into the smart home application to provide users with real-time information about the security status of their home.
Personalized Automation
Personalized automation features allow users to create customized settings for their smart home devices based on their lifestyle and preferences. For example, users can set their lights to turn on automatically when they get home or adjust the temperature based on the time of day.
Let's discuss your project
Drop us your idea to know how the SmartTek developers team can help you with its tech implementation.
Contact us
6 Home Automation Ideas for Smart Home App Development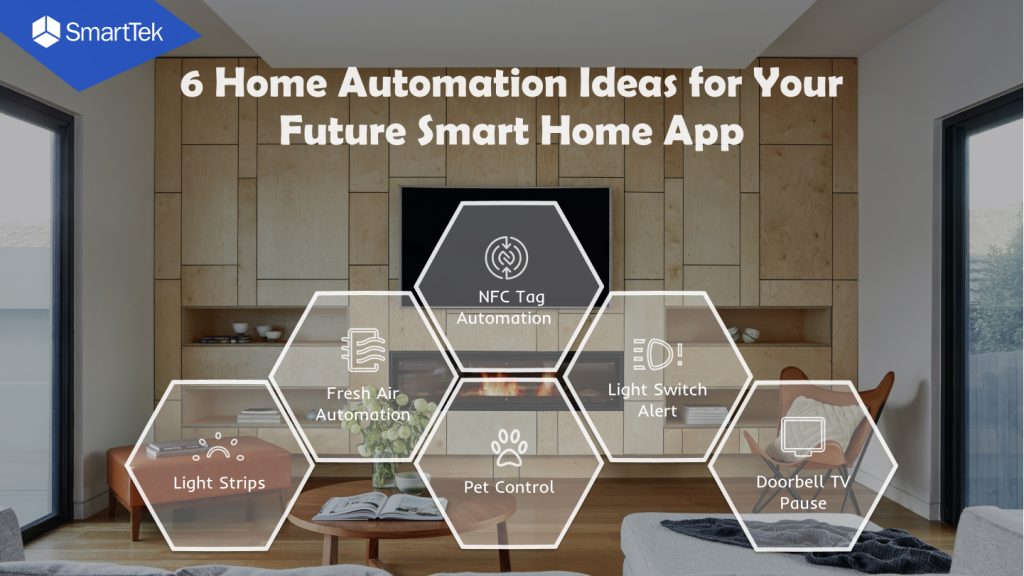 Light Strips. People like motivational wake-ups, so you can develop an app that sets up light to get taller and go from warm to cool white to imitate a sunrise in the bedroom. It can also be a progress bar for morning exercises. Your smart home app can control light strips throughout the house.
Fresh Air Automation. If they open a window, the sensor tells the thermostat not to run while the window is open. The ceiling fan can be connected to and start working automatically for airflow in their future smart home.
NFC Tag Automation. People who work remotely organize their home offices and would appreciate it if one button turns the light on, reads the calendar aloud and displays the to-do list on the already switched-on monitor. Create a smart home application with this useful feature.
Pet Control. Many people leave cameras throughout the house to control their dogs or cats. For example, if the dog gets naughty, smart home technology detects it with a camera and automatically plays a pre-recorded message with a specific command to calm them down.
Light Switch Alert. If the person has a car and garage, they would appreciate the LED on their light switch to see that the garage door is still open. A user can see it right while entering the house without checking for the notification.
Doorbell TV Pause. You can create an app that connects TV to the doorbell, and the movie pauses automatically when someone rings the bell. Additionally, you can also add an option for quick response with a pre-recorded door message.
Conclusion
The future scope of smart home automation shows that more people will use it. It is a prospective niche you should kick in if you have a breakthrough smart home or app design idea. You never know who will launch the next Alexa or Honeywell, so do not miss the opportunity to bring your idea to life before your competitors do so.
If you are looking for a reliable technology partner, write to us – we provide end-to-end smart home app development services and will help you realize the greatest ideas.