E-commerce is growing at an incredible pace, outstripping all forecasts. Opportunities for online shoppers are increasing every day, and fierce competition is forcing sellers to improve their service. Nowadays, almost every industry goes online so as not to lose competitiveness.
With the ability to shop with just a few clicks on their smartphones, people aren't rushing back to physical stores. In the battle for shoppers' wallets and hearts, retailers are embracing new approaches and technologies such as augmented and virtual reality.
Quick Statistics & Facts
The global augmented reality in retail market size was valued at $2 billion in 2021 and is projected to reach $61.3 billion by 2031, growing at a CAGR of 41.4% from 2022 to 2031. — Allied Market Research
Mobile AR market revenue growth over the next four years reflects these changes in technology — from $12.45 billion in 2021 to $36.26 billion in 2026. — Statista
21% of customers would go out of their way to visit a store with a smart mirror and 33% would use it in stores they already visit for trying on clothes. — Snapchat
AR eCommerce experiences are 200% more engaging when compared to their non-AR counterpart. — ThreeKit
According to the findings of a worldwide study conducted in 2022, less than 10 percent of companies in the consumer goods and retail industries were found to scale immersive technologies in their organizations. — Statista
Merchants who add 3D content to their stores see a 94% conversion lift, on average—and since there isn't much difference between try-on and showroom-style AR, the opportunity to use it is open to many verticals. — Shopify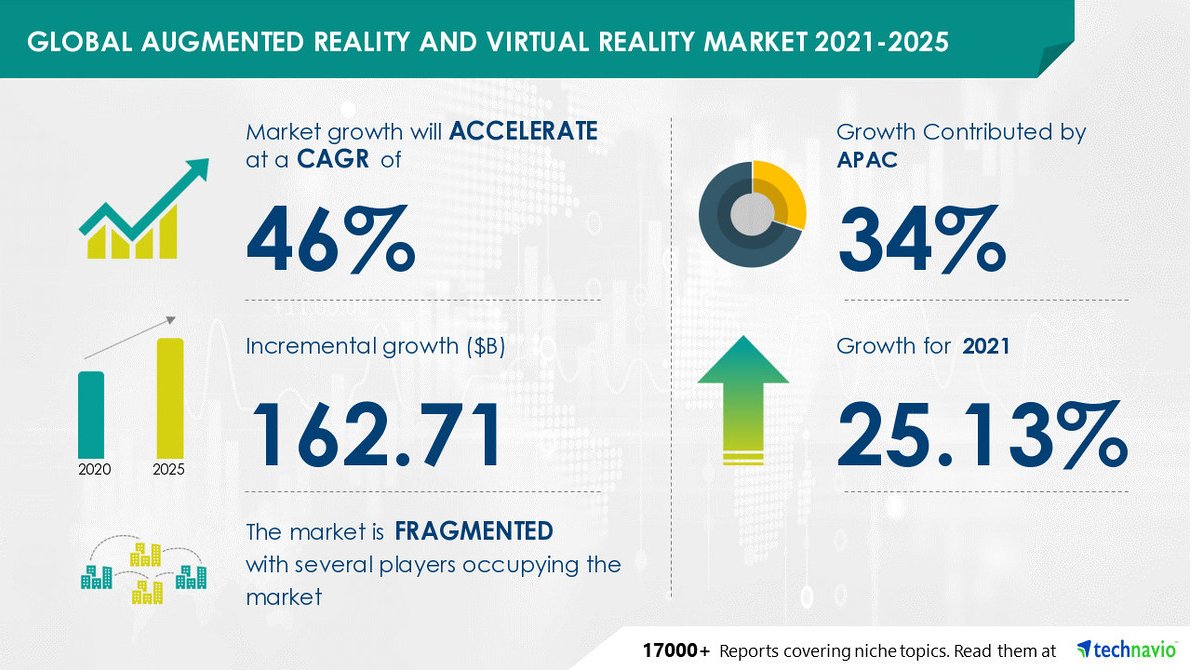 Benefits of Augmented and Virtual Reality in Retail, eCommerce & Shopping
These technologies offer customers a unique shopping experience. Here are some of the benefits of AR and VR in the retail industry:
Improved product visualization. Customers can try on virtual clothes, visualize furniture in their home, and see how makeup or hair products will look on them before making a purchase.
Increased engagement. People are more likely to interact with products when they are presented in an immersive and interactive way. This can help increase sales, as customers are more likely to make a purchase when they feel engaged with the product.
Cost-effective marketing. Retailers can create virtual showrooms and product demos that allow customers to experience their products without the need for physical stores.
Reduce returns. By allowing customers to see what a product will look like before they buy it, they are less likely to be disappointed with their purchase and return it. This can help save retailers money by reducing the costs associated with returns.
Increase brand awareness. There is the potential to create a more powerful and memorable experience for customers, increasing the likelihood that they will return to your brand for future purchases.
Looking to build an AR/VR solution for construction?
SmartTek is ready to become your reliable technology partner with proven expertise in immersive technologies.
Let's talk
How Can AR/VR technologies be Used in eCommerce and Retail?
Being a proven tool to boost multiple industries, such as entertainment or healthcare, to mention just a few, immersive technologies confidently enter retail. We gathered main ways on how AR/VR technologies transform the retail industry, both from retailers' and customers' perspectives.
Choose Products with Augmented Reality
The great thing about online stores is that it's cheaper for both the buyer and the seller. Yet, many online customers get stuck at the stage of "I need to try on clothes and shoes" or "measure the sofa." How is it possible to solve this problem?
Due to AR technology, buyers feel more confident when choosing a product online as they have the ability to preview it in real-life circumstances.
Currently, there are three widespread ways for using AR in online shopping:
Fitting on body-worn goods (e.g., clothes, shoes, accessories, headphones, jewelry, glasses, wigs, cosmetics, etc.).
Trying on goods placed in a particular environment (e.g., cars, furniture, items for decorating houses, etc.).
Interactive products (e.g., electronics, design and layout of apartments, etc.).
AR/VR Training for Employees
For example, retail workers can learn right on the job using AR technology and a tablet: an employee points the device's camera to the shelf and gets prompts on what to do and how.
Another example is using VR glasses to simulate communication with a customer. Just imagine that the system would offer a ready-made script, giving hints in the form of keywords. Thanks to such an interactive approach, the seller would be able to reproduce the speech on his own in real life.
It is a perfect solution for retailers that have physical stores.
360 ° Video
360° videos are a great way to experience virtual reality without a specific headset. If you want to provide a flawless experience for your users but you are afraid that it will not be available to everyone, this option is a perfect solution for your retail business. 
360 ° video can be used to demonstrate space (e.g., real estate objects, showrooms, photo studios, etc.). It is also helpful in presenting conventional products (e.g., it enables users to see a dress on a model from all angles or even in motion, etc.).
Mind-blowing AR/VR ideas can't wait
We use the latest immersive technologies for creating apps to exceed our clients' expectations.
Drop us a line
Smart Mirrors in Stores
A smart mirror is a device equipped with special sensors allowing customers to "try on" outfits or jewelry without putting them on. Having chosen some clothing items, buyers can look at a touch screen and see how well they fit them and change colors or models using AR filters.
The Japanese clothing retail chain Uniqlo is now successfully using the mirror described. As for the filters, the beauty brand Sephora is currently applying them in its business activities.
Interactive Instruction Manuals
We can expect such manuals to become standard practice for online stores soon, especially the ones selling household appliances. The buyer will just scan the product QR code (for example, a coffee machine) and set out on a virtual tour to learn more about the product, find out how to install it, run it, and select the desired modes.
On a Final Note
In the modern competitive environment, retailers should try different roles to stay on-trend. In an oversaturated market, companies compete not only for the buyer but also for the viewer.
Сompanies that promote products using augmented reality and develop new ways to use VR technology will become major players in the retail and entertainment markets of the coming day.
If you're thinking about getting on board with this trend, let us help bring your idea to life.