The rise of Augmented Reality (AR) and Virtual Reality (VR) has opened the door for The restaurant and hospitality industry is slowly but steadily adopting the up-to-date technology of Augmented and Virtual Realities.
One of the reasons for extended reality gaining momentum in hospitality is the amount of information guests expect to receive before they book the place. Technology helps the hotel staff simplify the booking process by allowing the customer to experience an augmented model of the room. Once the guests arrive at the location, they can be provided with the needed information in a contactless manner at any convenient time.
Examples of Using AR & VR in Hospitality Industry
Let's explore the application of virtual and augmented reality in the hospitality industry.
Virtual Travel Experiences
Virtual Reality cannot replace the feels of a real vacation but it can provide a clear understanding of what you should expect. An opportunity to receive a sense of what an environment is like maybe a crucial point for making a decision.
The joy of the VR experience is doubled by the opportunity to explore the travel destination before they purchase the tickets. Imagine testing out the Bahamas before you actually go there. Chances of a visit may grow immediately, right?
And last but not least, VR journeys can also provide a priceless opportunity to explore the world for people who are unable to travel. Disabled people have more possibilities to discover new locations than ever before.
Looking to build an AR/VR solution for hospitality?
SmartTek is ready to become your reliable technology partner with proven expertise in immersive technologies.
Let's talk
Virtual Hotel and Room Tours
As the competition is immense, hotels are looking for ways to stand out and surprise their guests. Many hotels use virtual reality hotel tours as an opportunity to showcase their hotel rooms via interactive elements.
The tours can be placed on hotels' websites and are a great way to show customers around the property before they book or before they arrive. Thus, clients are provided with the possibility to check out what their room interior is going to look like and make better decisions about which hotels are most suitable for them.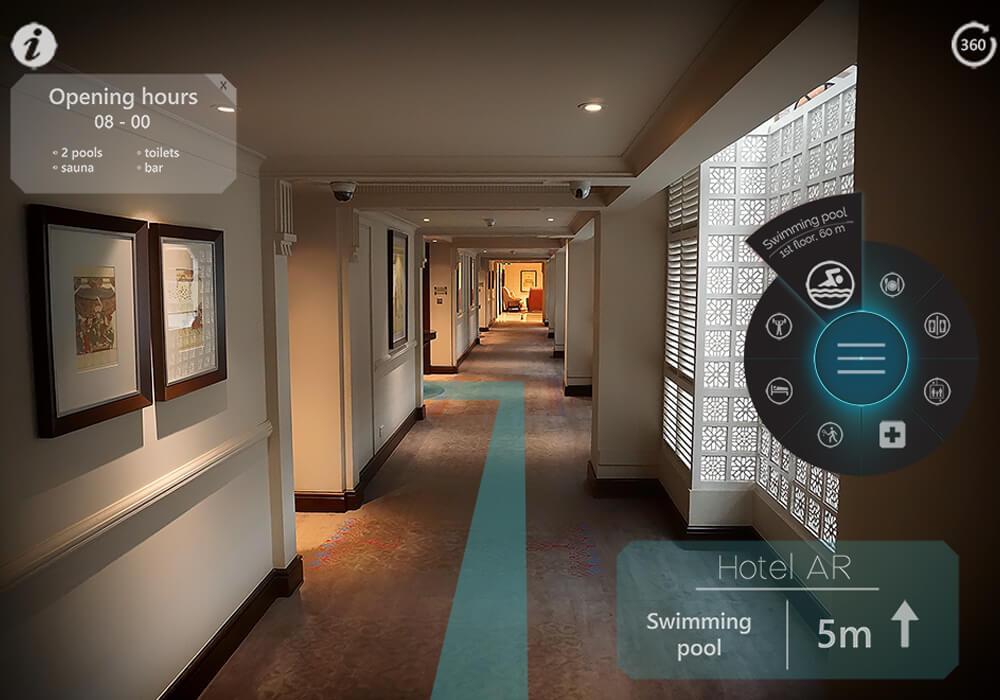 Standby Customer Experience
The idea behind experience marketing is to make customers experience the product from the moment they enter the front door. For instance, some restaurants provide customers with VR headsets so that visitors can enjoy the immersive view while being served meals or drinks.
You can provide your customers with an AR experience while they are waiting for their order which makes the waiting time more entertaining. At the same time, you can provide them with some useful (both for the client and the restaurant) information in video form.
Event Space Guide and Room customization
Virtual reality can also be used to showcase event spaces. For example, a hotel can create a virtual tour of its ballroom to help event planners visualize the space and plan their event. This can save time and money by allowing event planners to get a feel for the space without having to physically visit the hotel.
Augmented reality can be used to allow guests to customize their room before they arrive. Guests can use their smartphones to see how different furniture arrangements would look, or change the color of the walls, bedding, or decor. This can help guests feel more in control of their stay and create a more personalized experience.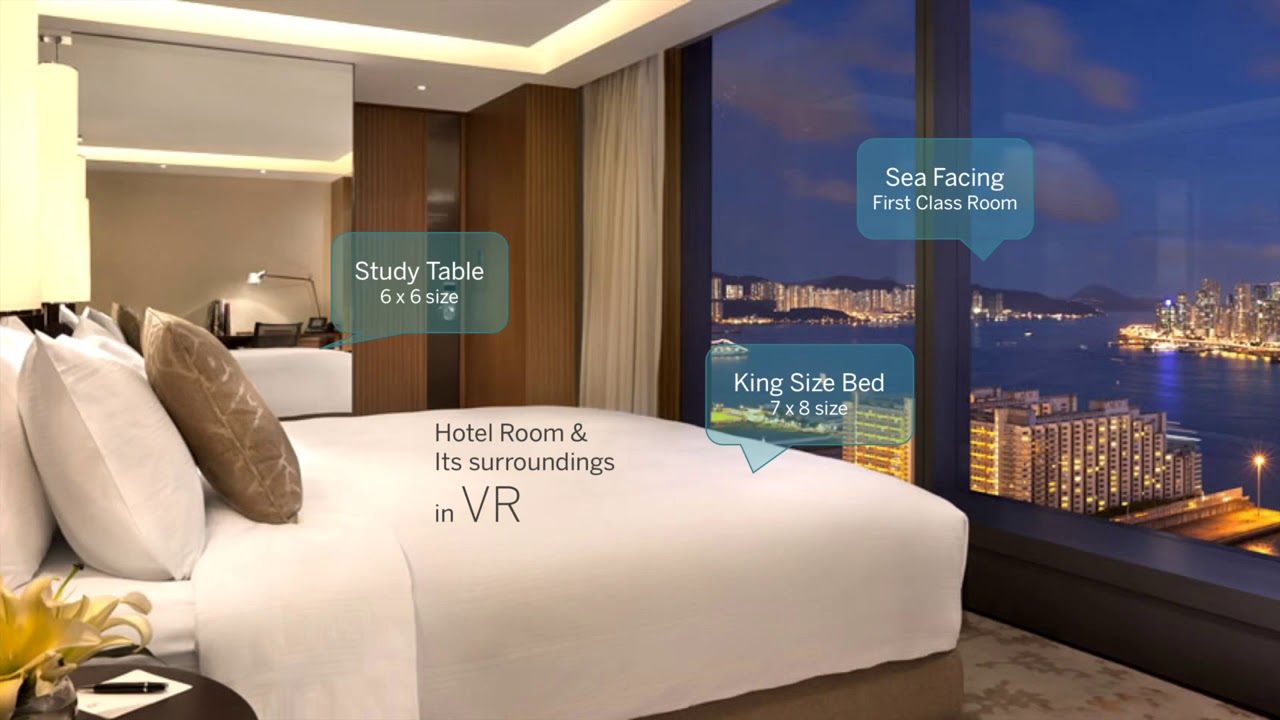 Training Hotel Staff
Virtual reality can be a valuable tool for employee training, especially for complex tasks such as room cleaning or food preparation. VR can simulate different scenarios, allowing employees to practice and develop their skills without risk. This can be especially useful for new employees or those learning a new skill.
Virtual reality experience can help teach an employee new tools or allow remain productive while serving more customers visiting the restaurant. Another point is that extended reality can help staff operate complex machines that they have never experienced before.
VR training Development Services
Empower your business with the best tech solutions. We build virtual reality programs for different industries.
Contact us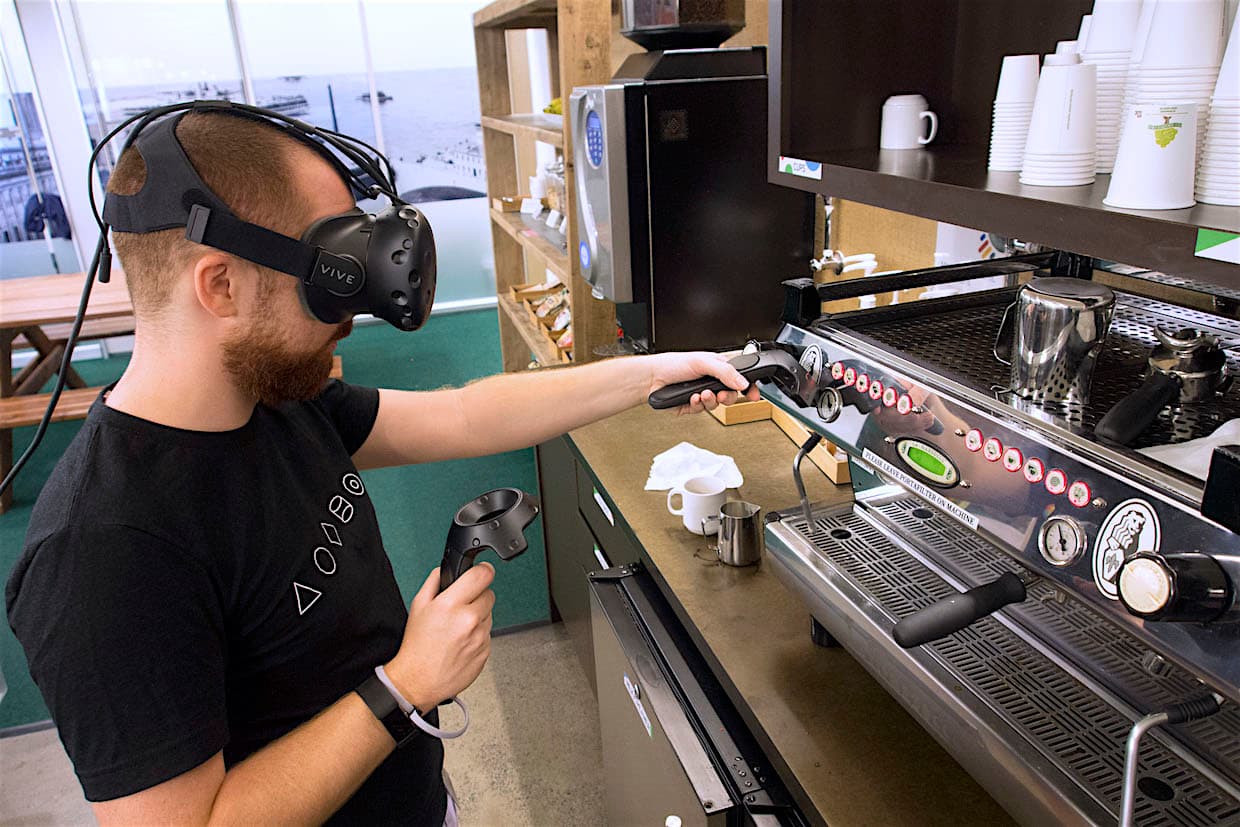 Interactive Tips
To improve customer experiences and memories, hotels can use augmented reality technology to create interactive elements for their guests to interact with during their stay.
For instance, the elements can include gripping information about some interior items, like paintings on the walls and the room where guests stay (info on celebrities who stayed there before them, etc.).
Besides, AR/VR solutions will serve well to create an interactive map of the surrounding area or city center to highlight local landmarks or attractions. Guests can use them to map routes to the places of interest of their choice.
For example, guests can use their smartphones to scan a code and see directions to their room or hotel amenities. This can be particularly useful for large properties where guests may find it difficult to navigate without assistance.
We stay on top of the latest industry trends and happenings. Our teams of experienced professionals are ready to introduce cutting-edge technologies into your traditional processes.
If you are looking for a trusted technology partner, contact us and we can help you choose the right way to implement Extended Reality technologies.