In the modern world, each business, whether it specializes in selling goods online or providing social services, requires well-structured management to function correctly.
Сhoose Odoo or Salesforce ERP system, here is the question. Let's compare the main advantages and disadvantages of Odoo and Salesforce for business.
Quick Stats & Facts
Salesforce operates in 89 cities, with 110 offices around the world.
The American continent contributed 14.74 billion USD (69.34%) of Salesforce's total annual revenue in 2021.
Odoo has more than 1500 active community members, that contributed another to 16000+ apps to cover a wide variety of business needs. 
Odoo has market share of 15.51% in enterprise-resource-planning (erp) market.
The global ERP software market will grow from $167.33 billion in 2022 to $187.88 billion in 2023 at a compound annual growth rate (CAGR) of 12.3%.
Is Odoo Similar to Salesforce?
While both Odoo and Salesforce have some overlapping features, their primary focus and target users are different. Odoo is more focused on managing various aspects of a business, while Salesforce is more focused on managing customer interactions and relationships.
Odoo is an open-source enterprise resource planning (ERP) software that includes modules for accounting, sales, inventory, project management, and other business functions. Odoo is highly customizable and can be tailored to meet the specific needs of different businesses.
On the other hand, Salesforce is a cloud-based customer relationship management (CRM) software that helps businesses manage their customer interactions, sales, marketing, and customer service.
Interesting opportunity:
You can sync Salesforce with Odoo using the Salesforce Connector. Odoo integration with Salesforce gives the power to sync customers, products, sales orders, quotes, leads, contracts and opportunities, and much more.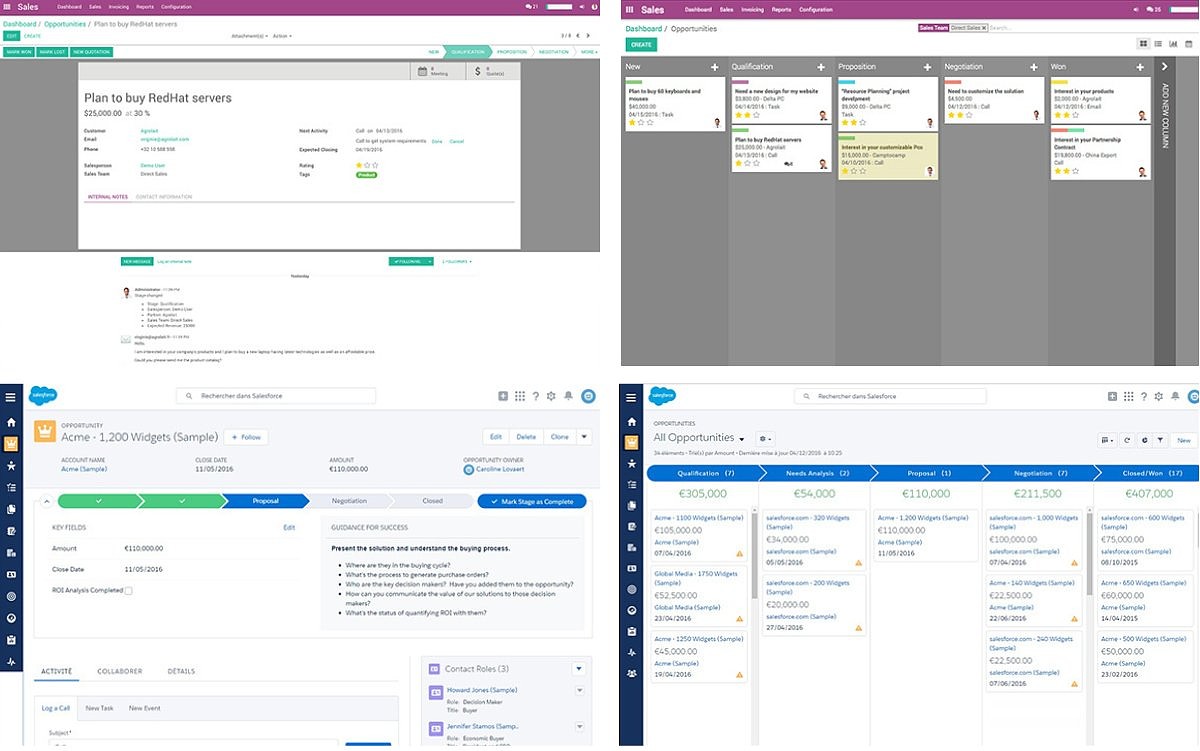 Let's resolve all your queries around Odoo
Have any questions, doubts, or ideas about Odoo ERP software development? We will reach out to you with a thorough plan and a solution quickly.
Let's Connect
What are the Main Differences Between Odoo and Salesforce?
Everything is simpler than you think. In fact, Salesforce is a CRM software. On the contrary, Odoo is an ERP software. While your business can rely on both ERP and CRM systems, the primary dissimilarity between ERP and CRM is that ERP is mainly for financial data, while CRM is more suitable for customer data used by the sales department.
| | | |
| --- | --- | --- |
| Features | Odoo | Salesforce |
| Type of software | Open-source ERP software | Cloud-based CRM software |
| Target audience | Small to medium-sized businesses | Businesses of all sizes |
| Key features | Accounting, sales, inventory, project management, HR, marketing, and more | Sales management, marketing automation, customer service, analytics, and more |
| Customization | Highly customizable with access to source code | Customizable with add-ons and integrations |
| Deployment | Can be deployed on-premises or on the cloud | Only available on the cloud |
| User interface | User-friendly and intuitive | User-friendly and customizable |
| Pricing | Free community edition with paid versions available | Monthly subscription fees starting from $25/user |
| Integration | Integrates with various third-party apps | Integrates with various third-party apps |
| Reporting and analytics | Offers built-in reporting and analytics tools | Offers built-in reporting and analytics tools |
| Support | Community support and paid support options available | Customer support available through various channels |
| Prominent Clients | Toyota, WWF, Hyunday | Dell, American Red Cross, Comcast |
Compare Odoo vs Salesforce
Summing Up
The above comparison of Salesforce and Odoo once again proves the importance and necessity of realizing and understanding how and for what purpose the system will be used. Of course, the functionality of both Salesforce and Odoo will boost the overall performance of the business, increase profits, and make life easier for all departments of your business.
Salesforce and Odoo are recognized as the # 1 CRM & ERP systems on the market precisely because of their functionality, performance, and thoughtful design. Their huge advantage is that they help establish the business in any company very quickly, regardless of industry. They help to focus attention on specific needs and requirements, increasing the efficiency of operations.
If you have a question or need help, contact us to get prompt and qualified consultation concerning all your questions.