We are sure that you have bought clothes online at least once. And you know how difficult it is to choose the right size, color, and style. Almost every online buyer has encountered that the ordered product did not meet expectations or did not fit. The problem is that the consumer couldn't try it on before buying. Is there any solution? We guess it is.
Businesses seeking to keep up with the times are solving this problem using augmented reality tools. In this article, we are talking about virtual try-on technology and its benefits to fashion, e-commerce, and retail.
Virtual Try-On: What Is It, and How Does It Work?
Virtual try-on could be a game-changer for your business. Technology allows customers to try on things utilizing their phones as a mirror. When using a mobile device, the camera reflects the user's photo on the screen, while the AR application superimposes chosen products onto live reflection.
The augmented reality-based feature presents a real-time and interactive experience of trying goods, such as glasses, hats, or makeup, just as in front of a real mirror. Isn't it amazing? Let's consider in detail how it actually works.
The customer's photo is captured in real-time via a webcam or by uploading an image.
The program recognizes the features to which the virtual product will be applied.
The chosen product is overlaid onto the image or video feed.
AR software renders the product onto the user's live feed by adjusting for light, shadow, and perspective.
User can switch between different products, styles, and colors to compare looks.
Client can move and see the product from different angles, just as they would while trying on a physical product, providing a comprehensive view of its appearance.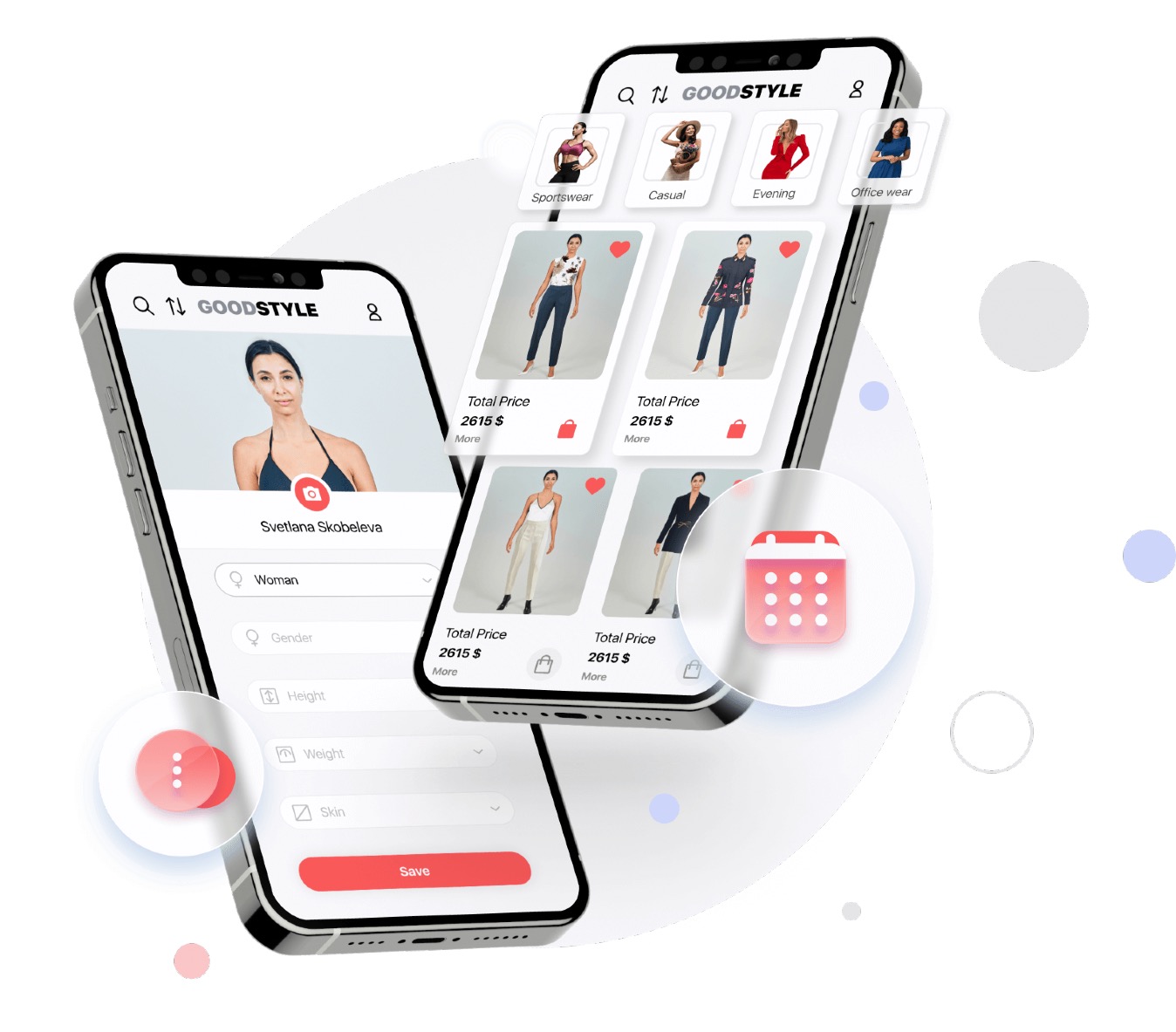 Imagine an online clothing retailer incorporating this technology on a website. Clients who intend to buy a dress can select the virtual try-on option. They enable a webcam or upload a full-body photo. The technology scans the customer's body dimensions and creates a 3D model.
Once the model is generated, the chosen dress is rendered onto the customer's avatar, adjusting for size, fit, and drape, using real-time rendering technology. The customer can see how the dress fits from various angles by rotating the model or moving in front of the webcam.
Additionally, the client can switch between different colors and patterns of the dress, compare different styles, and even receive size recommendations from the website, greatly enhancing the online shopping experience by reducing guesswork and potential returns due to misfits.
Mind-blowing AR/VR ideas can't wait
We use the latest immersive technologies for creating apps to exceed our clients' expectations.
Drop us a line
7 Brands Using Virtual Try-On Technology to Drive Sales
Brands across various industries increasingly adopt virtual try-on technology to enhance the online shopping experience and bridge the gap between digital and physical retail. Technology is precious in sectors where fit and aesthetics are crucial, such as fashion, eyewear, or cosmetics.
Prada
Prada's virtual try-on feature lets shoppers explore the latest eyewear collection by virtually trying on different styles through their cameras. It enhances the shopping experience and aligns with Prada's innovative and forward-thinking brand image.
Marc Jacobs
Marc Jacobs has leveraged Snapchat's popular platform to introduce its products to a tech-savvy audience through an engaging virtual try-on experience. Using Snapchat's augmented reality lenses, Marc Jacobs allows users to interact with their fashion line in a virtual space.
L'Oréal
L'Oréal uses AR features to let customers experiment with different beauty products. For instance, a user interested in L'Oréal's new line of products could use a dedicated lens to apply virtual makeup. As they view themselves through the camera, they can swipe through different shades of lipsticks or eyeshadow palettes, seeing each applied to their live image instantly.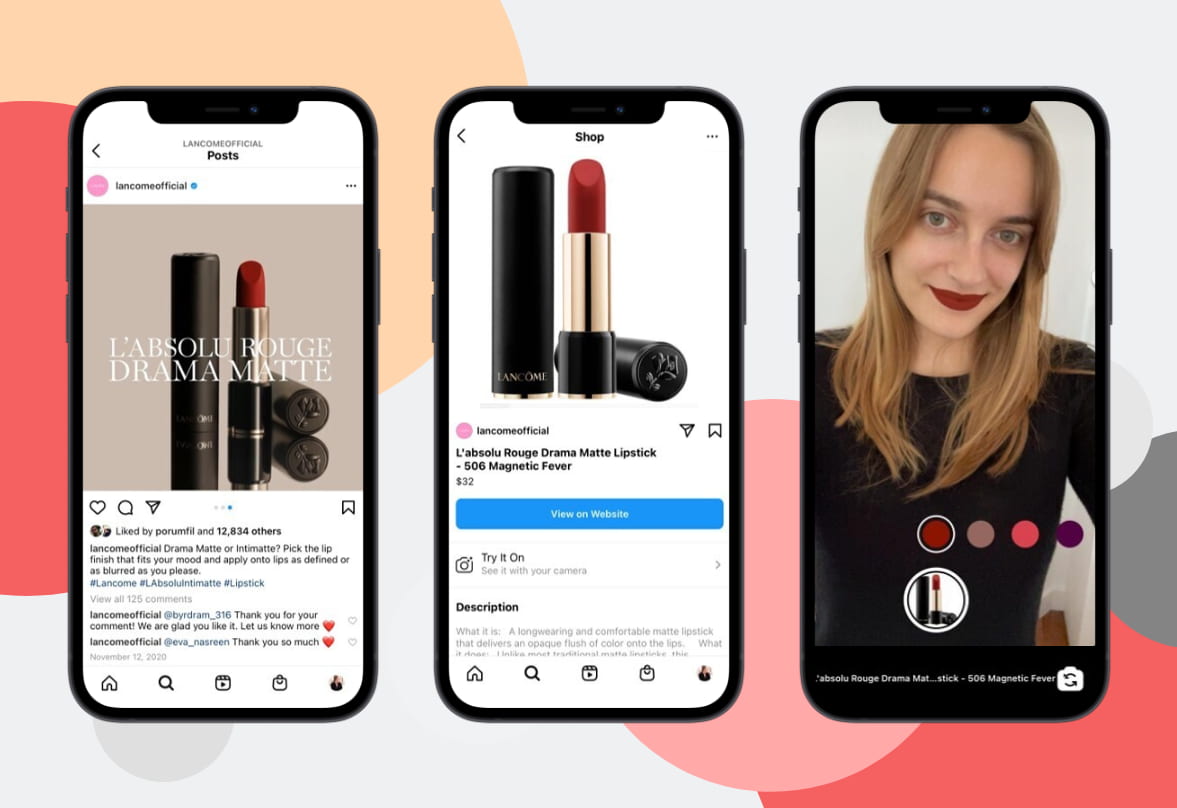 The true-to-life colors and textures appear as if the user has applied the makeup, offering a glimpse of the potential new look.
Nike
Nike has integrated virtual try-on technology into its shopping app to revolutionize how customers shop for shoes. Using their smartphone's camera, users can virtually see how different models of Nike shoes look on their feet. When trying on a pair of Nike Air Zoom Pegasus, users can view the shoes from various angles and see how they align with their style, ensuring the right look and fit before purchasing.
Baume & Mercier
Swiss luxury watchmaker provides a virtual try-on service, allowing customers to virtually experience its luxury watches on their wrists. Someone considering the Classima watch collection can select different dial colors and strap materials, customizing the virtual experience to their preference.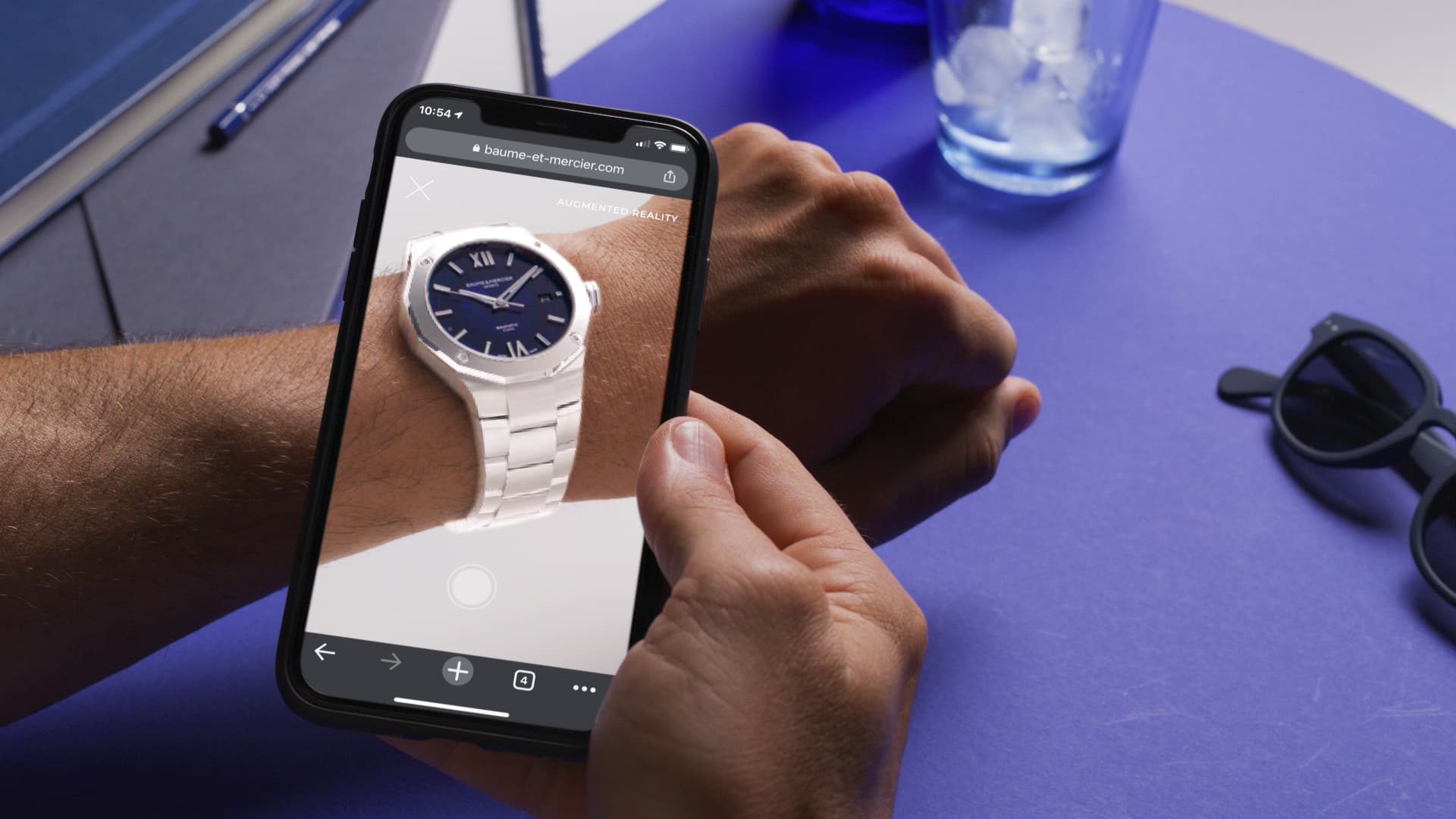 Ray-Ban
Ray-Ban employs virtual try-on technology to provide customers with a seamless and accurate method for testing eyewear styles. Customers can use their device's camera to virtually model various sunglasses and eyeglasses on their faces through their website or app.
Sephora
We cannot forget to mention the Virtual Artist app offered by Sephora. This case is an excellent example of how successfully a cosmetics company can use augmented reality technology. The buyer can visit a virtual salon, where he tests lipstick, eye shadow, mascara, and other cosmetics.
Want to build an AR/VR application?
We are ready to be your trusted technology partner with proven expertise in immersive technologies.
Let's talk
The Benefits of Virtual Try-On for Retailers and Fashion Brands
Virtual try-on technology suggests multiple advantages for retailers and fashion brands, enhancing the customer experience and the company's operational efficiency. Let's consider the main benefits.
Enhanced online shopping experience.
Increased customer engagement.
Personalized shopping journeys.
Richer data collection.
Reduced return rates.
Market expansion.
Brand differentiation.
Sustainable practices.
Boosted social media marketing.
/ Google's New AI-Powered Virtual Try-On Feature / 
Virtual try-on tools make shopping interactive, keeping customers engaged with the brand for more extended periods, which can lead to increased sales. By allowing clients to preview how products look on them, virtual try-ons decrease the likelihood of returns due to size or style issues, significantly reducing logistics costs.
In Summary
In 2024 and beyond, your business definitely needs virtual try-on technology to stay competitive and meet the evolving expectations of modern consumers. It offers an immersive shopping experience by allowing customers to preview products before purchasing, leading to higher engagement and customer satisfaction. 
Furthermore, implementing AR technology provides valuable consumer behavior data, aiding in inventory and marketing strategy optimization. By offering this innovative service, your business can expand its market reach, foster brand loyalty, and position itself as a cutting-edge player in the digital retail landscape.
Drive sales and reduce returns by helping customers make better buying decisions. Let's start building your try-on solution together!