Conventional menus and the regular food presentation are a thing of the past. Successful restaurants, bars, and cafes are using innovative, cutting-edge technologies like augmented reality to stay ahead of the curve, attract and retain their target audience, astonish and captivate customers, and improve staff productivity.
In this article, we talk about how your restaurant can use augmented reality specifically and what benefits your business can get from this decision. So, let's dive in. 
Examples of How AR Can Be Used in Restaurants and Bars
In the fiercely competitive world of restaurants, standing out and thriving is an ongoing challenge. Augmented reality emerges as a game-changer, offering innovative solutions to transform dining experiences and help restaurants survive and flourish in today's cutthroat landscape. Let's look at examples of augmented reality technology usage in restaurants and bars.
Interactive AR Menus
An interactive menu is the most common way of utilizing augmented reality in restaurants. You don't need to print paper copies anymore. Find the place for the QR code on the table, and that's it. These restaurants have been successfully using AR menus for a long time.
Wagamama.
Denny's Diner.
McDonald's.
Pizza Hut.
Bareburger.
La Tagliatella, etc.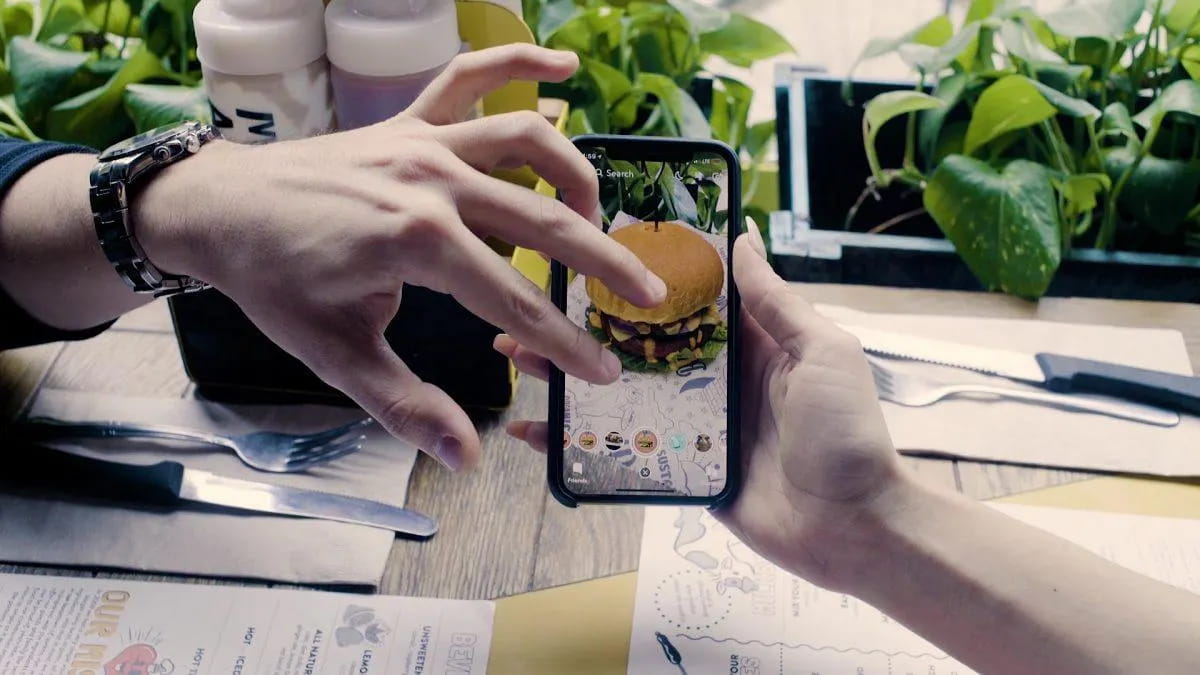 When visitors point their smartphone camera at this QR code, they get an informative menu with 3D models instead of pictures. The customer sees the food in its actual form and size. You can add a video of the cooking process or other information if you wish. Thus, the visitor's interaction with the dishes is significantly improved. As practice shows, visitors are more willing to order dishes they have never tried after such an introduction.
Want to build an AR/VR application?
We are ready to be your trusted technology partner with proven expertise in immersive technologies.
Let's talk
Order Customization with AR
Some diners want something more than menu items. Imagine the situation: you have your favorite pizza at a restaurant but would like to replace some ingredients or try another sauce. It would be great.
Augmented reality allows you to provide such an experience to your guests. We have a real example. The pizzeria chain Domino's has launched the «New Pizza Chef» program, which allows visitors to make their pizza and thus customize the order. You can do the same trick with other dishes (burgers, salads, sushi, etc.).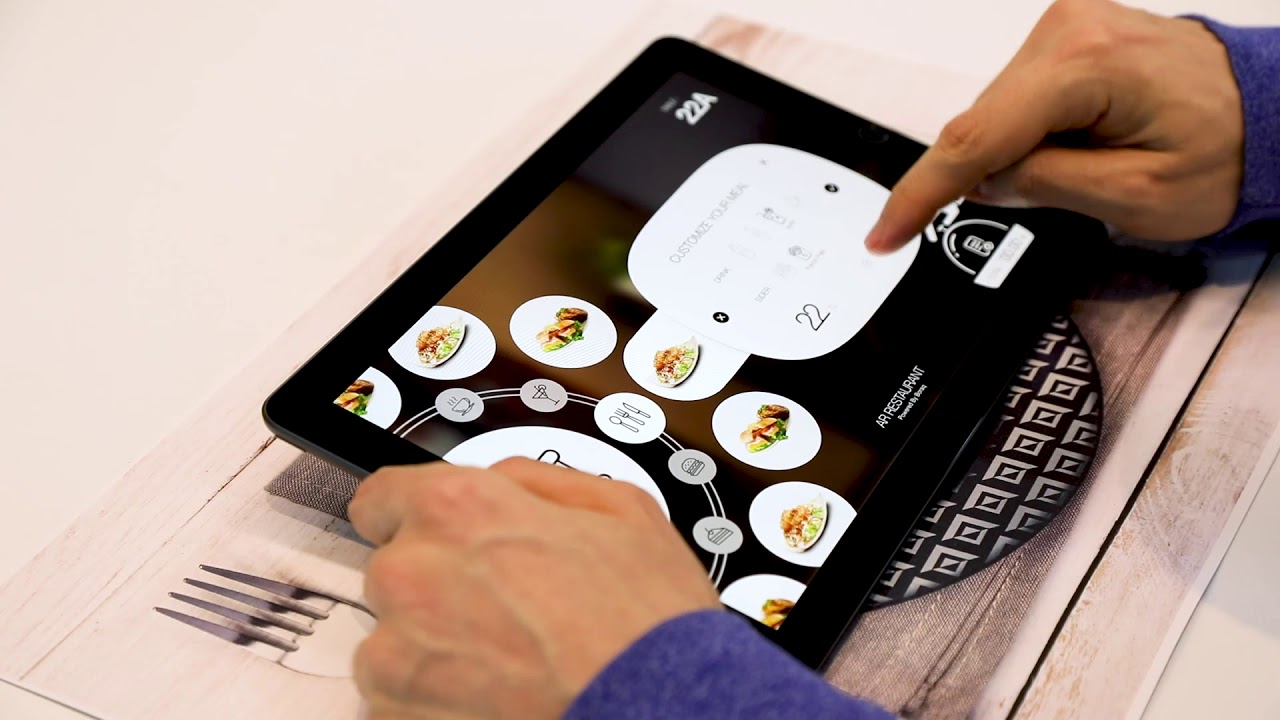 Tabletop AR
Tabletop AR can work in two ways. First, the customer can place all the dishes and drinks they want to order on the table. Secondly, the visitor has a pleasant time waiting. You can design AR games of varying difficulty and invite guests to play while their order is being prepared.
AR-Based Staff Training
Restaurants can harness augmented reality for staff training in innovative and effective ways, enhancing the overall customer experience. Utilizing AR, you can create virtual restaurant environments where staff can practice their roles. Waitpersons are learning how to set tables, take orders, and serve food in a simulated dining room. Chefs and kitchen staff are using AR to practice cooking techniques. This hands-on training can improve real-world performance and boost confidence.
With just as much success, AR can be used to teach staff about wine pairings and cocktail preparation. For kitchen staff, AR can provide step-by-step guidance for preparing dishes. AR overlays can show each menu item's exact measurements, cooking times, and plating instructions. This feature can help maintain consistency in food quality and presentation.
New Product Launches
A new product launch can be memorable and exciting if you use AR. For example, you are planning to introduce a new dessert. How to get your guests to order it.
Create a 3D dessert model.
Demonstrate the dish from all sides and in a cut.
Show the cooking process.
You will kill two birds with one stone. On the one hand, your guests will have something to do while their order is being prepared. On the other hand, such an exciting interactive presentation will increase the chances that the customer will order a new product.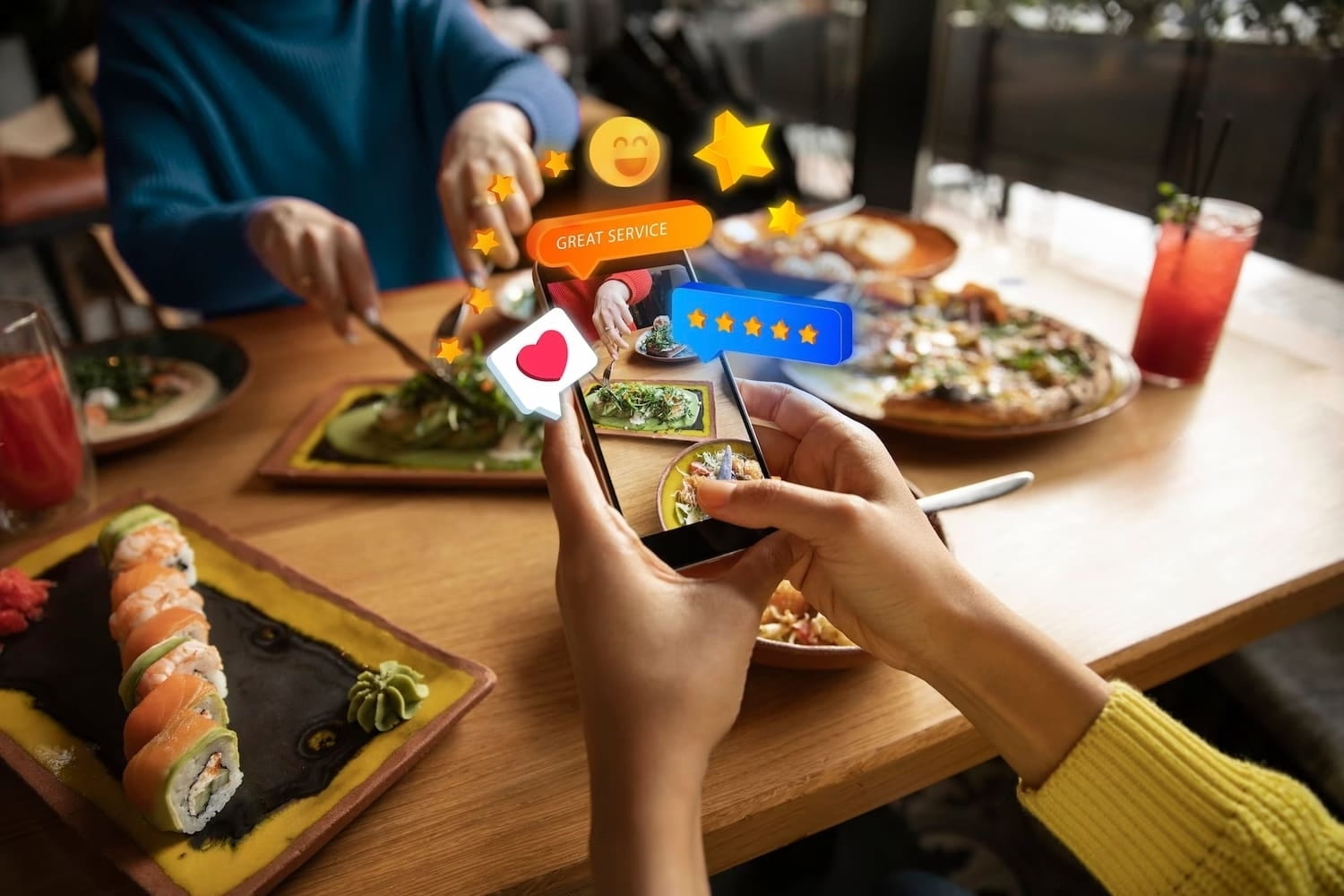 Restaurant Marketing: Deliver Experience, not Products
Against the above background, it is clear that AR gives companies incredible marketing opportunities. Use AR to provide virtual restaurant tours. Potential customers can use smartphones to explore the restaurant's interior and view the atmosphere, seating arrangements, and decor. It can help them decide if your restaurant matches their preferences before making a reservation.
What other marketing techniques can you use with AR? Develop AR-based loyalty programs that reward customers for repeat visits. Organize AR hunts, encouraging customers to explore your restaurant or nearby areas. Use AR to tell the story of your restaurant. Create AR experiences that highlight the history, philosophy, and values behind your establishment. It helps customers engage with your brand on a deeper level.
Mind-blowing AR/VR ideas can't wait
We use the latest immersive technologies for creating apps to exceed our clients' expectations.
Drop us a line
Top Benefits of Using Augmented Reality for Restaurants and Bars
Augmented reality offers several significant benefits for restaurants and bars, enhancing both the customer experience and the efficiency of operations. Let's examine the key advantages of using augmented reality for your restaurant business.
Better customer experience.
Improved decision-making.
Location-based promotions.
Entertainment and engagement.
Efficient staff training.
Enhanced marketing campaigns.
Brand storytelling.
Customer loyalty programs.
Operational efficiency and so on.
AR can reduce the need for printed menus and promotional materials, lowering operational costs and reducing waste. Yes, developing augmented reality tools costs a bit. But rest assured, implementing this technology will pay off very quickly.
Conclusion
Let's sum it up. By leveraging AR technology, restaurants and bars can improve customer satisfaction, operational efficiency, and brand recognition. It would be best if you collaborated with an experienced and reliable partner to get the most benefits from using AR. It is essential to carefully plan and execute augmented reality initiatives to ensure they align with your establishment's goals and provide a positive and memorable customer experience.
Let's drive innovation in your restaurant! Share your needs with us and we will help you develop the perfect AR solution for your business.