Odoo is a multifunctional business management system that includes a set of tools designed to solve the widest variety of tasks, starting from CRM and finishing with warehouse and inventory management. That is the significant advantage of this platform since companies in any niche can configure it according to their needs.
Users can expand Odoo functionality by adding modules and applications. The difference between the two is that modules are components of an ERP system used to manage a specific business aspect (e.g. accounting, sales, or inventory). Applications, in their turn, provide sets of modules with explicit configuration parameters meant to implement peculiar functions.
Moreover, if you have a definite objective set, you can develop a custom app designed specifically to solve that issue.
Currently, Odoo ERP includes 46 modules and more than 17,000 apps. You will not need all of them, but some are relevant for companies in different industries.
Most Important Odoo Modules to Boost Your Business
If you plan to implement an enterprise resource planning (ERP) system, the list of necessary modules depends on your company's size and needs. Below are the ones that will prove suitable to develop any business.
HR Management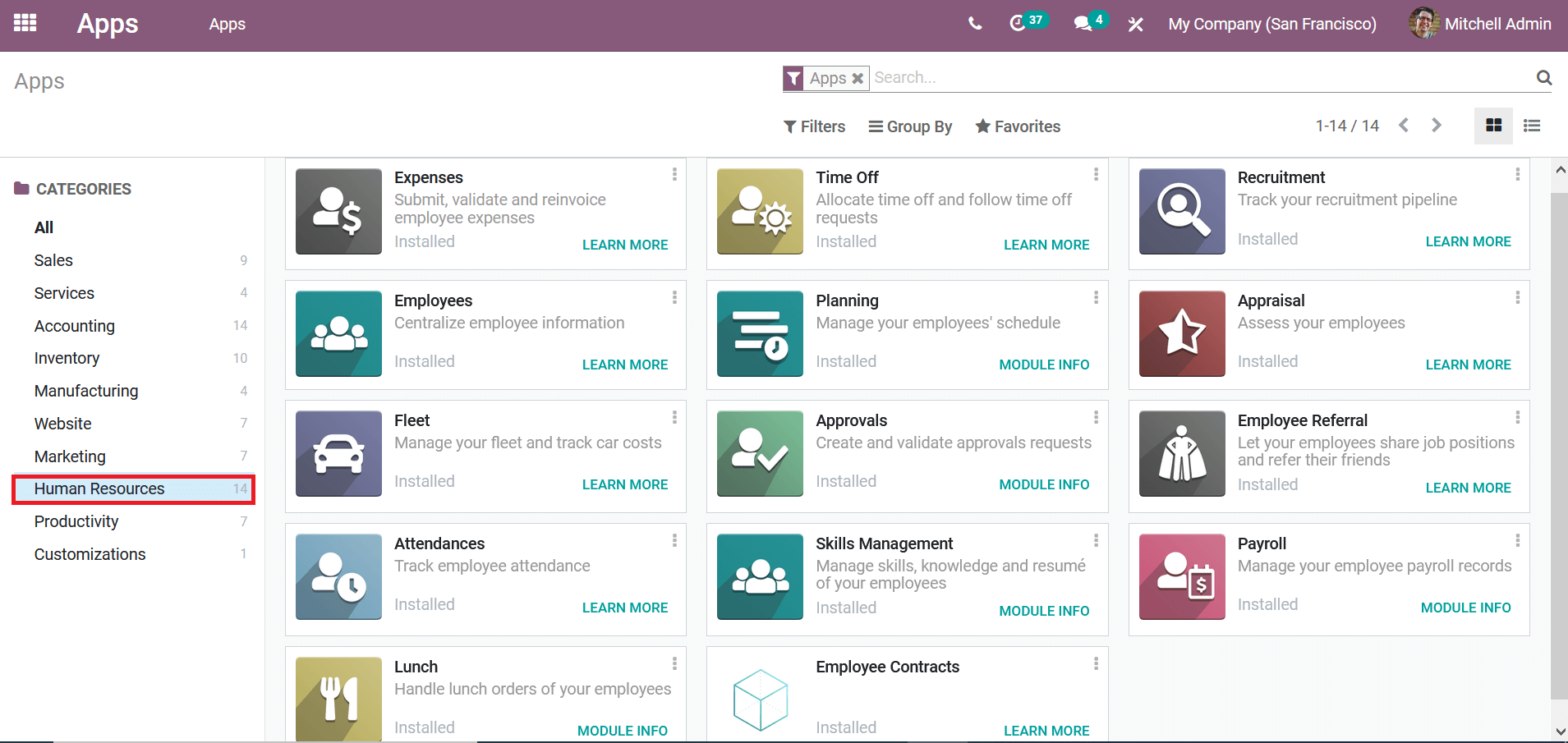 The Odoo human resource management module has dedicated tools designed to superintend all the work done by any company's staff:
Employees
Recruitment
Expense
Time-off
Planning
Payroll, and others.
CRM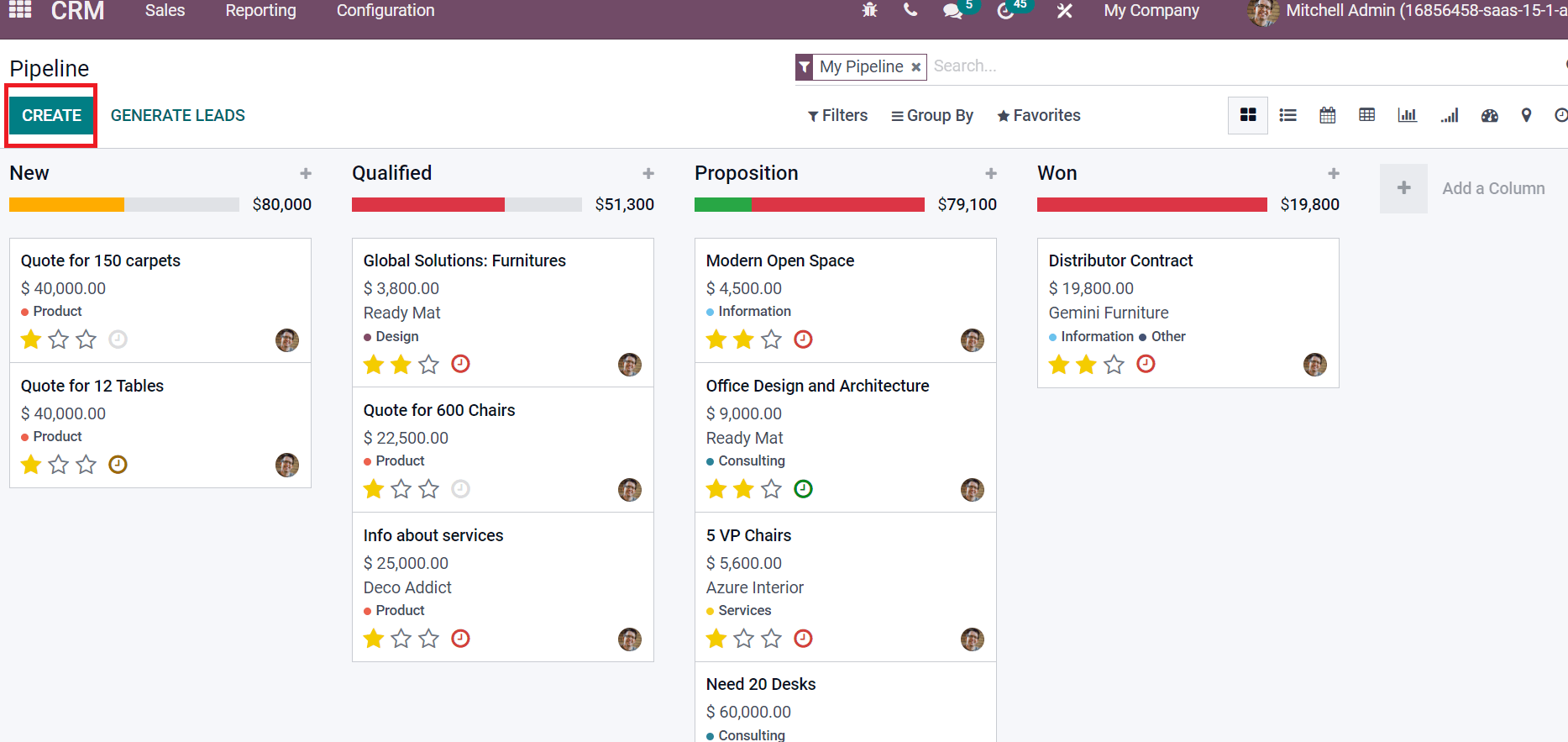 The Odoo CRM module lets companies carry out quality customer interaction management and efficiently monitor customer relations at the company level in general and at the level of individual employees. Using it, companies can start automatic lead processing, set reminders, and perform more useful procedures.
Odoo CRM key features:
Meeting scheduling and customer communications;
Capability and lead assessment according to various criteria;
Lead promotion down the sales funnel;
Dashboards and report creation;
Routine automation and the possibility to focus on sales.
Let's resolve all your queries around Odoo
Have any questions, doubts, or ideas about Odoo ERP? We will reach out to you with a thorough plan and a solution quickly.
Let's connect
Sales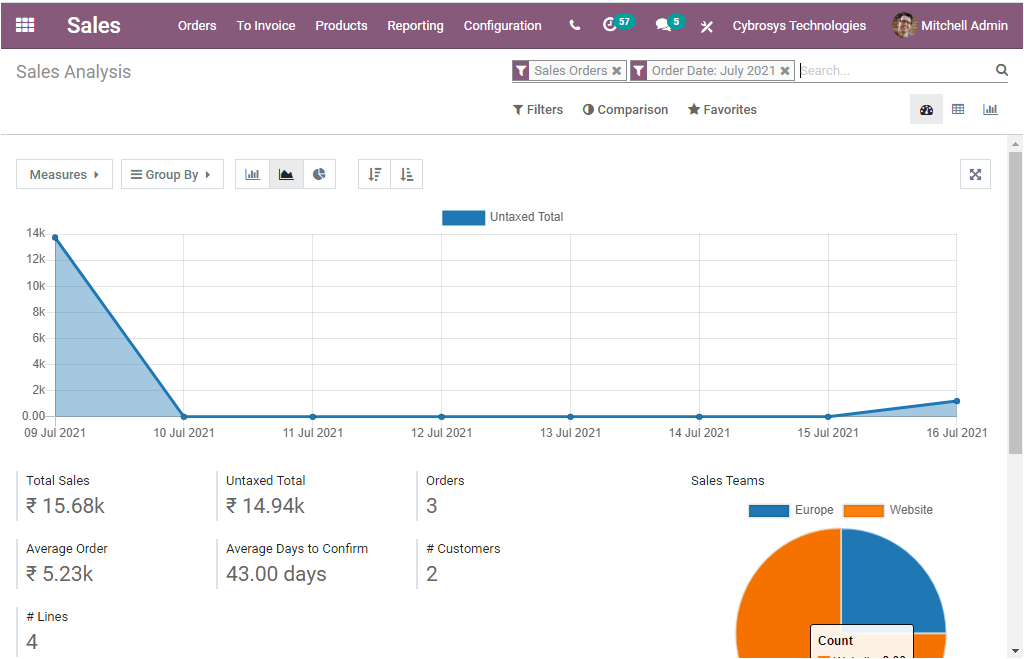 Special sales management modules on the Odoo platform will provide comprehensive functionality and operational capabilities for your company's sales department's efficient work.
You can easily manage orders, track their processing from start to billing, and all the data necessary for your sales department is available on one screen.
Finance and Accounting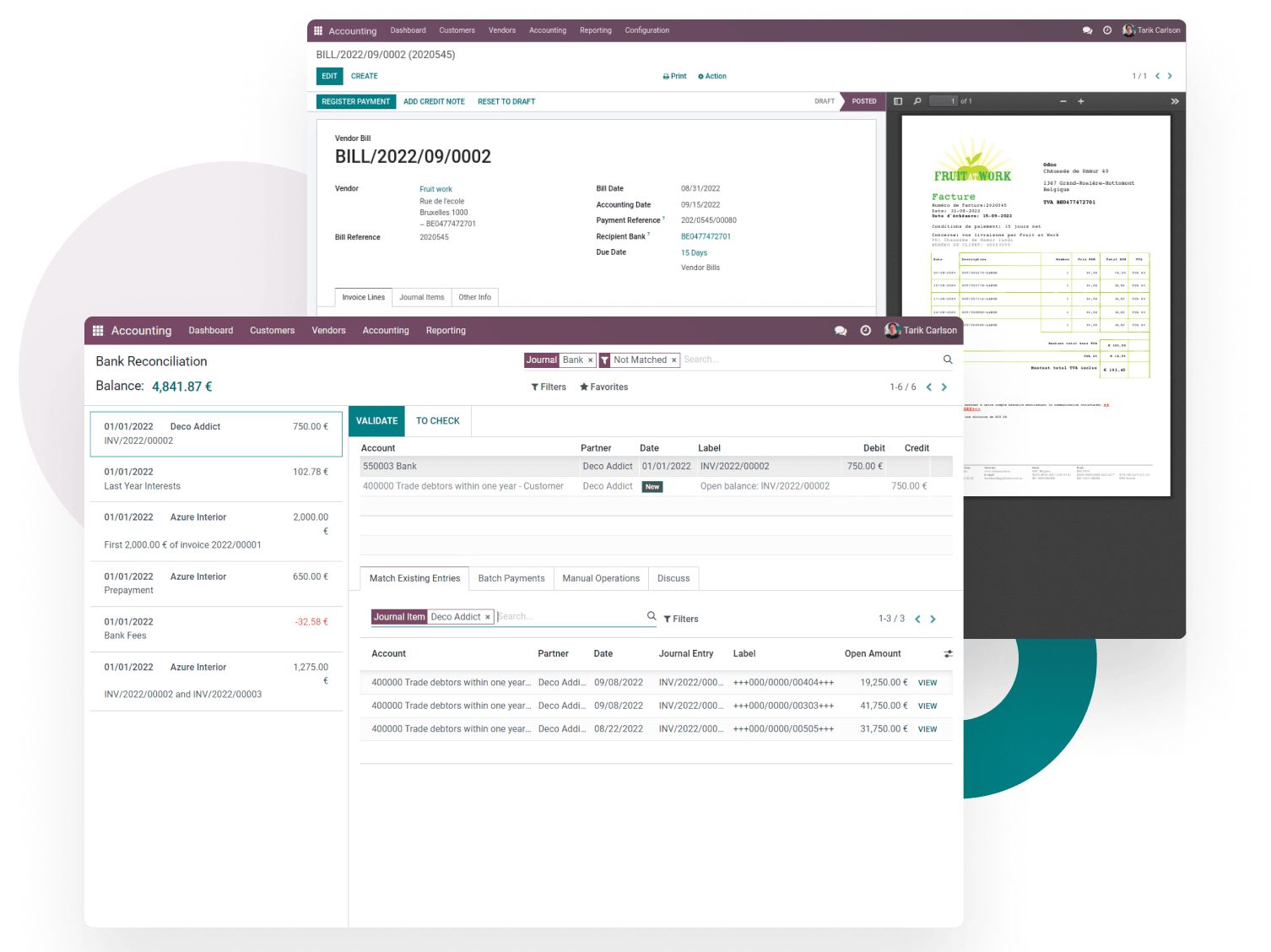 Odoo users have all the necessary capabilities to manage their companies' finances and accounting, for example, statement management, financial performance calculation, automated billing, etc.
You can track all your expenses, and integrated analytic data lets you make balanced decisions to manage your budget. Reports are easy to customize, and support for multiple companies is available.
Projects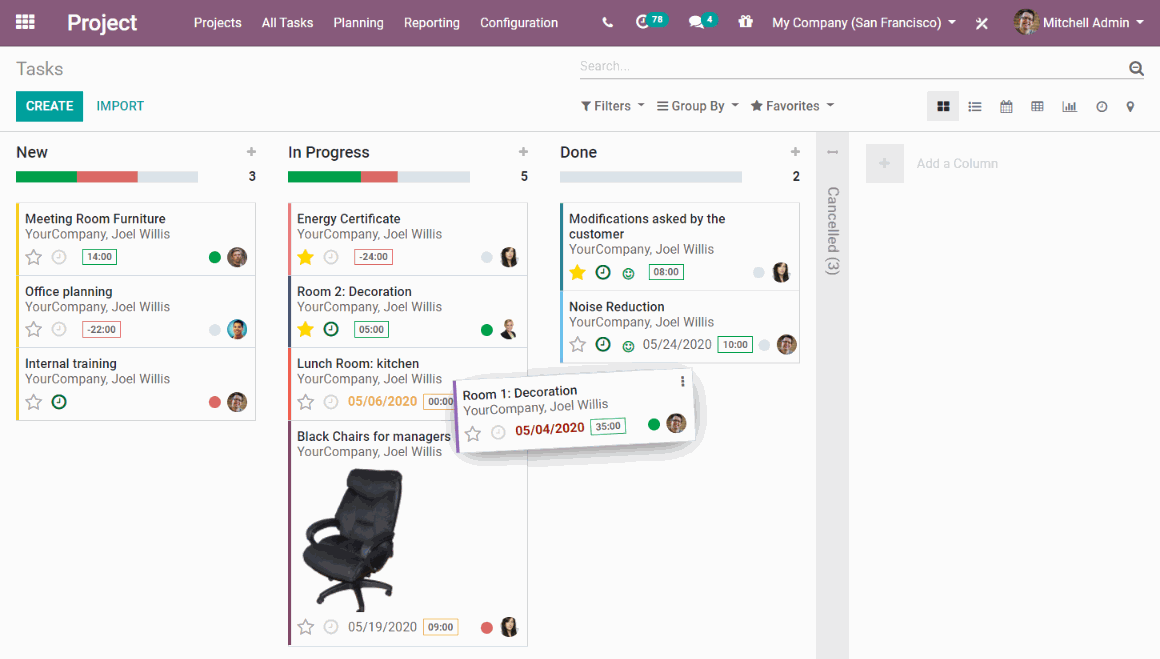 The module features the basic functionality to manage one or many projects simultaneously. You can easily allocate tasks, set priorities for the team, and manage workloads for every employee. All these possibilities are available in one place.
The Odoo Projects module easily integrates with additional system modules like Calendar, Schedule, Accounting, Expense, etc. This feature allows your company's management staff to easily control personnel, tasks, deadlines, projects, daily schedules, etc.
Get started with Odoo
All your business needs under one roof. Talk to the best Odoo ERP functional consultants. We are here to answer your questions.
Contact us
Website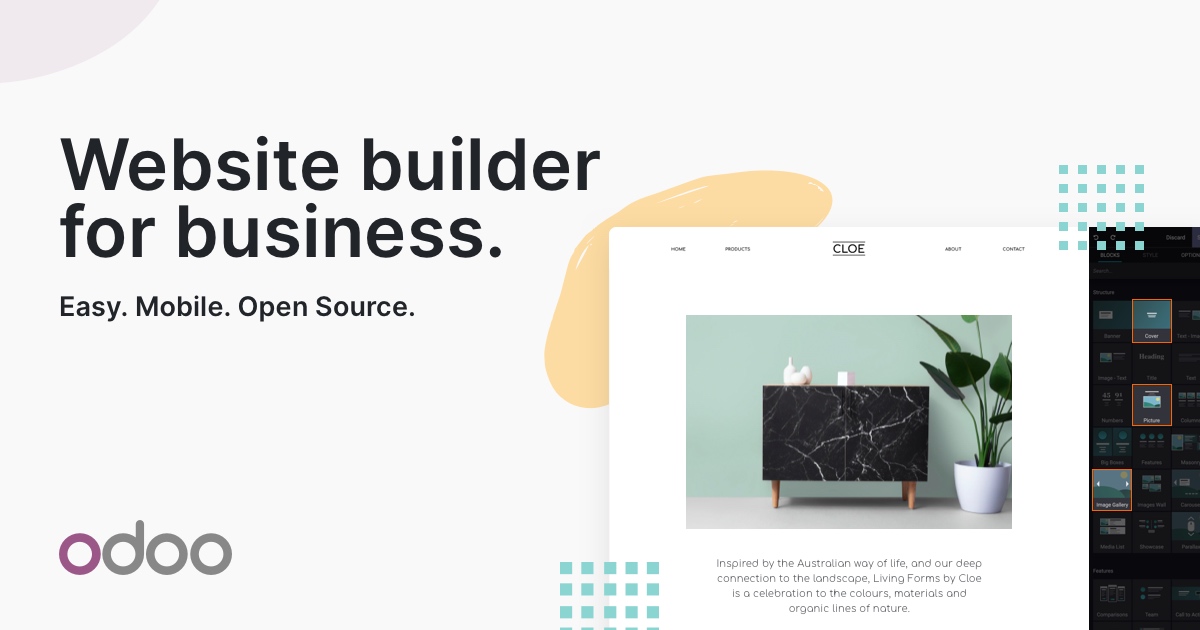 It is safe to say that a website has recently become one of the most essential tools for attracting customers for the absolute majority of companies. Odoo has a built-in website block builder allowing you to design and create simple one-page landings and multi-page corporate portals even if you know nothing about software programming languages.
All the listed tools are available as soon as you integrate the ERP system into your company.
Let Us Summarize
The best way to find the proper Odoo module for your business is to identify the problem you are trying to solve and look for a module or application capable of meeting those needs. Odoo lets you use ready-made solutions or code what you need from scratch.
If you want to integrate Odoo ERP into your company, our experts can help you customize it according to your business needs. Any questions? Contact us, and we will offer you a plan and a solution.