Price, modules, HR management, hosting, UI/UX, and more features can differ within one ERP but its different versions. Thus, Odoo Enterprise vs. Community has different fees, features, support, and upgrade options.
In case you hesitate about what version to install, make sure to read our article about Odoo's difference between Community and Enterprise first.
Odoo Community vs. Odoo Enterprise: What is the Difference?
Odoo Community is an open-source software product, meaning you do not need to buy a license to use it. The Community version includes many apps useful for businesses. Its system functionality makes it a suitable solution for many business areas. However, when compared to the Enterprise version, its possibilities are somewhat limited.
You can customize all apps to meet the company's needs without depending on the system vendor and pay only for the necessary functionality or module refinements.
Odoo Enterprise is a version of the same product featuring an improved interface and a broader range of functionality. However, you must pay monthly or annual fees for selected apps and licenses, depending on the number of users.
Like the Community version, you can install the Enterprise version on your own or rented server. You can also customize the system for your business by adding new apps and changing the code of the existing ones within the license agreement.
You can delegate functionality refinements and new module development to a certified Odoo partner, namely our company, to be sure the work will be done properly and to avoid unnecessary expenses.
Additionally, Odoo Enterprise vs. Community has a more attractive and friendly interface in both mobile and desktop versions. Here, you can also automate your warehouse operation with a barcode application. With Odoo enterprise, you can always access the newest features and applications for better automation, performance, and security.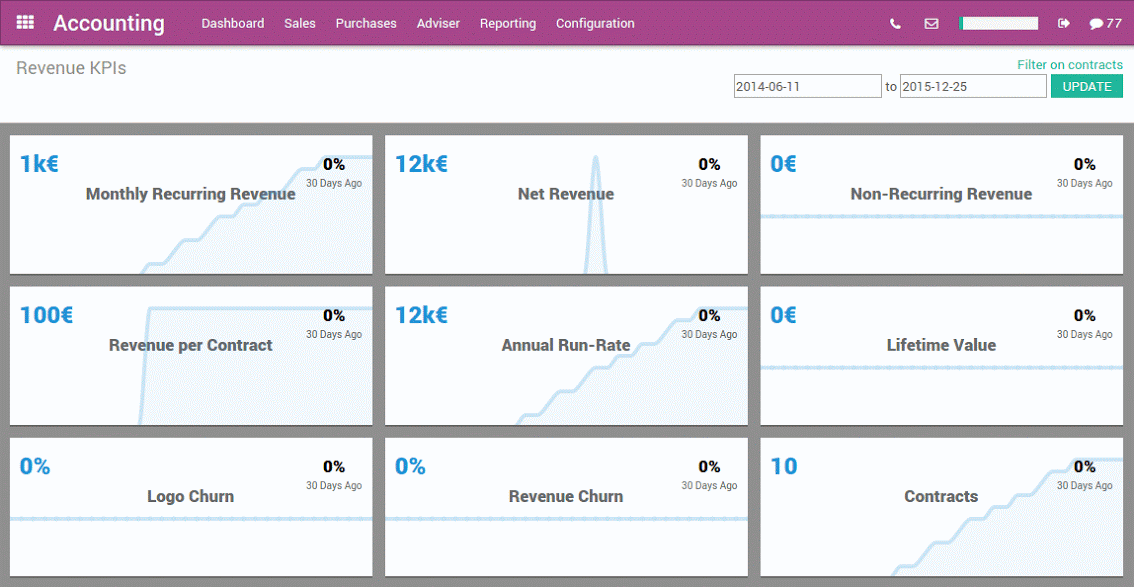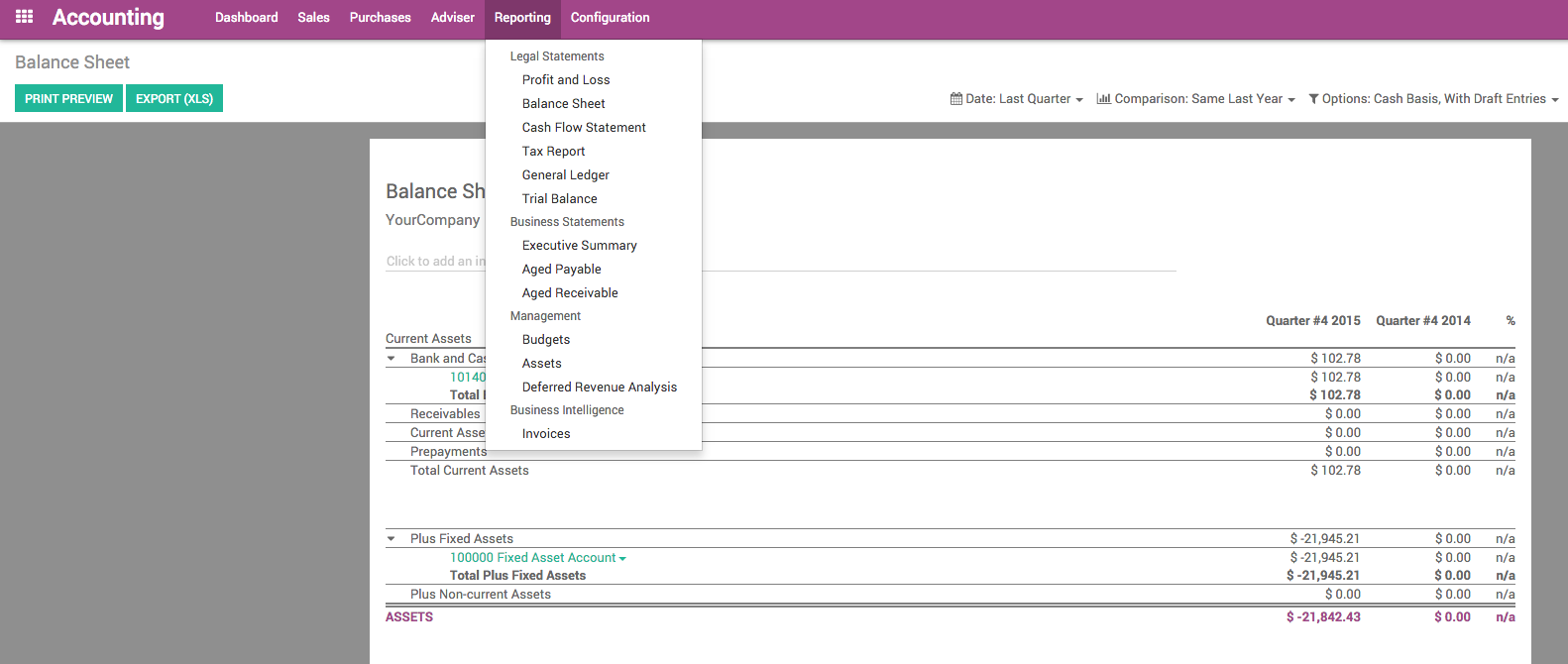 Let's resolve all your queries around Odoo
Have any questions, doubts, or ideas about Odoo ERP software development? We will reach out to you with a thorough plan and a solution quickly.
Let's connect
Odoo Community and Enterprise Editions: Detailed Comparison
If your business is just launching and gaining momentum, the Community edition is an adequate option to choose to get acquainted with Odoo. However, the Enterprise option will speed up processes with its advanced, extended, and inbuilt features. 
Getting an overview of the main functionality of Community and Enterprise Editions of Odoo:
| Features and Functionality | Odoo Community | Odoo Enterprise |
| --- | --- | --- |
| Price | Open-source (no cost required) | Licensed: App, User & hosting |
| Cross-platform support | No mobile app supports | Device independent |
| Technical support | Community-based | Official |
| Software updates | Community-driven | Regular and Priority |
| Cloud hosting | – | + |
| Screen customization & Reports designer | – | + |
| Extended version of basic modules | – | Accounting, Manufacturing, eCommerce |
| Project Management | Basic features | Extended options |
| Sales and CRM | Basic features | Extended options |
| Marketing | Basic features | Extended options |
| Exclusive functionality | | – Multi-website management – Document management – IoT integration – Spreadsheets. |
| Customization Capabilities | Limited | Enhanced |
| Data Security | Basic | Advanced |
| Access to Latest Features | Delayed | Immediate |
Key Differences between Odoo Community and Enterprise
We can certainly continue the comparison list because each version has interesting features, as you can understand from the table.
Do I really need an extended list of available features?
Yes, because… – Example 1: User Interface
Suppose you want to develop an ERP for your manufacture and every employee. With the Odoo community, they can only access it in the desktop version. Conversely, they can use their accounts both on mobile (Android, iOS) and desktop versions with Odoo Enterprise, which is much more convenient.
Yes, because… – Example 2: Website
Suppose you want to develop and design a website for your products or services. Both versions allow the creation of blogs, forums, and chats. However, only the Enterprise version provides Amazon and eBay connector facilities to extend your target audience and sell on international markets.
Yes, because… – Example 3: Operations
Regarding operations, accounting, quality, check, and help desk features are limited to Enterprise users. Community users can benefit only from basic operations like project folders, maintenance, and purchase options. With a middle-size and large-size manufacturer, you should have a full range of operations to run your business more effectively.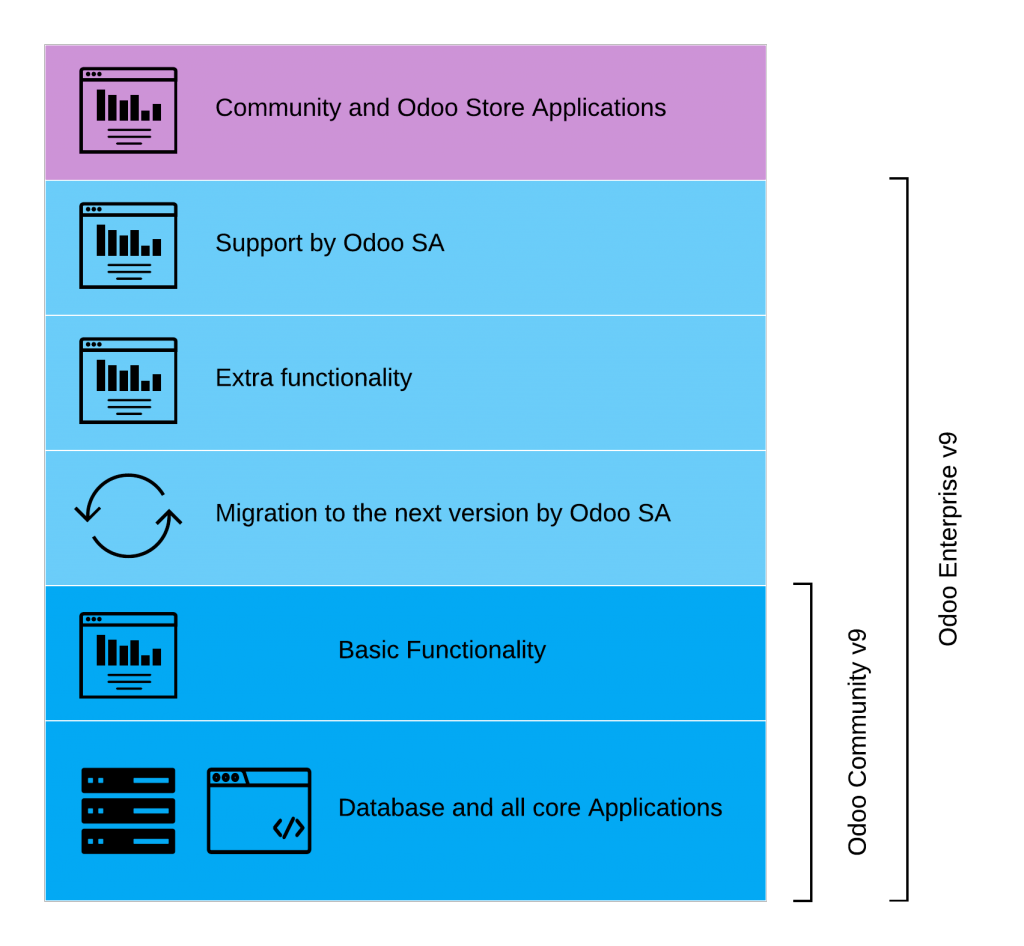 Take Odoo Community as an example. Although it has more limited basic functionality, there are quite interesting solutions for this edition, provided by strong community support. At the same time, even though the Enterprise edition involves a paid license, it contains several unique functions that make it a more comprehensive and convenient solution for businesses.
Odoo Community or Odoo Enterprise: What Should You Choose for Your Company?
When choosing between Odoo versions, you should consider the tasks you plan to solve using an ERP system. You may also want to take a closer look at the differences in functional capabilities of each version, compare the cost of modules that extend the Community version, and take into account the cost of the necessary extensions.
Finally, you may also consider the budget your company can allocate to the solution.
Despite your choice, it is always recommended to have a strong and reliable outsourcing development team that understands Odoo Community vs. Enterprise's ins and outs. Even when you start with Odoo Community, it is simple to upgrade to Odoo Enterprise later by installing one extra module.
If you need professional guidance and assistance in choosing between Odoo Community and Odoo Enterprise, contact us, and our specialists will be happy to advise you and help you make the right decision.
We will provide you with comprehensive information about system functionality and show you how it operates so that you can be sure you will make the right choice for your business.