The Internet of Things is gaining momentum in all areas, from industrial production and healthcare to home appliances. Thanks to fast technological advances, like 5G, even those things that seemed to be science fiction two decades ago, like the smart city concept, are becoming a reality.
I have collected some interesting statistical data about the Internet of Things. It will help you better comprehend this growing market and, quite possibly, generate some ideas on how to use this technology for your business development.
Kevin Ashton is sometimes called the "Inventor of IoT" since he first used the term in 1999 to describe a system where the Internet is connected to the physical world via ubiquitous sensors. He is a serial entrepreneur and co-founded the Auto-ID Center at MIT.
***
1. In 2024, the number of smart homes in the U.S. is estimated to be 69.91 million. This will increase to 77.05 million in 2025, before growing to 84.92 million in 2026. By 2027, there will be 93.59 million U.S. households using smart devices. — Oberlo
2. The number of Internet of Things (IoT) devices worldwide is forecast to almost double from 15.1 billion in 2020 to more than 29 billion IoT devices in 2030. — Statista
3. IoT technology was the third-most implemented or planned to be implemented in North American and European organizations in 2023. More than half (57%) of North American and European organizations currently use IoT within their operations. — Statista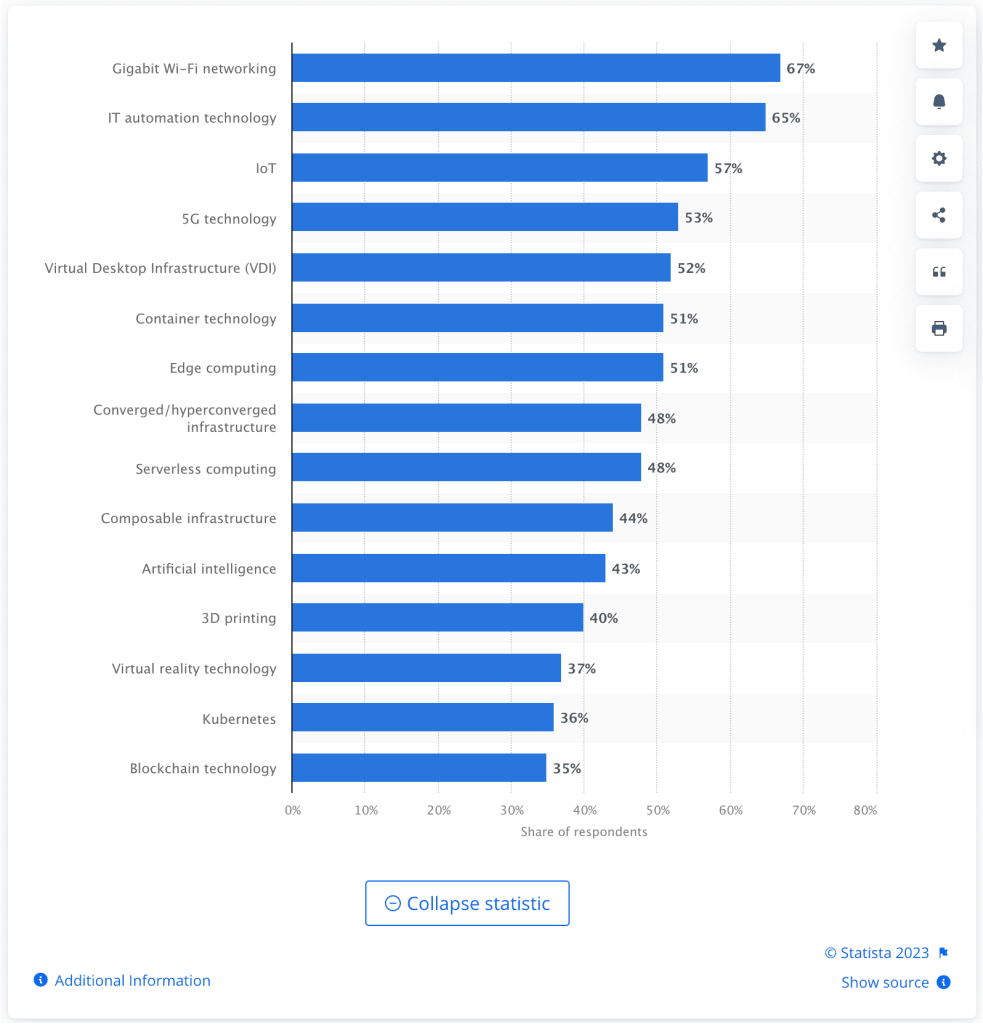 Book a Free Tech Consultation
SmartTek will facilitate the implementation of IoT devices into your operations and deliver a software solution tailored to your needs.
Schedule a call
4. In 2021, around 41.9% of U.S. households owned a smart home device, which is predicted to increase to 48.4% by 2025.
5. Only 20% of the worldwide population had coverage in 2017. However, in the upcoming years, this is anticipated to change drastically. – McKinsey
6. The global industrial IoT market size was estimated at USD 320.9 billion in 2022 and is expected to hit around USD 1,562.35 billion by 2032 with a registered CAGR of 17.2% during the forecast period 2023 to 2032. — Precedence Research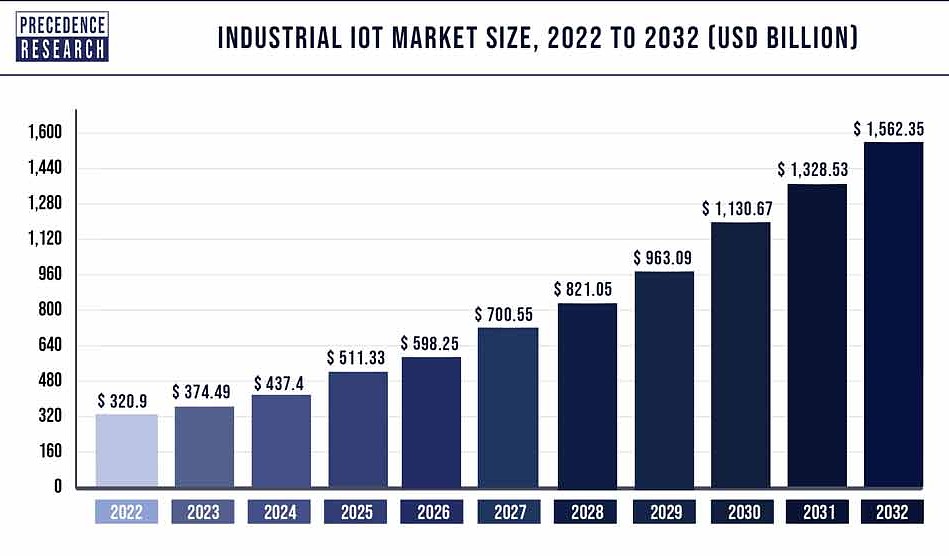 7. As of 2023, the United States, China, Japan, South Korea, and Germany will be the top 5 countries for IoT. These countries have the highest number of IoT devices as well as the largest IoT markets. — Bytebeam
8. The Internet of Things has the potential to generate $4 trillion to $11 trillion in economic value by 2025. — McKinsey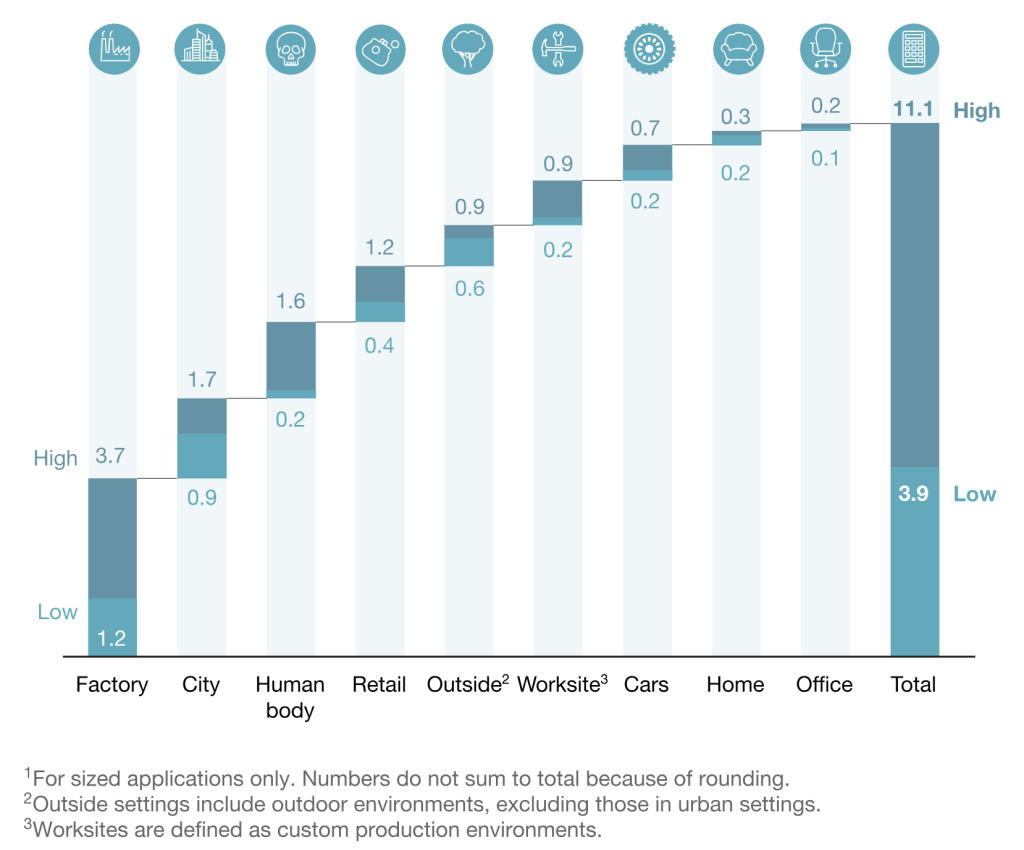 9. Security remains one of the top focuses in IoT for those who develop or use it. That is no wonder since in 2021 there were 1.5 billion cyberattacks focused on IoT devices. — Velvetech
10. IoT Analytics says cost savings is the primary revenue support for over 50% of business-related IoT projects. Only 35% of IoT projects are used to increase revenue.
11. 58% of manufacturers say IoT is a strategic necessity for digitally transforming industrial operations. — IDC
12. Executives in the healthcare sector cite increased innovation as the top benefit of IoT. Energy meters, imaging devices, and X-rays also make use of IoT. Patient monitoring is the number one use of IoT in this industry. — Link Springer
13. The manufacturing segment dominated the Industrial IoT market in 2022. This can be attributed to the widespread adoption of IoT solutions and digital manufacturing technologies across different manufacturing facilities. — Precedence Research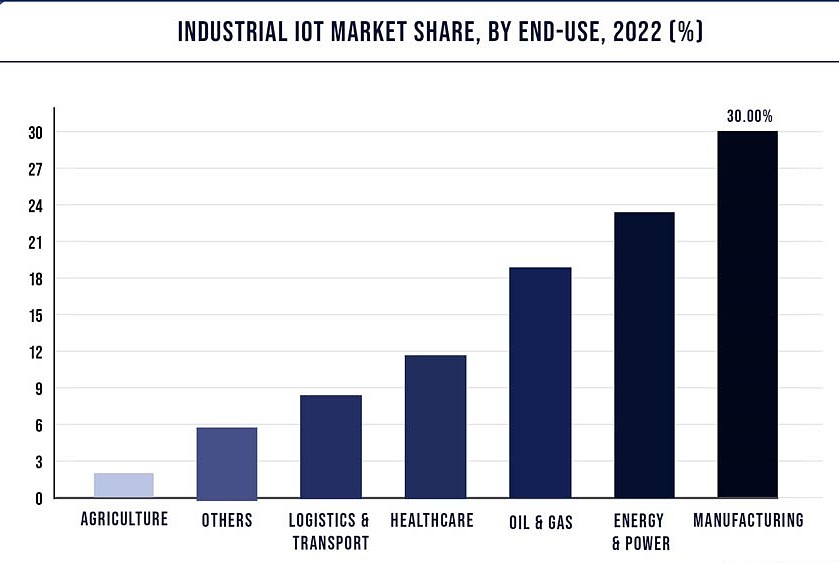 Ready to bring your IoT vision to life?
We help companies use the full potential of the Internet of Things and offer IoT development services for any industry and vertical.
Contact us
14. Every minute, there are 7,620 new IoT devices on the Internet. On device every 127 seconds. By 2025, the number of connected devices per minute will reach 152,000. — McKinseyDigital
15. The current global Internet of Things (IoT) market is $662.21 billion, and it is projected to grow to $3,352.97 billion by 2030 at a CAGR of 26.1%. — Demand Sage
16. The Agricultural IoT market is expected to reach $5.18 billion by the end of 2023. it is forecasted to reach $6.98 billion in 2025. — Demand Sage
17. The increasing demand for smart devices in automobiles boosts the size of the global automotive IoT market. By the end of 2023, revenue from the automotive IoT market will reach an estimated $397.2 billion. By 2028, it will reach $882 billion. — Allied Market Research
18. In 2020, IoT spending reached $749 billion. In 2022, global IoT spending was predicted to hit $1 trillion. And in 2023, spending is expected to grow to $1.1 trillion, continuing the increased rate of growth year-over-year. – FinleyUSA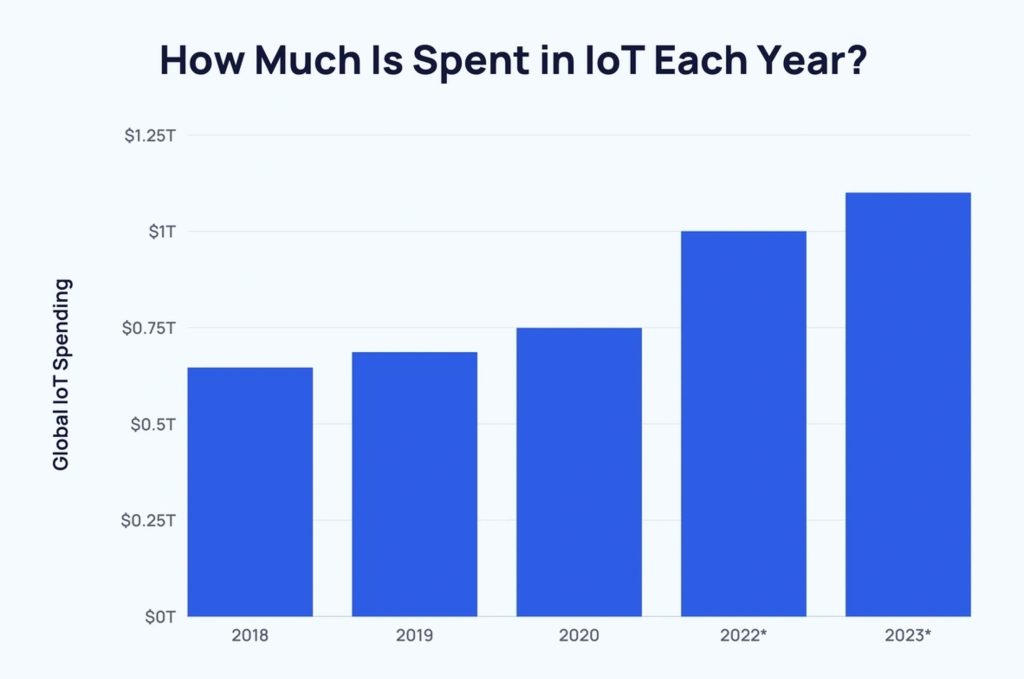 19. 79.4 zettabytes (ZB) of data will be generated by the Internet of Things devices in 2025. — IDC
20. 58% of IoT manufacturers confirm that the IIoT in manufacturing is important for the successful digital transformation of businesses. — GE Digital
21. The US is leading in the deployment of full-scale IoT operations, with more than 44% of companies using the technology completely. It is followed by the UK, with 41% of companies adopting the technology, and Germany, with 35% of companies using IoT.
Expand the possibilities of your organization by adding agility and more control over processes and equipment with end-to-end custom IoT software development. Ready to bring your IoT vision to life? Contact us and let's talk the details!