In the globalized world, economic relations between countries are changing and the volume of international freight transport is increasing. However, it is a complex and time-consuming process, and companies operating in this market segment face many difficulties. This fact is driving demand for dedicated software that helps businesses automate processes, improve freight tracking, increase profits, and keep customers happy.
We will explain how to build a custom freight-forwarding system, the benefits of using it, what features such a product should have, and why your company should invest in its development.
Freight Forwarding Market size was valued at USD 191.6 billion in 2022 and is anticipated to register a CAGR of 4% between 2023 and 2032.

— Global Market Insights
Benefits of Using Freight Forwarding Software for Small Businesses and Enterprises
Freight forwarding software enables companies to increase overall efficiency and achieve better business results. It can provide many benefits to players operating in domestic and international markets.
Real-time access to data. Operators need quick access to information about cargo, expected arrival times, deadlines, unexpected delays, emergency issues, etc.
Transparency and visualization. Data storage and sharing in cloud resources allows managers to conduct business performance live monitoring and identify bottlenecks in freight operations at early stages.
Cost reduction. Logistics companies can cost-effectively use resources, reducing operating expenses through fully or partially automated processes.
Customized solution. Custom freight-forwarding software is necessary to solve unique problems, optimize processes, and meet the needs of a specific customer company.
Improved accuracy. Automated data entry and processing reduces human error probability, ensuring highly accurate record keeping and documentation.
Data analysis and reporting. The software can provide valuable insights through data analysis, help businesses identify trends, see areas for improvement, and reveal potential growth points.
Moreover, such software apparently provides advantages over competitors by optimizing specific aspects of crucial business processes. Consequently, you should consider such software development as one of the strategic investments that will definitely pay off in the long run.
Start building your own software
Grow and get ahead with a powerful team of software engineers scaled at SmartTek.
Contact us
7 Essential Freight Forwarding System Features (Modules)
Depending on a particular company's business, the list of functions may be longer or shorter. However, in general, we can highlight several fundamental features to implement in the software of this type. They will be relevant for most companies in this industry.
Shipment Tracking
This is a critical component of freight forwarding software. It provides real-time updates on the location and status of shipments, regardless of the mode of transportation (air, ocean, or road). It's not just about tracking; it's about improving visibility and predictability in the supply chain.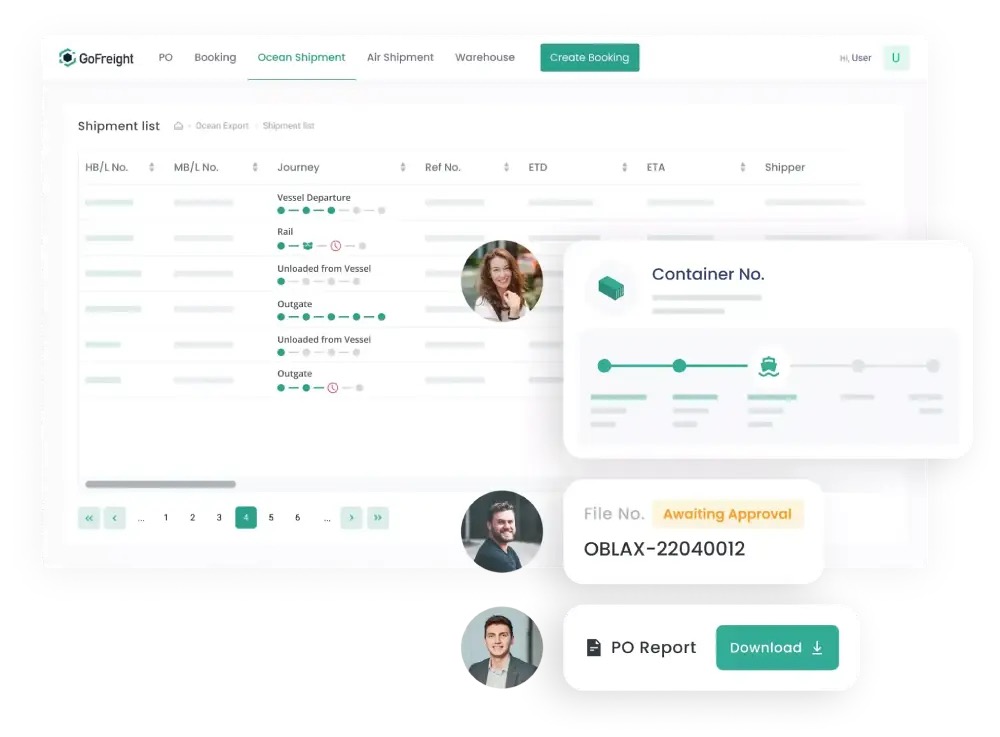 Warehouse Management System (WMS)
This module goes beyond basic inventory management. It includes detailed processes such as tracking the location of items within the warehouse, managing inventory levels, and overseeing the picking, packing, and shipping processes. A good WMS provides insight into the best ways to organize and store goods, optimize space, and reduce handling time.
Customer Relationship Management (CRM)
A module dedicated to managing interactions with customers, including communication, sales tracking, and customer service. This module is designed to manage all aspects of customer interactions:
Store and manage customer data such as contact information
Order history and preferences
Information on communications, marketing strategies, etc.
This feature helps you create a more personalized experience for your customers, fostering loyalty and repeat business.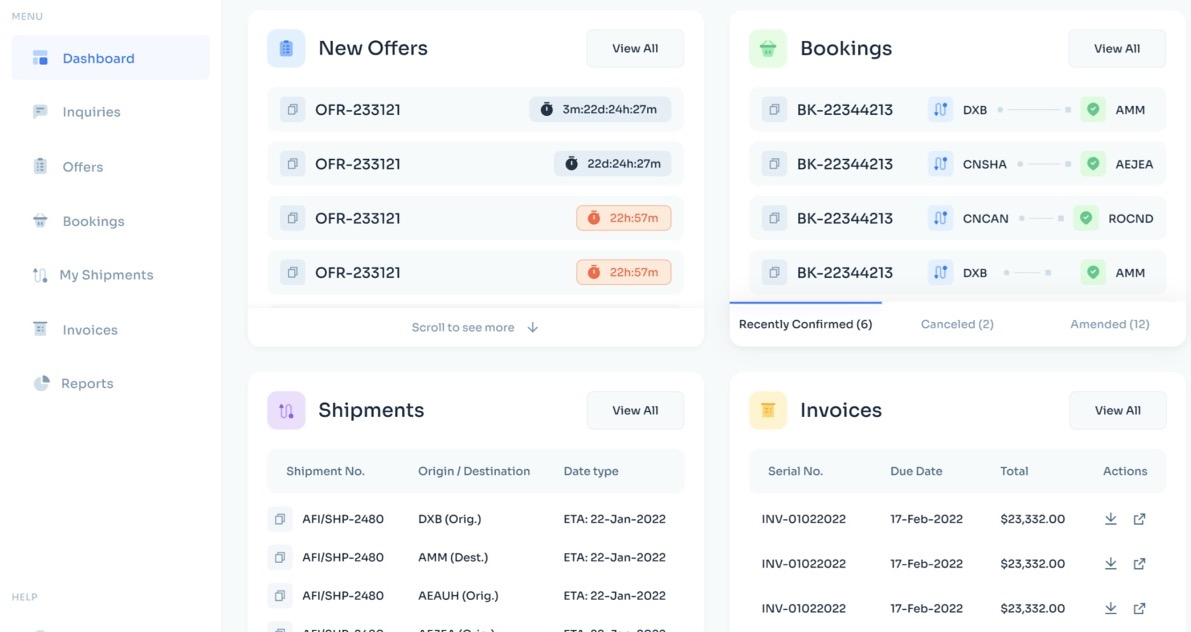 Quoting Module
Quickly generate and deliver accurate price quotes to your customers. This module takes into account various factors such as shipment volume, weight, destination, mode of transportation, and any additional services such as insurance or customs clearance.
Document Management
Automate the creation, storage, and retrieval of critical shipping documents such as bills of lading, invoices, and customs documentation. It's not just about creating documents, it's also about ensuring they are stored securely and easily retrieved when needed.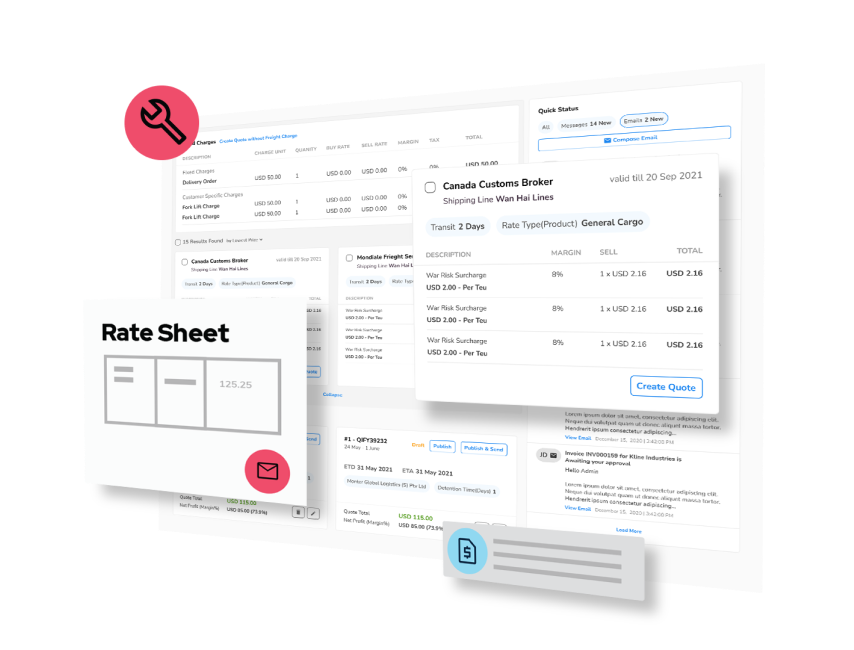 Billing & Invoice Management
This module of the freight forwarding software automates much of the billing process, reducing manual errors and saving time. It can handle complex billing scenarios, such as consolidated billing for multiple shipments or split billing for different parties involved in a single transaction.
This component is often integrated with other financial software for seamless accounting and financial reporting.
Connect with our experts
Set the requirements and let us build your custom application to power your business with an efficient software solution.
Get in touch
Report Generation
Advanced analytics tools for data-driven decision making, including performance metrics, trend analysis, and optimization recommendations. Gain insights tailored to your specific needs.
This feature serves as a powerful tool for analyzing various aspects of trucking operations. It allows companies to generate reports on various metrics such as shipment volumes, delivery times, financial performance, customer satisfaction, and more.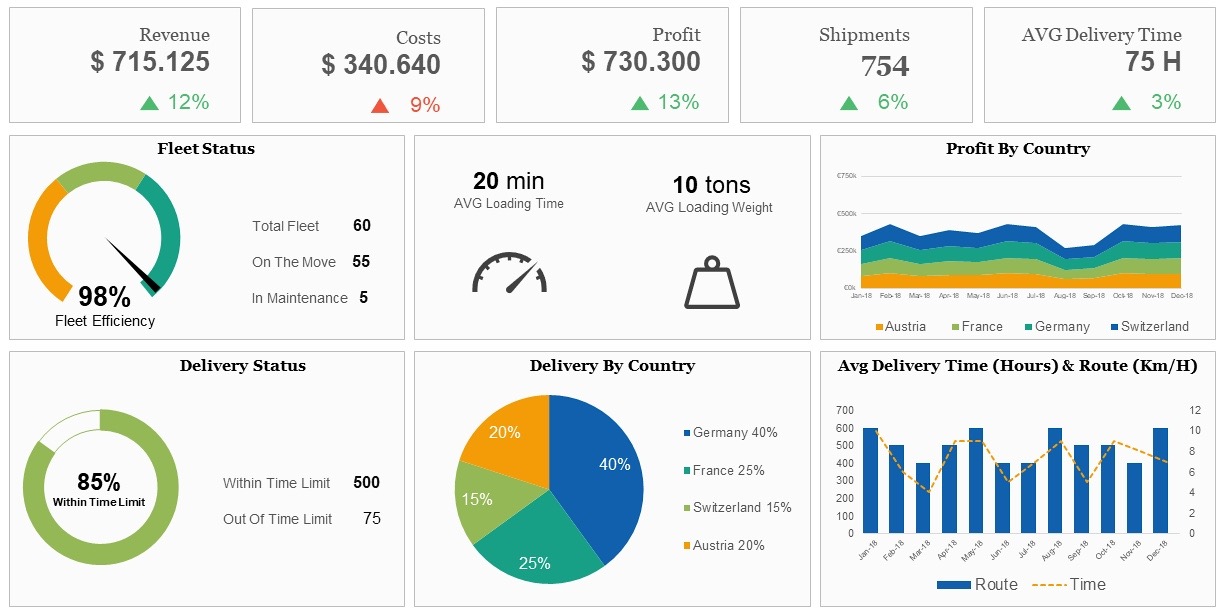 Alerts & Notifications
Be notified of shipment status, changes in delivery schedules, document submission deadlines, or any potential issues that may arise. These alerts can be customized according to user preferences and can be sent through multiple channels including email, SMS, or through the software platform itself.
5 Signs Your Company Needs Freight Forwarding Software
The appropriate software assists businesses in optimizing their workflows, improving work results quality, and meeting customer needs. Below, we recollect some essential signs that custom freight forwarding software development will be a good solution for your company:
You waste significant money due to downtimes and shipment delays.
Your current software does not incorporate proper integration with transportation carriers.
You lack the essential data necessary to make your business run smoothly, or you receive it with delay.
You comprehend you can increase business revenues by optimizing or automating current workflow processes.
Your employees drown in paperwork and conduct too many manual routine tasks, which could be mostly digitized.
You know that modern technologies can help you increase your company's competitive edge in the market.
The list could go on, but even the above points are enough to urge you to make a decision.
Takeaway
If you want to invest in freight forwarding software development, now is the best time to do it. In this article we have listed more than enough arguments to convince you that it is a fair solution that will allow you to be one step ahead of your competitors, consolidate your position on the market and take your business to a new level.
You can find ready-made software solutions on the market, but each company is unique in some things. Therefore, only custom development can guarantee that you will get a product that takes all your requirements into account and meets the real needs of your business.Leverage our experience for your success. Set the requirements and let us help you build your custom freight forwarding software to power your business with an efficient technology solution!