If you want to own a dedicated development team for some project or any kind of cooperation, you might already know its peculiarities and benefits. For example, it is easier to manage due to central communication, which requires a minimum amount of time to coordinate and automate processes. Here is what you should expect from cooperation with the dedicated team:
Firstly, it is a popular method to engage IT specialists on a temporary basis until the contract terminates.
Secondly, unlike outsourcing or staff augmentation, you have control over the team's composition and workload because they are engaged as the company's employees.
Thirdly, you are not limited to your geography, current team size, or project type because it's possible to find any team in the current market variety.
Lastly, you save time and money on recruiting and other bureaucratic procedures and start dedicated team development in the shortest terms.
Fresh IT expertise always brings innovation and creativity. But how to find a team that matches your company's vision and values to cooperate successfully? Let's review some peculiarities of hiring and searching processes.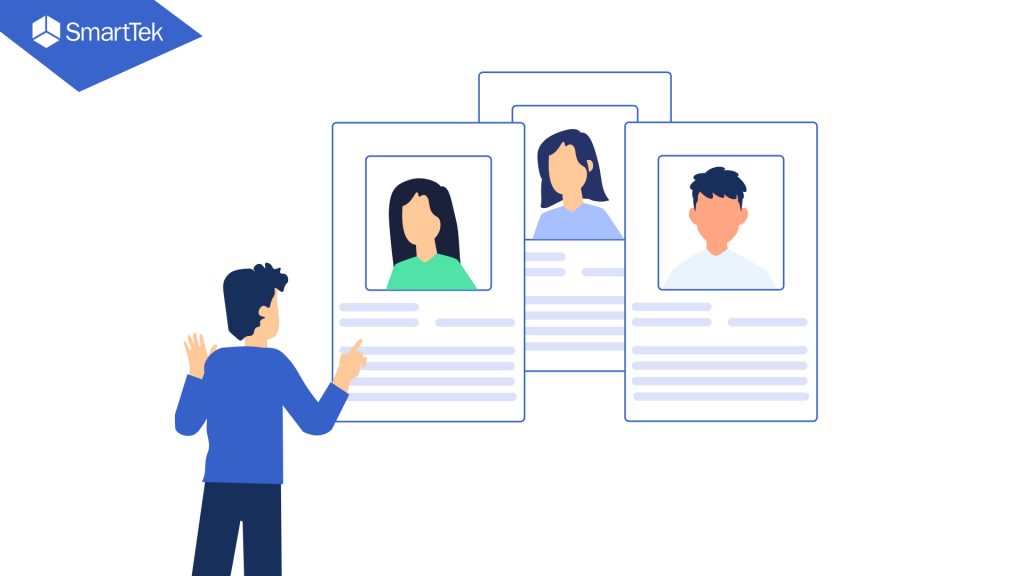 Guidelines on How to Hire Dedicated Development Team
No wonder why a lot of companies prefer to hire dedicated software developers instead of outsourcing their products. Such a hiring process rejects several stages of interviews and weeding out the candidates.
Instead, go through the next list to hire effectively:
Define the main characteristics of the desired team.
Use word of mouth and the Internet to create a pool of providers.
Sort them according to status, reputation, location, experience, etc.
Choose the most suitable ones and contact them.
Conduct interviews.
Sign a contract to mitigate risks.
Integrate them into your ERP like Odoo.
Enjoy a productive partnership!
Looking for a dedicated development team?
We create complex software products, web or mobile applications and carry out engineering.
Contact us
Sounds easy and transparent, but it's really so if you find a professional, enthusiastic, and people-oriented team. Let's go through some criteria to detect the one.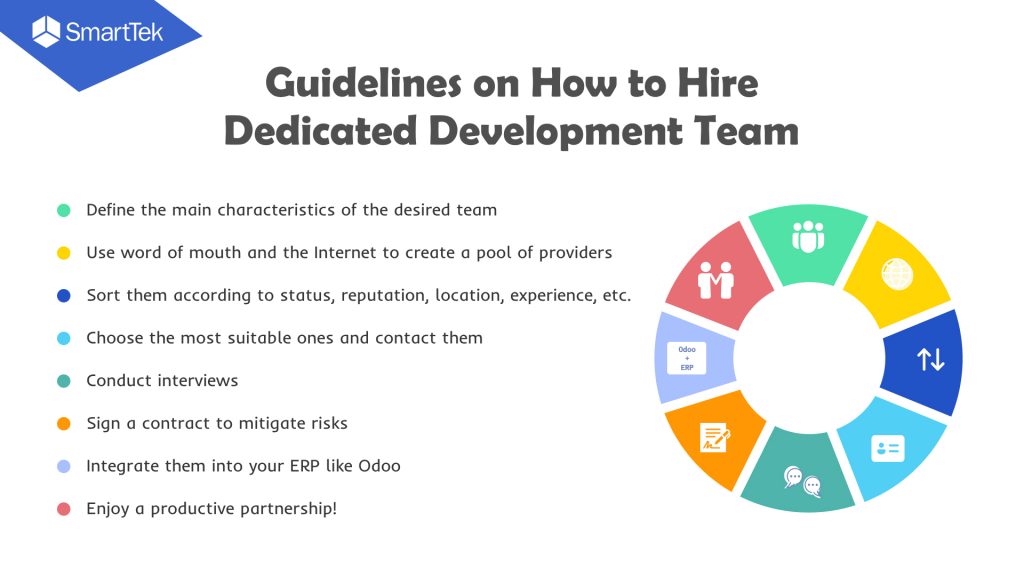 Main Criteria to Find Dedicated Development Team
Culture 1st, Strategy 2nd
Even though 'culture' sounds quite intangible, we recommend hiring dedicated teams that value their talents and do not present their manager as the only driving force. When it comes to culture, it is what glues people and ends up in effective processes. If you can, talk to several team members and observe how they operate, think, and view your cooperation. And remember, the bigger the team less they are governed by rules and regulations but culture.
You may develop the best strategy for your web development project, but will this dedicated team development and app maintenance operate without you? How do they think without your advice? Do they match your values and vision as a leader or CEO? If yes, the magic will happen.
Attract talents from around the world
A dedicated software development team is your chance to cooperate with professionals and talents worldwide. Do not limit yourself to neighboring countries or the most affordable ones. Current proficiency in remote work helps connect with people over thousands of kilometers, so you should put the stereotypes down since communication costs nothing. Technology and videoconferencing help to own a dedicated development team on the island.
❌ Care much about their accents and countries so that you can miss great talents, lose them, and fail in the project.
✅ Care about their attitude, their skills, if they believe in what they do, and if they're willing to do what it takes.
Hire dedicated teams that believe in what they do
If you can ask correct questions, detecting an enthusiastic, engaged, and purposeful team becomes easier. Try to understand if they are looking for just a paycheck and an additional project to add to their portfolio or if they have burning eyes talking about previous achievements, your perspectives due to their solutions, or even technologies they prefer.
Make sure the team is ready for a long-term project
If you plan to create a time-consuming task, then we definitely recommend hiring a dedicated team and building a partnership with the squad that accepts your terms and deadlines. This understanding will give stability and grounding in the recruiting process and your business's further success.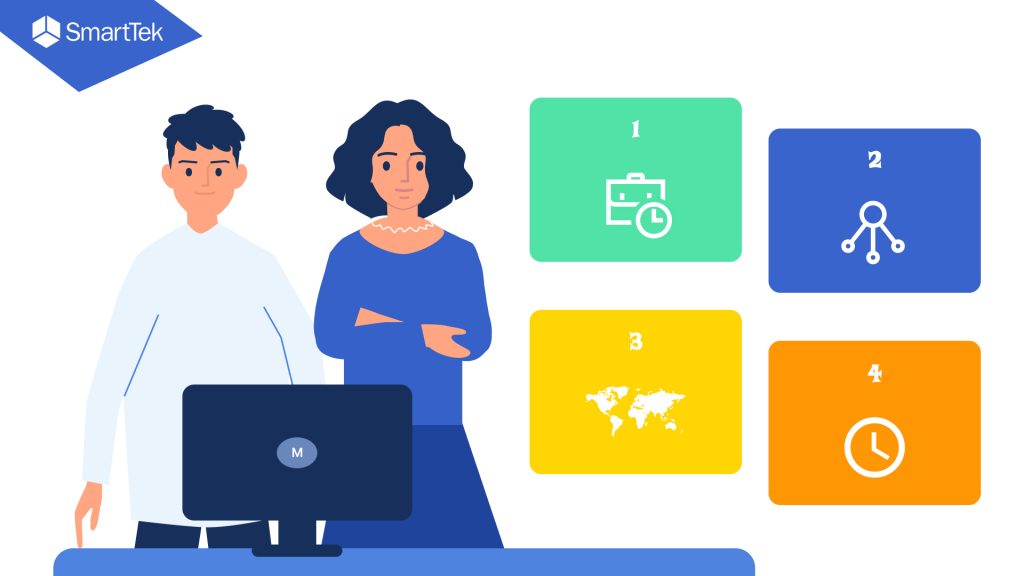 Afterwords
Everything magically works faster and better with the right people and the right culture. If you find and choose resourceful and responsive people, they will pivot and adapt to you despite any changes in the marketplace or technology. Be open to multinational professionals, and don't hire limited by your geographic area. They carry another mentality, and it provides distinct and fresh ideas.
If you're looking for a dedicated team from Europe or specifically Ukraine, make sure to contact us, listen to our expertise, and discover if we match to collaborate successfully.