It happens that you want to staff up your development team with new skilled individuals. Still, you do not want to hire full-time employees but need a dedicated team for a specific project for a limited period. This type of extension is called an IT staff augmentation. Thus, you transit them into your team, add them to the ticketing system (Jira, Trello, etc.), and enjoy the advantages of this cooperation.
Let's review more core characteristics of staff augmentation and how you can benefit from them.
The last thing you can afford is to let a lack of tech talent pool work on your product and consequent delays. But how do you prevent that tempo loss? How do you scale your team quickly? Team augmentation is the answer.
What is Staff Augmentation?
If companies need developers, designers, or testers to ramp up their product's development, they usually start by considering freelancers, body leasing, or hiring new employees. Moreover, they can go to a more modern model – IT staff augmentation services.
Staff augmentation is a cooperation solution where you hire required specialists from different sources or one vendor for a short-term project. This approach helps to distribute an IT force among businesses in the world of increased demand in the software market.
If you have ever thought about specialists from Eastern Europe, check this research on why it is worth outsourcing there.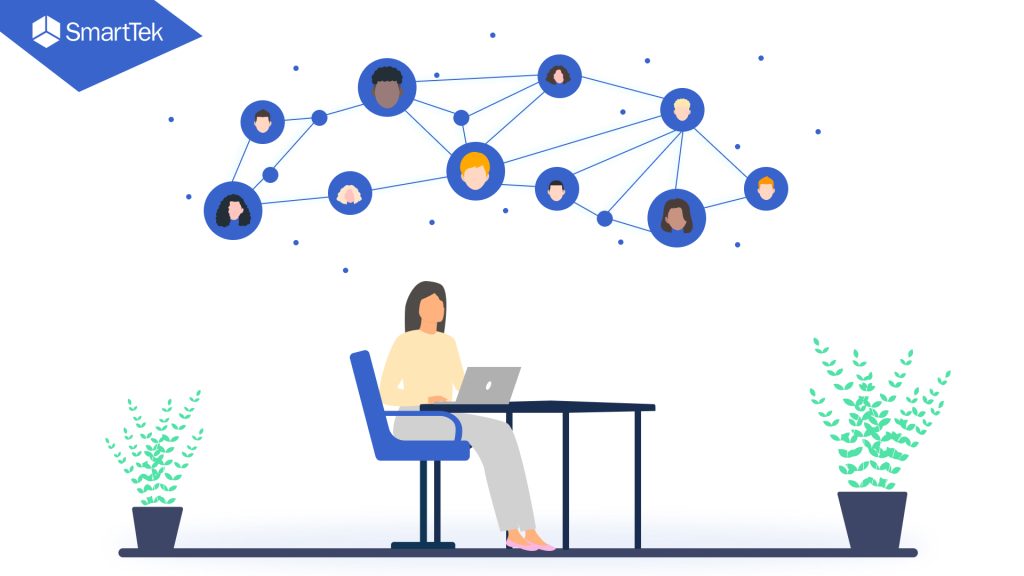 How to Choose Specialists for Team Augmentation?
With freelancing or body leasing, it's often a shot in the dark because you do not know these people and the quality of services you're to receive. Even an augmentation team served by a professional vendor could be a misfire if they can't support you in making the correct staffing decisions. Therefore, you need augmentation services that come with a guarantee of proven processes and standards, vetted talent, and efficient execution rooted in their experience.
Requirements for a good team augmentation partner to benefit from: 
Solid IT services provider with an in-house pool of qualified talent vetted due to a high standard recruitment process.
Valid and flexible scope of services provided by a potential partner to match all your priorities that may change in the development process.
Full spectrum of software development services: frontend, backend, web, mobile, QA, cloud, architecture, product design, etc.
Portfolio with an extensive track record (large-, mid-, and small-scale projects) to make sure there's no risk of derailing the delivery of your project.
Choosing a team experienced in staff augmentation and software development is the first and foremost indicator of successful cooperation you can profit from in the long run.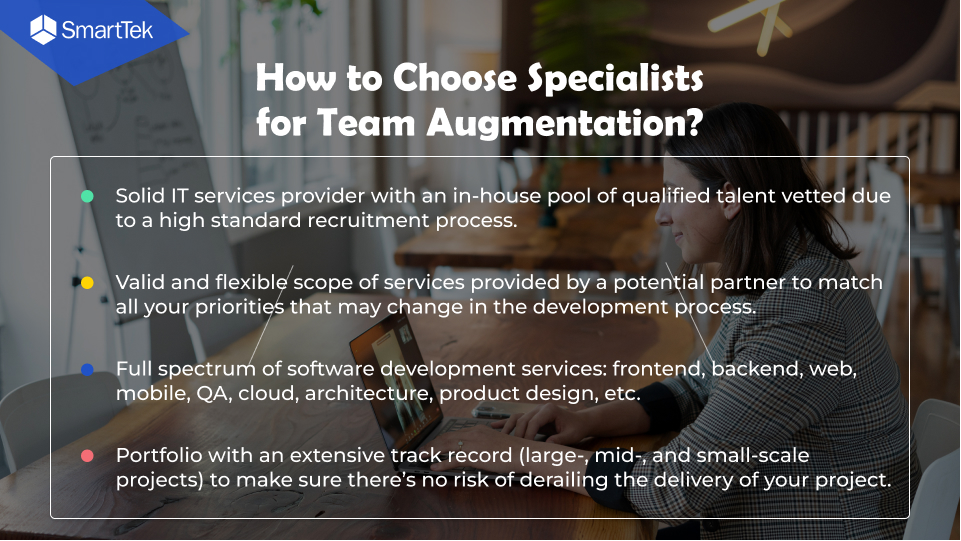 Why Hire Temporary Team Members?
Naturally, you can always recruit new employees in-house. However, you can't afford a lengthy recruitment process when your product requires a quick talent boost. There's also a commitment that comes with hiring new employees, like onboarding, benefits, training, and long-term satisfaction.
And the MAIN BENEFIT of the team from the IT staff augmentation company is that you avoid all those steps. You just hire people and profit from their knowledge and experience without needing to give them company's merch, get them acquainted with everyone, or allocate a mentor.
Benefits and Challenges of Software Development Staff Augmentation
In the sections above, we have already shown you some benefits of the staff augmentation model because it is just one big advantage. It is a great bridge between the available talent pool with intensive skills and the availability of short-term positions in your IT firm. We see no reason to ignore such a type of cooperation, so consider this extended list of arguments to convince you.
BENEFITS of staff augmentation model: 
Convenient and easy screening process.
No hidden/additional costs – just a controlled monthly spend.
Less legal responsibility & paperwork.
Simple settlement and quick team expansion.
Total control over a product's roadmap, storyboard, and source code.
Focus on a single project 100% of their work time and higher productivity level.
Unique and specific skill set your in-house team can observe and learn.
Managing ongoing and upcoming demands on a project-by-project basis.
Taking on more business without sacrificing the quality of your project.
CHALLENGES you can face with staff augmentation: 
Language & time barriers during the development workflow.
Quality control to prevent delays, expense overruns, and security risks.
Security issues connected to a third-party integration into sensitive client data.
Technical expertise cannot always be predicted and fit business aims.
If these are challenges you can bear and benefits you want to get, never hesitate to choose a collaboration with an IT staff augmentation company. Even though no manager goes in a pack, and it is a great responsibility, it is worth giving a try at least once.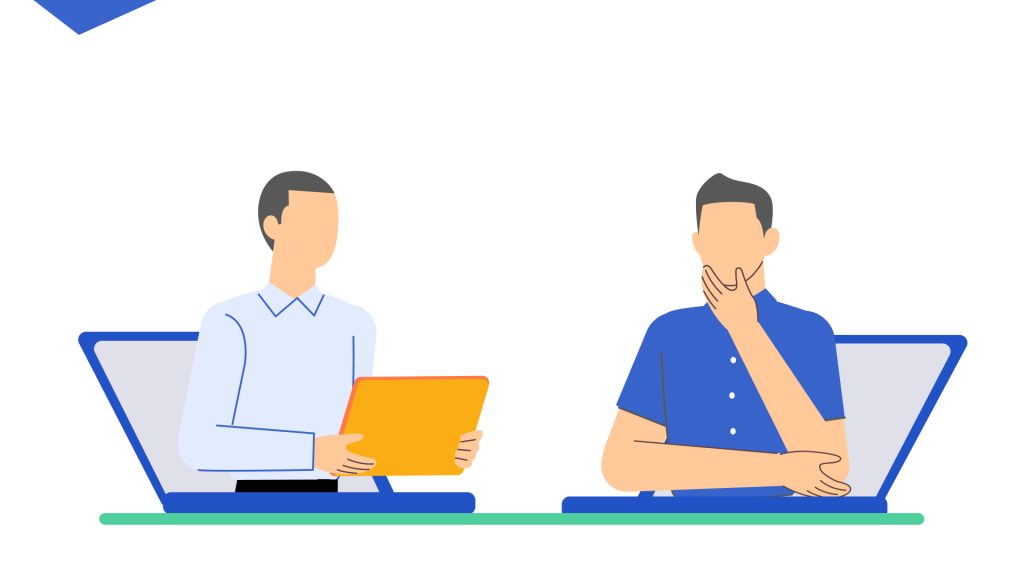 Why Do You Need an Augmented Staff?
A few development teams have the expertise to handle any client's needs, and looking for help is normal. Fast-growing business requirements change the market, so skills set need to be substituted from project to project. You cannot impress the one with just development skills, and the team's scalability and flexibility are a must now.
If you choose a reliable partner, define expectations from the start, and prioritize communication, you get a team that responds to changes quickly, follows your specific guidelines, and takes your product to a new level.
If you strive for similar flexibility and success, take the first step and connect with us. We successfully operate with international companies and have the expertise to offer you. Contact us and tell us about your project!